The city of Los Angeles is a magical place where celebrity sightings are an everyday occurrence and some of the most famous landmarks in the U.S. are present. During national holidays, this city becomes even more magical with fireworks displays. There are many options to choose from in the Los Angeles area to see a spectacular show. Grab a blanket, lawn chair, and a beverage (or two,) and head to a fantastic spot to see the sparklers of the sky! The guide below provides the top locations for viewing the most stunning Los Angeles fireworks.
By visiting Los Angeles with a clear list in mind of the top places for viewing fireworks, you can ensure that your trip includes views of this beautiful show. From fireworks on the fourth of July to New Year's Eve, you'll find splendid displays in the City of Angels. Continue reading for top Los Angeles fireworks viewpoints.
Where to See Los Angeles Fireworks
These top places offer the best views of fireworks throughout the year.
Huntington Beach Pier
Everything is bigger and better in the Los Angeles area, especially fireworks displays. During the fourth of July, the Huntington Beach Pier curates one of the most extensive celebrations, complete with a fireworks show since 1904. This multi-day festival also includes acrobatics, a parade and more attracting approximately 500,000 people to the festivities with the largest 4th of July celebration west of the Mississippi.
There are multiple viewpoints for the fireworks show in Huntington Beach, or Surf City, USA as its affectionately known.. For example, you can simply view the fireworks while walking around the area.What can be better than the beach, bonfires, and bikes to get the festivities started? However, if you want a closer view of the fireworks, you must purchase tickets. Tickets for seating begins in mid-May so be sure to plan early. Pier Plaza Festival features over 70 vendors with delicious food, live music, carnival rides, and more. Imagine seeing the fireworks while riding the Ferris wheel! The annual display takes place at 9:00 pm.  So be prepared to be dazzled!
Various restaurants in the area also offer views of fireworks so you can enjoy a meal and the show simultaneously and there are many options to choose from.
Hollywood Bowl
With over fifty years in the making, the Hollywood Bowl is a famous amphitheater in Los Angeles and is considered one of the top music venues. It holds many events throughout the year, including a large fourth of July bash with an impressive fireworks show to spark your interest. Their celebrations typically include live music by famous bands, singers, and groups.
This location has been known to host events for multiple days, providing a stunning spot to enjoy Los Angeles. Keep an eye on the stage as the Los Angeles fireworks shoot out of the archway.
Marina Del Rey
Marina Del Rey is famous for its family-friendly firework shows that occur annually. The fireworks are shot off the South Jetty, providing a pretty show over the water. You can view the show from the water via a cruise. Or, you can view the Marina Del Rey fireworks via nearby locations like Burton Chace Park or the Fisherman's Village with synchronized music played over loudspeakers.
It's recommended to arrive for the fireworks at 1 pm to ensure you get the spot that works best for you for the 9:00 pm show that lasts about 20 minutes . As watching fireworks is a popular activity, there will be crowds that you will have to navigate through.
Additionally, there are nearby restaurants that you can sit at for views of the fireworks. These outdoor spots offer a pleasant experience further away from the fireworks.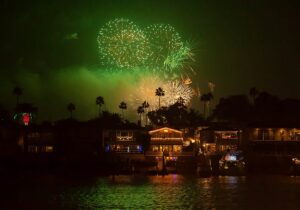 Marina Del Rey Cruises
Marina Del Rey cruises provide exceptional views of the fireworks. The proximity to the show creates an even more immersive experience as the fireworks burst into the sky creating a sparkling effect on the water that you do not want to miss. There are various excursions throughout the year providing views of the fireworks. You may want to consider a cruise during a New Year's trip, including the New Year's Eve Dinner Cruise and the New Year's Cocktail Cruise, and countdown to midnight on the water while celebrating the new year in style. Enjoy distinct hospitality and full bar service while onboard. You really can't start the new year in a better way.
Additionally, you can check out the Marina Del Rey 4th of July Cruise if you're visiting in the summertime and watch the sparks fly on the water honoring the nation's birthday. Imagine a night of fun, friends, and fireworks!
Hollywood Forever Cemetery
It might seem like an odd location for viewing fireworks. However, the Hollywood Forever Cemetery offers fun cinema experiences throughout the year. During the fourth of July, the cinema experience lasts a few days and includes a firework show and block party with delicious food, drinks, and music to keep the party going all weekend. .
Tickets are required for any events that occur at the Hollywood Forever Cemetery. Ensure you purchase tickets beforehand, or you'll miss out on the fireworks.
Rose Bowl Stadium
The Rose Bowl Stadium is one of the most famous locations in Los Angeles; it's an outdoor athletic stadium. However, it also holds larger events, concerts, and more. This stadium has been open since 1922 and is marked as a National Historic Landmark.
The AmericaFest Celebration is a large patriotic celebration of all things red, white, and blue welcoming tens of thousands annually. It typically includes live music, exciting motocross events, and an amazing fireworks show.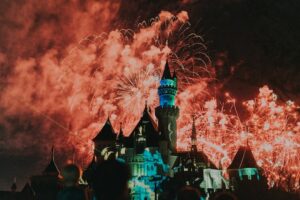 Disneyland
Disneyland is one of the happiest places on earth, as they shoot off fireworks more frequently than other locations. Unfortunately, the fireworks are not a nightly event, so checking the entertainment schedule is essential. Check out Wondrous Journeys to celebrate 100 years of Walt Disney Animation Studio-featuring fireworks on select nights. Feel the beat of DJ Mickey as he throws the hippest, hottest party in the park with fireworks. Surround yourself with villainous visions and haunting tunes during spell-ebration with fireworks on certain nights. Let the magic of the season fill your heart as the spectacle of lights fills the sky during the holidays and be sure to stick around for the magical snowfall finale! Ring in an unforgettable New Year at the park with festive fireworks and uplifting music. But the real showstopper is the 4th of July -where the stars and stripes are celebrated like never before to honor Independence Day -all to the sound of patriotic music.
However, fireworks typically occur each night if you're visiting in the summertime. Disneyland also provides firework shows during larger holidays, like the fourth of July. Make sure you're angled toward the Castle or It's a Small World ride for the best views.
There are other viewing spots around the park where you can stop and enjoy the fireworks. For those wanting to view Los Angeles fireworks without waiting for a holiday, Disneyland is your best bet.
Los Angeles Fireworks: Planning a Visit
Since many locations in Los Angeles offer firework shows, deciding which locations are nearest to your accommodation is essential. This will aid in narrowing down the best option for you during your trip. If you have flexibility on the timeline, consider visiting Los Angeles during a holiday for firework views.Taking in the beauty of shimmering lights along the water on a floating venue for an unexpected fireworks display is a great and unique option.
Otherwise, Disneyland is your best bet as they feature fireworks more often.

FAQ
Are fireworks legal in Los Angeles?
Fireworks are illegal in most of Los Angeles county, especially in major cities. However, that doesn't mean there aren't sufficient locations for firework viewing. Many smaller cities allow safe and sane fireworks and offer stunning fireworks shows like Alhambra, Vernon, and South Gate. Avoid setting off your fireworks while visiting LA unless you're sure you're in a city or area that permits them.
It's also necessary to ensure that any fireworks you buy are under the safe and sane list if you plan on lighting fireworks yourself. Otherwise, you risk repercussions for using illegal fireworks.
Where to watch free fireworks in Los Angeles?
There are quite a few spots where you can catch a free fireworks show in LA, such as Grand Park, Dodger Stadium, and the Hollywood Bowl. These locations only offer fireworks during national holidays.
Which cities in LA County allow fireworks?
There is a long list of cities in LA County that allow fireworks, including the locations below.
Alhambra
Artesia
Cudahy
Downey
El Monte
Hawaiian Gardens
Temple City
Original post date: August 9, 2022