Los Angeles is famous for its connection to the film industry and its incredible beaches. By spending time on the water, you'll get views of the infamous city skyline and Catalina Island on clear days. Experience the city's most unique floating event venues and enjoy all-inclusive packages, chef-prepared menus, full bar options, and entertainment customized to fit your needs-all while in the comfort of climate-controlled interiors and open-air outdoor decks. Join the fun under the sun by booking boat rentals (Los Angeles). Grab your swim trunks, bikini, and shades, and get ready for a relaxing boat ride! 
There's no better way to enjoy Los Angeles' idyllic weather than by spending time on a boat. Don't let finding boat rentals in the Los Angeles area be an overwhelming task. Instead, check out the guide below for some of the best options for a boat rental in Los Angeles so that you can stay cool even during the warm, sunny days. What are you waiting for? Get out there on the water!
Top Boat Rentals (Los Angeles)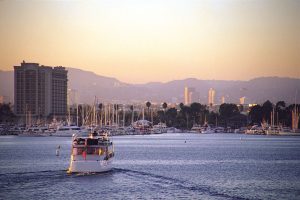 Marina del Rey offers an idyllic location for a boat rental. This coastal city is well-known for its gorgeous beaches and sparkling waters. Year-round fabulous weather means there is never a bad time to enjoy a boat ride. You will find available boats ranging from 24 – 550 person capacity available to select. You can plan any type of event to fit your needs and budget. Whether it is a birthday, anniversary, family reunion, or corporate event, your guests will enjoy panoramic views and lasting memories.These elegant boats offer a variety of amenities and uniqueness.
If you have a larger budget set aside for a boat rental, you may want to consider Lionhart Lifestyle. This boat rental company provides luxury yacht experiences in the Los Angeles area. You can select from various yachts starting at $3,500 for a rental. The smaller boats are ideally suited for intimate ocean excursions and larger ships are perfect for weddings or other events. Some offerings even include a crew to help make your experience more special.
This option is great for events like a romantic day trip or an opulent wedding. The crew can even plan an extensive itinerary for you and help you clean up after the event.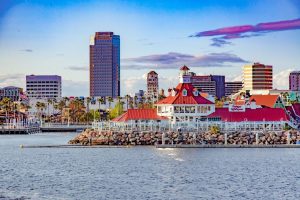 The Long Beach fleet offers boating experiences for 100 – 550 people so that you can make a selection based on your needs. You can host various events on the available boats, from team-building excursions to a relaxing day trip with friends and family members.Take the stress out of planning by having it all done for you so you can focus on the fun part! Expert event planners will help you each step of the way, making sure every detail is just what you dreamed. You can add enhancement packages, upgrades, and more to truly customize your event. 
You can board a boat from FantaSea Yachts in the lovely Marina Del Rey area. The available yachts feature sufficient space for 12-300 people depending on your selected yacht. Customize your event with your menu, décor, timeline, and other details to fit your needs. This luxury yacht company has been providing service to yacht-goers since 1980. Their boats are ideal for small get-togethers, weddings, corporate events, and more.
FantaSea Yachts even allows you to book a trip on the boat to film for a TV show or movie. You may have even seen one of their famous boats in a TV show.
The OnBoat company offers options ranging from fishing excursions to sailing, boating, and yachting. You can use one of the boats to travel between San Diego and San Francisco. With the wide area the boat captains are familiar with; you can visit a long list of cities from Marina del Rey to Long Beach.

Sure, San Diego is a couple hours away from Los Angeles, but it's absolutely an area to consider for a boat rental. Are you looking for an event that will be the envy of your Instagram friends? San Diego is an exciting city that is best viewed via the water. There are many ship options that you can book to help you explore San Diego. You can even select to book the Inspiration Hornblower, which can hold up to 1200 people. These ships are ideal for weddings and larger get-togethers that you want to turn into an extra special occasion. But the fun does not stop there! There is a wide range of options in San Diego to meet your needs. You can host your next school event from an educational trip on the water to Greek life events, proms, and faculty outings. All-inclusive packages are available for whatever floats your boat! 
Boat Rentals (Los Angeles): Planning Your Trip
Before booking a boat rental, it's essential to consider the intent behind your booking. For example, if you're looking for a boat that can fit a larger group of people for a birthday party, it does not make sense to schedule a rental that can only accommodate 20-30 people.
After deciding your intent and an approximate number of guests, you can narrow down the correct option for your event more easily. Then, consider the activities and amenities you'd like to experience while riding the boat. This decision will aid in booking the correct time for your rental (anywhere from 2-8 hours). There are so many options out there to choose from. The good news is there is something for every budget and theme to fit your needs. Whether you are looking for an intimate event to host or a large event to hold hundreds, we have you covered. Your guests will be impressed with a unique event aboard a floating venue! Enjoy picturesque views, budget-friendly options, and delicious menus while you sail away along the beautiful waters.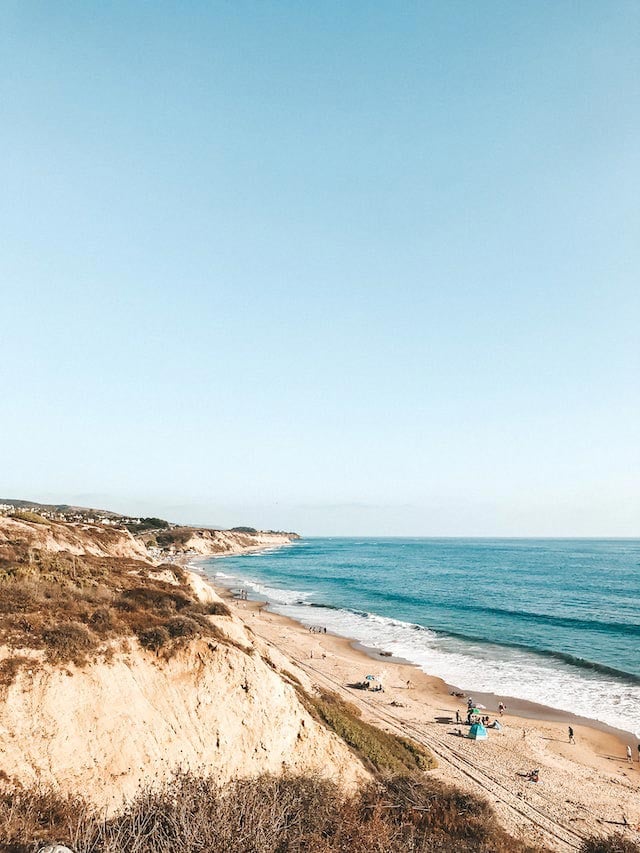 FAQ:
How much does it cost to rent a boat in Los Angeles?
The cost for renting a boat in Los Angeles varies depending on your boat type and the additional amenities (such as meals, staff, excursions, etc.) you desire.
How many hours can I rent a boat or yacht in the Los Angeles area?
Typically, you can either rent a boat for four or eight hours. Eight hours is typically the maximum amount of time you can rent a boat for an excursion.
What kind of events can be held on a City Cruises Marina del Rey boat rental?
You can hold many events on a City Cruises Marina del Rey boat rental! With the vast number of boats available, ranging in size from a 24-person capacity to a 550-person capacity, you can host nearly any event on these boat rentals. Choose a smaller boat for a family reunion, birthday, or team-building excursion.
Or, choose a medium to large boat rental for weddings, retirement parties, dinner cruises, and holiday parties; the options are endless!
How many people can go on a private boat rental in Marina del Rey?
As mentioned, it depends on the boat rental that you select. However, the largest boat you can rent offers sufficient space for up to 550 people. Find your perfect boat rental by looking through our fleet selection.
Can you charter a yacht in Los Angeles for a full day?
Yes! You can charter a yacht in Los Angeles for a full day. Typically, a full day includes an eight-hour excursion. Most boat rentals (Los Angeles) allow you to select your destinations for the boat trip, so you can elect to go to beaches, cities, or on excursions such as kayaking, paddle boarding, etc.
What types of boats or yachts are available for rent?
There are various types of boats or yachts available for rent, including powerboats, sailboats, catamarans, superyachts, and more.
Do I need a boating license to rent a boat in Los Angeles?
Generally, you don't need a boating license to rent a boat in Los Angeles, but some rental companies may require you to have a certain level of boating experience.
What is included in the rental fee?
The rental fee may include the boat, fuel, and other basic equipment. Some rental companies may offer additional services such as a captain or a crew, catering, or water sports equipment.
Can I bring my own food and drinks on board?
Yes, you can usually bring your own food and drinks on board. Some rental companies may also offer catering services or have a bar on board.
What is the cancellation policy?
The cancellation policy may vary depending on the rental company. Some companies may offer a full refund if you cancel with enough notice, while others may charge a fee.
Is insurance included in the rental fee?
Insurance may or may not be included in the rental fee, so it's important to check with the rental company. Some rental companies offer insurance as an additional option, while others include it.
Original post date : February 9, 2023