From breathtaking scenery and a slew of National Landmarks to riverside dining and some of the best museums in the world, Washington, D.C., is a great place to celebrate the dad in your life.
Although we're still racking our brains for creative Mother's Day plans — and fighting through brutal seasonal allergies — the summer months are coming soon, and with them come the summer holidays, specifically Father's Day! Sunday, June 18 is right around the corner people, and this year, we'll be celebrating the dads in our lives in style. And, if you're planning on being in Washington, D.C., for Father's Day this year, you're in luck: The Nation's Capital is a lively, energetic city full of fun things to do for Father's Day. The whole family is sure to have a blast, especially if you take advantage of all of the exciting attractions the city has to offer. From breathtaking scenery, a slew of National Landmarks, riverside dining, some of the best museums in the world, and much, much more, Washington, D.C., is one of the best cities to spend the holiday and toast to the dad in your life. Having trouble putting together a must-see list? Don't panic — we're here to help! Take a look at this short list of some of our favorite things to do in Washington, D.C., for Father's Day, and start making those reservations ASAP!
National Mall
While there's limited shopping and not any department stores in sight, the National Mall is one mall Dad will actually want to spend some time in on Father's Day. The gorgeous scenery — paired with more National Landmarks than you can count — is one of Washington, D.C.'s, biggest attractions, and for good reason. While strolling the National Mall, you and Dad can check out a number of American monuments and historic buildings, including the Lincoln Memorial, the Washington Monument, the United States Capitol, the Jefferson Memorial, the Constitution Gardens, and many more. There are also plenty of food trucks, drink stands, public restrooms, and frozen treat vendors — just make sure everyone wears sunscreen and sensible footwear since it can be a lot of walking!
Father's Day Cruise

If you're looking to start off Father's Day on a fun (and delicious) note, there's no better excursion to book than the Father's Day Premier Afternoon Brunch Cruise. You'll start a new tradition on the water and create family memories that are sure to be remembered forever. After you set sail on the Potomac River, you and the whole family will enjoy distinctive service with a chef-inspired brunch buffet, as well as a selection of wine, beer, and classic cocktails. You can hang out and relish in the dining and music from the climate-controlled interior, or soak in the picturesque backdrop from the open-air outdoor decks. Have plans for the morning? No problem — the Father's Day Signature Dinner Cruise is also an excellent way to cap off the evening, with the same incredible service, delicious food, and gorgeous views.
Father's Day Fun
Is Dad a history or science buff? If so, don't miss out on the Smithsonian National Air and Space Museum. Dad will be psyched to check out early plane models and spacesuits and check out artifacts that took humans to new heights — and out of this world. Plus, who doesn't think space shuttles are awesome? It'll be fun for the whole family.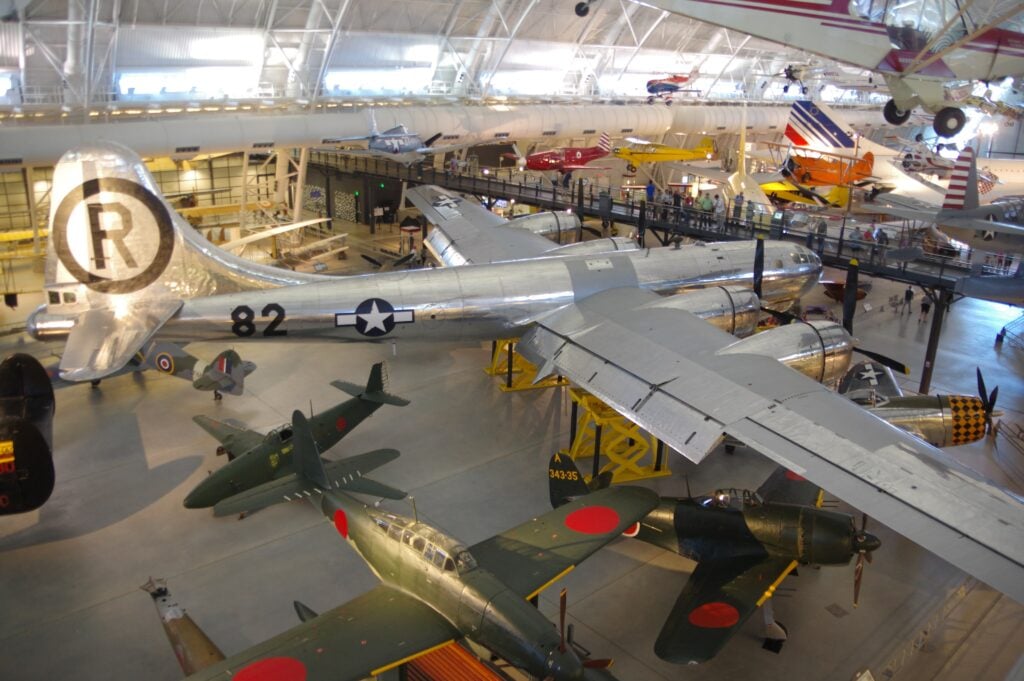 Don't let Father's Day slip by without taking Dad to a baseball game! Scoring tickets to a game at Nationals Park in Washington, D.C., will be the highlight of Dad's trip — they're playing the Marlins at 1:35pm on Father's Day this year! — and it's great fun for the whole family to enjoy. Even folks who don't like baseball will get a kick out of hanging out in the sun and chowing down on a big pretzel or hot dog, then slugging down a frosty pint ahead of the seventh-inning stretch. (Pro Tip: Nothing screams "Father's Day" quite like a ball game!)
The Navy Yard is one of the coolest and most lively neighborhoods in Washington, D.C., and it's easy to see why: All of the riverfront bars and restaurants make it a great place to hang out at any time of the day. Dad's sure to work up an appetite after a big day in the city, so make sure to grab a bite and a beer (or two!) down by the water to cap off your evening.
Don't forget: Whatever you decide to do for Father's Day in Washington, D.C., just make sure you have a safe and happy holiday celebrating the dad in your life!