Harry Paye was a smuggler in Poole, Dorset in the late 14th and early 15th Century. He intercepted hundreds of French ships for gold, wine, exotic fruits and brought it back to the people of Poole.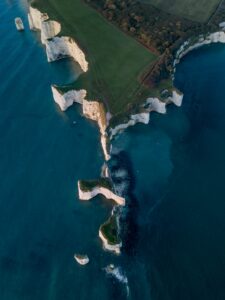 However, he did not keep his raiding just in Poole, he also led naval raids along the coast of France and Spain. As well as raiding and burning ships, he took many prisoners and put them to ransom.
In 1405, a combined fleet of French and Spanish ships attacked Poole in relation to Paye's raids and they looted arms and stores and set fire to a warehouse before they were driven away by the townspeople. This only led Paye to more looting and fighting with the French and The Spanish.
Harry Paye died in 1419 and was buried in the parish church in Faversham, Kent.ocated on the entrance to the Jurassic Coast is named after the notorious pirate and there used to be another stack of rocks next to Old Harry which was called Old Harry's Wife but that has now eroded into the sea and is just a stump.

Old Harry Rocks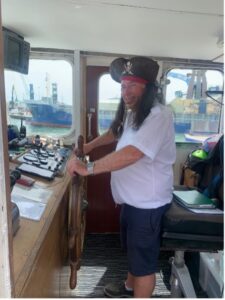 Every year Poole Quay celebrates Harry Paye with a special day of shenanigans! The day starts at midday with a parade of pirates, followed by live music, best dressed junior pirates' competition, pirate games, children's rides, live history areas, cannons, and lots more!
On City Cruises, we provide daily tours on a regular basis to see Old Harry Rocks and learn all about the pirate and his life. Looks like our boats have been captured already though!