Did know that Americans spend 1.9 billion dollars on Easter candy each year, making it the second biggest candy holiday after Halloween? It may surprise you to learn that most candy purchased is chocolate and 76% of Americans think the ears of the chocolate bunny should be eaten first. The first story of a rabbit (later named the Easter Bunny) hiding eggs in a garden was published in 1680, and the first egg dyes were once made of natural items such as onion peels, tree bark, flower petals, and juices. Easter takes place on a Sunday each year following the Lenten season. To many, it signifies the beginning of spring and the start of warmer weather. It is a time to enjoy family and get outside with the many events and activities being held. If you are looking for something to do in the San Francisco area, this is your one-stop guide to all the top activities scheduled.
Fun Easter Events
San Francisco Theater: Clue the Musical
You will find several wonderful theater performances this Easter in San Francisco. The biggest show is Clue, the Musical, based on the movie and the game. You will not want to miss this amazing and engaging show. There are many other performances to check out here as well this spring.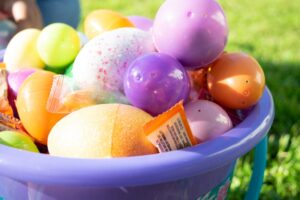 Hop on over to the San Francisco Zoo for an Easter event hosted by Kinder Joy, featuring a toy and treat. Four egg hunts divided by age, are scheduled for the day, complete with Eggstravaganza tote bags for kids to keep. This year a fun scavenger hunt event is included to discover egg-laying animals around the zoo. Families can pick up clues at the playground and come by to pick up a Kinder Joy treat and toy. The playground is also hosting a photo opp with the Easter Bunny! Each hunt is limited to one hundred fifty kids and reservations must be made in advance. Member tickets are not included in egg hunt registration and must be purchased separately.
This annual event runs from 11:00 am- 4:00 pm and you will get to enjoy an old-fashioned egg hunt, games, live entertainment, and more. Admission is free and food will also be available at an additional cost from local food trucks. City and county trucks will be available for kids to explore and there will be free bike valet parking courtesy of the San Francisco Bike Coalition.
2023 Castro Easter Eggstravaganza Block Party
This is the second year for this block party and festival and there is something for everyone. Starting at 11 am, there will be free photos with the Easter Bunny, a fashion show, arts and crafts tables, a petting zoo, story time, and music and entertainment. Beginning at 2:00 pm live performances will be held, and an Easter bonnet contest with a grand prize of $500 will take place. Bring the whole family to experience Easter and simply enjoy the season.
Hayward's 78th Egg Hunt & Bonnet Parade
Head over to Kennedy Park to take part in the 78th Annual Egg Hunt and Bonnet Parade. This rain-or-shine event will have bonnet registration at 9 am for the prettiest, most unusual, and most colorful for ages six and under. All bonnets must be handmade to qualify. The egg hunt will take place at 10:00 am grouped by age. Do not miss the Easter Bunny as he leads the Bonnet Parade immediately following the egg hunt.
Why not try something unique to celebrate Easter and get out on the water? You can create incredible Easter memories while cruising along San Francisco Bay with an exciting brunch cruise. Enjoy beautiful spring weather, amazing photo backdrops, a delicious brunch buffet, and an exciting visit from the star of the season, the Easter Bunny. It is the perfect opportunity to make this time with family and friends extra special while relaxing on the water with incredible views. This two-hour brunch cruise on the San Francisco Bay will give the whole family a much-needed relaxing and enjoyable time. The champagne is free-flowing, and the buffet is freshly prepared. Make Easter unforgettable this year with dining, dancing, and San Francisco's best views from climate-controlled interiors and open-air exterior decks, your family will love celebrating on the water.
The weather is gorgeous this time of year and you want to be outside to enjoy it as much as possible, so get out of the kitchen and leave the details to the professionals. Treat your family to a dinner cruise and sit back, relax, and leave the planning to someone else. Create beautiful memories with your loved ones while onboard this two-hour dinner cruise along the San Francisco Bay. A delicious plated dinner with freshly prepared entrees will be served before a decadent dessert. Dancing along to live DJ entertainment will be fun for the whole gang. Who knows, a little bunny hop may be in order. You will want to have your camera ready to capture this fabulous memory with the city skyline as your backdrop. Make this your annual celebration and take the worry out of planning.
2023 Easter Bunny Festival w/Petting Zoo + Free Candy
Alameda South Shore Center invites families and friends of all ages to join the free festivities, which include an Easter Bunny visit (self-photos), face painting, glitter tattoo, a petting zoo, and free candy for the kids. This event begins at noon. There will be plenty of activities, refreshments for purchase, and gifts while they last, so hop on over with your favorite peeps to enjoy!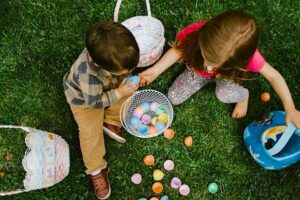 You will not find a shortage of things to do in the San Francisco area for spring. The weather is perfect, and the scenery is filled with blooms and blossoms. Enjoy the longer, warmer days. Spring weather means one thing in San Francisco and that is to get outside! Go on an egg hunt, attend an outdoor festival, cruise along with a brunch or dinner cruise with the family, or see a show. There are so many events and activities to choose from that the list seems endless.