This highly exclusive, behind-the-scenes Broadway tour takes you on a guided journey through New York City's theater district, along with an in-depth, VIP look at Disney's landmark New Amsterdam Theatre, led by its in-house historian.
We've all got items on our bucket list, but "going to Disney" and "seeing a Broadway musical" are found pretty frequently on many of our do-before-we-die dockets. Fortunately, you can nearly knock two items off your list with one trip, since while you can't be in New York and Florida at once, the extraordinary entertainers at Disney put on countless Broadway productions every year, and tickets are available far in advance. But, if you've already had the pleasure of taking in a Disney show (or several) in the Big Apple, it might seem like there's not much else to see in New York City's theatre district. Well, allow us to let you in on a little secret: There's more—a lot more. Enter: the Disney on Broadway Tour—Behind the Magic at the New Amsterdam Theatre.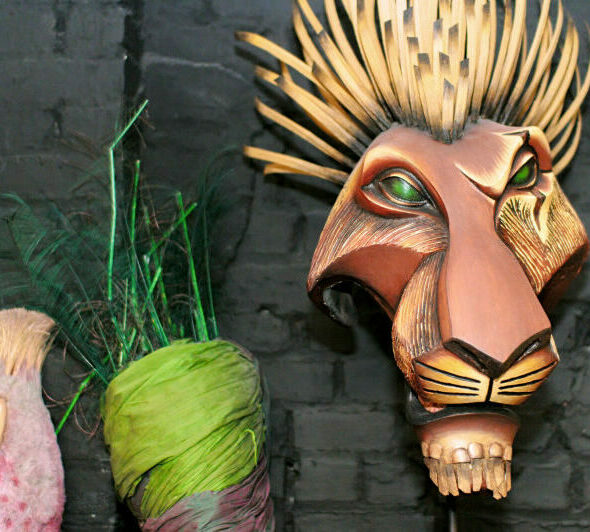 This highly exclusive, behind-the-scenes Broadway tour was created in collaboration with the Disney Theatrical Group and gives attendees a special guided journey—and look behind the curtain—at the legendary New Amsterdam Theatre. You'll discover the Broadway magic of shows (including "Beauty and the Beast" and "Mary Poppins") like never before, with a guided VIP tour of Disney's landmark New Amsterdam Theatre, led by the in-house historian. You'll be part of a select group of people who have the privilege of experiencing Disney on Broadway through the eyes and ears of the people who make the productions happen. That includes taking a unique, hands-on visit to the New Amsterdam Theatre's Costumes & Props Studio, where you'll be one of the only groups of non-performers who'll get an exclusive look at the original props, costumes, and set pieces for many of your favorite Disney on Broadway musicals. But that's not all: You'll also be learning what it takes to create and perform Broadway productions such as "Aladdin" and "The Lion King," and you'll be hearing stories of what actually happens behind the curtain, the spooky superstitions Broadway performers hold, and—if you're lucky—a few ghost stories. 
But before all of that, an extremely knowledgeable member of Walks's Broadway Insider team will lead you on an in-depth tour of New York City's historic theater district. Get ready to stop at some of the most famous theaters, not just in the Big Apple, but in the world, where legendary performances garner massive audiences and global acclaim. You'll take a deep dive into the rich history of the area and lap up the lore of pivotal moments in the annals of the stage, such as the famed Ziegfeld Follies, a series of American musical performances which turned Broadway into the bustling theatrical mecca as we know it.  
As if that weren't enough, your personal Broadway Insider—whose team is composed of some of the best actors, crew members, and theater managers in the business—have first-hand experience of how many people it takes to put on a show and what it's really like behind the curtain. Expect to hear everything from the sheer scale of an average Broadway production to almost unbelievable tales (like how a goat once fell from the roof of one of these very theaters). But more than anything, you'll gain a deep, exclusive appreciation for just how much effort goes into each and every Broadway performance.  
You'll also get to know the most popular spots where the cast and crew of some of your favorite Broadway musicals like to hang out. Until then, though, take a look below at all of the fun and exciting destinations you'll check out on your way to the uber-exclusive, VIP tour, Behind the Magic at the New Amsterdam Theatre.  
NYC Theater District Destinations
New Amsterdam Theatre

— At the southern end of Times Square sits the legendary New Amsterdam Theatre, complete with 1,702 seats across three tiered levels. Named after the original Dutch settlement of New Amsterdam (proudly known today as New York City), the theater has been open in some form since 1903, and is now owned and operated by Disney, who hosts "The Lion King," "Mary Poppins," "Aladdin," and more of your favorite musicals. 

 

Times Square

— Ask any old-timer from New York City (or your Broadway Insider team member) what Times Square "used to be like," and you'll be regaled with a rags-to-riches story of how Disney was instrumental in changing the fate of Times Square from a notorious red-light district into what it is today. 

 

Duffy Square

— Named after Francis P. Duffy, a Catholic priest and military chaplain, Duffy Square is situated between 45th and 47th Streets on Manhattan's West Side. Today, it's known for the TKTS theater tickets booth, where customers can score Broadway and Off-Broadway tickets at

seriously

discounted prices.

 

Sardi's

— No trip to the theater district is complete without visiting Sardi's—a gorgeous restaurant on West 44th Street—to see over 1,000 character portraits of famous Broadway celebrities. (Plus, it's the very spot where they came up with the idea for the Tony Awards!)

 

Rodgers & Hammerstein Way

— At the corner of 44th Street and Eighth Avenue sits Rodgers & Hammerstein Way, named after the well-known songwriting team of Richard Rodgers and Oscar Hammerstein II. There, you'll find the St. James Theatre, where the pair made their Broadway debut with a little musical called

Oklahoma! 

 

Shubert Alley

— Built-in 1913 for the Shubert family—who are largely responsible for establishing the Broadway district itself—this unassuming alley was where the family would park their cars, and where actors would gather while waiting to audition for parts. 

 

You'll also get to swing by and admire the beautiful facades of the world-renowned

Marriott Marquis Theatre

,

Majestic Theatre

, and

American Airlines Theatre

. Too many theaters to remember? No worries: By the end of the exclusive Broadway tour, you'll be able to identify all of NYC's most historically and musically important theaters with ease. Who knows—maybe

you'll

be the one leading the next tour!