San Francisco is an exciting and lively city by the bay. Surrounded by water, this bustling yet quaint city easily captures the heart of visitors and residents alike. It offers breathtaking scenery and a host of different sights and attractions. Whether you're taking advantage of the exciting waterfront, the various neighborhoods, indulging in the different types of cuisine, hopping on a cable car, or checking out Victorian homes, the city has something for everyone.
It's also a great place to do business. It started with the Gold Rush of 1849 and then fast-forward to the technology boom that took hold in the 1990s, one could say San Francisco is a corporate gold mine. These days, businesses from bio-sciences to tech startups flourish in the area. "The City provides a multitude of business opportunities, resources, and creates an entrepreneurial environment for those embarking on a journey to start a business," according to City and County of San Francisco. "Opportunities abound for businesses in all industries." And businesses often need a place to wind down with employees for holiday events, parties, and other corporate meetings.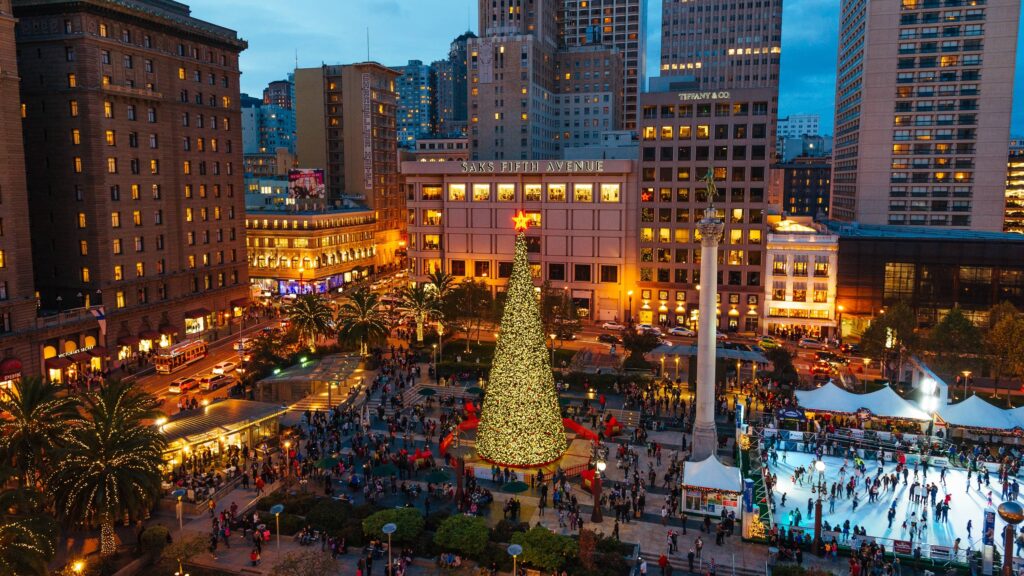 A San Francisco Corporate Holiday Party Courtesy of City Cruises
For companies in San Francisco, City Cruises has everything needed for holiday outings and get-togethers with employees. They are the perfect time to not only engage with employees, but to help build team morale while indulging in some of the magnificent views of the San Francisco Bay. Your employees are working hard all year long and a San Francisco Holiday Event on the water is going to show your employees that they mean more than a simple 9 to 5 schedule.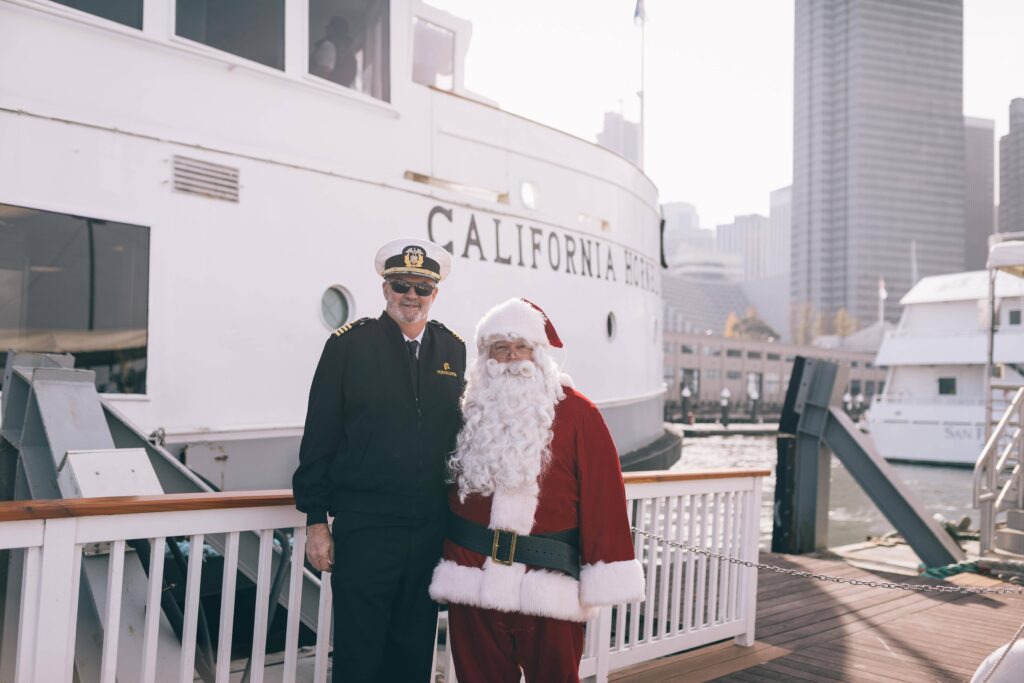 City Cruises has everything you need in one place. The perfect holiday party venue is waiting for you and your team. Your party will feature chef-prepared menu options, full bar service, and all-inclusive packages no matter your party size and budget. The vessels are perfect for guests and are known for their distinctive hospitality, climate-controlled interior, and open-air outdoor decks. And then there are the views, unique to San Francisco, including the Golden Gate Bridge, Alcatraz, San Francisco Skyline, and Bay Bridge. There's nothing like it anywhere else.
You can choose from the following customized packages, all with spectacular views, to fit the needs of your company:
Premier Brunch: a 2-hour cruise with breakfast or lunch buffet options; sparkling wine, mimosas, juices, and sodas; live entertainment
Holiday Sunset Signature Dinner: a two hour cruise; buffet; cash bar; coffee, tea, iced tea, water; live entertainment
Belle of the Ball: a three-hour cruise; holiday buffet dinner; wine and beer bar; cash bar for cocktails; DJ and dancing; assigned cruise-style seating
And if you had something else in mind, our team is ready and waiting to review every detail of what you are looking for, so that you don't have to worry about:
Tables, linens, flatware, and chairs
Event manager, stewards, captain, and bartenders
Freshly prepared cuisine
Cash or hosted cocktail and wine bar
Customizable entertainment and photography

Holiday Events on the Water in San Francisco
Have your next corporate event with City Cruises and let the San Francisco views be the star of the evening. San Francisco Corporate Events on the Water offers chef-prepared menu items and full bar service as well as customized all-inclusive packages for whatever type of event you are looking to host. City Cruises has what you want to fit your party size as well as your budget. Your employees or guests will take in the beautiful sites of the San Francisco Bay while enjoying distinctive hospitality, a climate-controlled interior, as well as open-air outdoor decks. The Bay Bridge and Golden Gate Bridge never looked more beautiful.
If you want an employee outing that's different from the typical ones you've done in the past, City Cruises can help you take it to the next level. Choose from dinner, lunch, or cocktails on a yacht to make it even more special. City Cruises takes care of everything including the food, drinks, decor, entertainment, and even onboard games. All-inclusive packages include a two-hour Lunch Cruise Package, Two-Hour Cocktail Cruise Package, or the Three-Hour Dinner Cruise Package. You can also upgrade your event to include:
Menu upgrades
Bar upgrades
Team Building Experiences including Salsa Cook Off Cruises and Scavenger Hunts
Entertainment Enhancements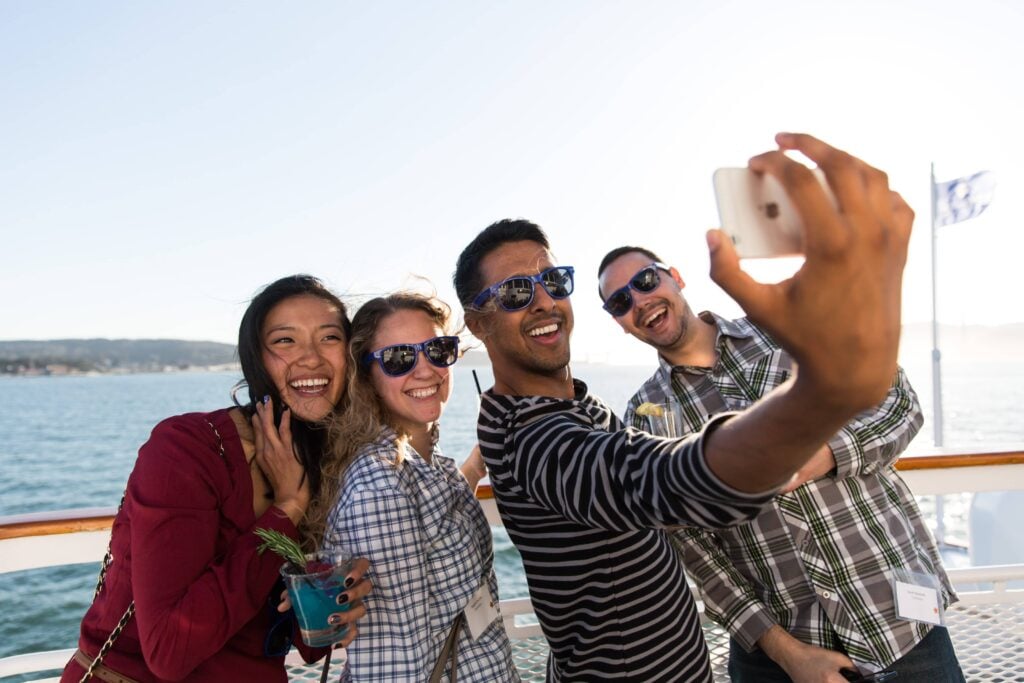 Entertain your clients differently and in style with a yacht cruise on the San Francisco Bay. Make the experience memorable so they also remember your company. You can celebrate and toast to a new product launch while taking in the spectacular views around San Francisco. City Cruises will take care of all the details while you close a business deal or take your customers to dinner on the water. You can choose from a Lunch Cruise Package, Cocktail Cruise Package, or a Dinner Cruise Package.
Don't have the same old boring corporate meetings and events. Keep everyone engaged with views of San Francisco that they won't forget. You will enjoy all the amenities of a traditional meeting venue, but the views of the San Francisco Bay will take it to the next level. You can host a small team meeting, or a larger conference and City Cruises will help you choose the yacht size. Enjoy onboard Wi-Fi, room to work, and catered meals.
Venues for Your San Francisco Holiday Event on the Water 2023
Choose from one of four floating venues to suit your needs. The San Francisco Belle can accommodate up to 1,500 people. It's a Bay Area landmark and is the largest dining vessel on the West Coast. Enjoy wraparound decks, a paddle wheel, three spacious interior decks, and an expansive sundeck. It's perfect and stylish for your next corporate event.
The California Hornblower has a capacity of 510 people and is City Cruises San Francisco's flagship yacht. It blends classic and contemporary styles and features dining on three climate-controlled decks. The sundeck opens to spectacular panoramic views of San Francisco Bay.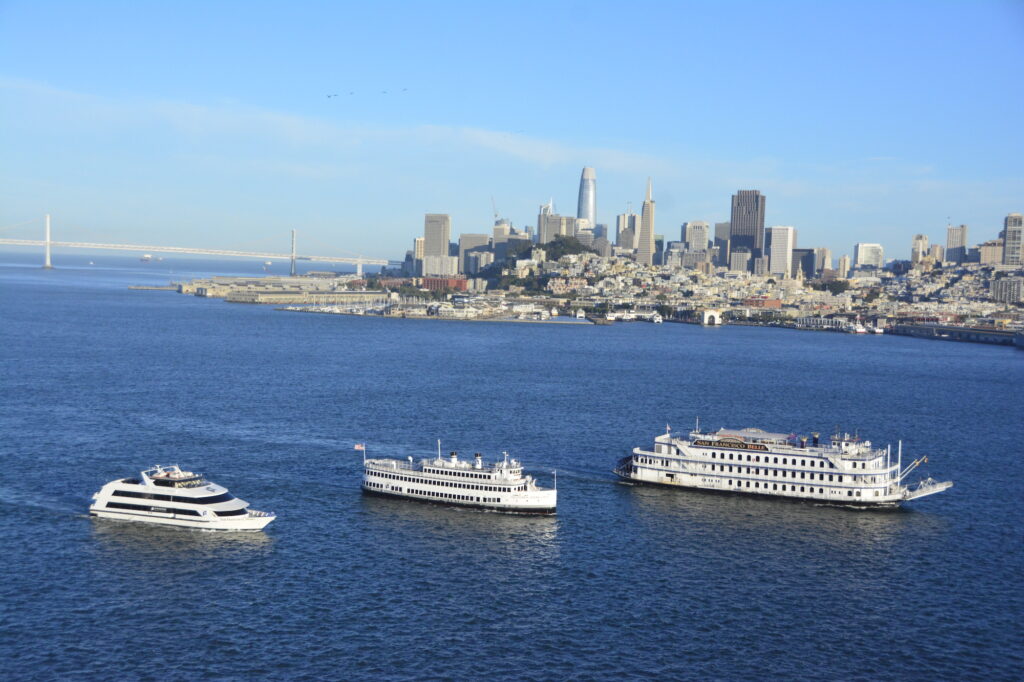 With room for 400, San Francisco Spirit is a sleek and modern vessel featuring color-changing LED lights throughout. There are three spacious interior decks for dining and cocktail hour. You'll enjoy the spacious sundeck where guests can relish in the city skyline.
The Empress Hornblower has room for 250. It resembles a turn-of-the-century riverboat and has all the charm and style of a bygone era. Guests will enjoy the simple yet elegant ambiance of this vessel, from the art deco-inspired brass chandeliers to the rich mahogany bars. There's a wraparound outer and top deck where guests can take in the sights of the bay.
Everything your company needs for a corporate event, holiday party, outing, or business meeting is waiting for you at City Cruises. You don't have to worry about a thing as City Cruises will take care of everything you need from dining and entertainment to onboard games and views as well as the size of the yacht. Ready to book your holiday party? Fill out this form and an event planner will contact you.
FAQs – San Francisco Holiday Party Venue
Why should we choose City Cruises for our corporate holiday party in San Francisco?
City Cruises offers a unique and unforgettable venue for corporate holiday parties. Our vessels sail across the iconic San Francisco Bay, offering breathtaking views of landmarks like the Golden Gate Bridge, Alcatraz, and the city skyline. Our team is dedicated to providing exceptional service and creating a custom event that meets your needs and exceeds your expectations.
What amenities can we expect when hosting our holiday party with City Cruises in San Francisco?
Hosting your holiday party with City Cruises in San Francisco means you can expect top-notch amenities, including quality audio-visual systems, stylish and comfortable seating, customizable lighting, premium bar options, and gourmet catering services to create an exciting and festive atmosphere.
Can City Cruises accommodate both small and large corporate holiday parties?
Yes, City Cruises can comfortably accommodate corporate parties of various sizes. We have a diverse fleet of vessels that can cater to both intimate gatherings and large corporate events. Our team will work with you to choose the best boat for your holiday party based on your specific needs.
What are some unique corporate holiday party ideas in San Francisco?
Consider a cruise on the San Francisco Bay, a wine tasting at a local vineyard, or a gala at one of the city's many historical landmarks. San Francisco offers a diverse array of unique venues and activities to make your corporate holiday party truly memorable.
What is the ideal time to book a venue for a corporate holiday party in San Francisco?
It's recommended to book your corporate holiday party venue at least 3-6 months in advance, especially during the holiday season when venues tend to fill up quickly. The sooner you book, the more options you'll have available to you.
What factors should be considered when planning a corporate holiday party in San Francisco?
When planning a corporate holiday party in San Francisco, consider your budget, the number of attendees, the location and accessibility of the venue, the type of amenities offered, and the kind of atmosphere you want to create. It's also important to consider your team's preferences to ensure everyone has a great time.
What can we expect in terms of food and beverage options with City Cruises in San Francisco?
City Cruises offers a range of customizable dining options to suit your corporate holiday party. From cocktail receptions with hors d'oeuvres to formal seated dinners, our culinary team will work with you to create a menu that delights your guests. We also offer a variety of drink packages, including premium options and full bars.
Is there any entertainment provided onboard City Cruises in San Francisco?
Absolutely! City Cruises can arrange for a range of entertainment options to enhance your corporate holiday party. From live bands and DJs to casino games and themed events, we can help create an unforgettable experience for your team.
How can City Cruises help in customizing our corporate holiday party in San Francisco?
Our dedicated event planning team will work closely with you to customize every aspect of your corporate holiday party, from the boat selection, food and beverage menu, décor, entertainment, and more. Our goal is to ensure your event reflects your company's vision and creates lasting memories.
What makes San Francisco a great location for a corporate holiday party?
San Francisco is renowned for its stunning bay, iconic landmarks, vibrant culture, and world-class dining. Hosting your corporate holiday party in this city not only offers a unique venue like a City Cruises boat but also an unforgettable backdrop for your celebration.
What are some tips for planning a successful corporate holiday party in San Francisco?
To ensure a successful corporate holiday party in San Francisco, start planning early to secure your preferred venue and date. Consider your team's preferences, the company culture, and choose a unique theme for the event. Also, remember to plan for transportation to and from the venue for your team's convenience.
What other services does City Cruises provide for corporate events in San Francisco?
In addition to corporate holiday parties, City Cruises in San Francisco offers services for a variety of corporate events, including team-building outings, product launches, client entertaining, and corporate meetings. Our fleet of boats and dedicated event planning team are ready to create a custom event that suits your company's needs.