Berkely, with its counterculture history and dynamic foodie and art scenes, has a certain vibe. "A culinary hub, socially diverse and culturally progressive, Berkeley offers a vibrant mix of neighborhoods, hotels, shops, restaurants, entertainment and recreational pursuits," says the city's main tourist website.
It helps that the weather is great year-round with lots of sun. The city is about a 15-to-30-minute drive from downtown San Francisco. If you're flying in from out of state, the closest airport is Oakland International Airport, but San Francisco International and San Jose International also serve Berkeley, so it's easy to access. Now it's time to explore this famously quirky city!
Fun Things to Do in Berkeley, California
Let's start with the house on Mathews Street that is shaped like a fish. It was "built in the image of a tardigrade — a microscopic marine animal," says roadsideamerica.com. The structure was made from recycled Styrofoam and cement blocks and is supposedly "waterproof, fireproof, and resistant to earthquakes and sound." It's an oddball sight and a great photo opportunity.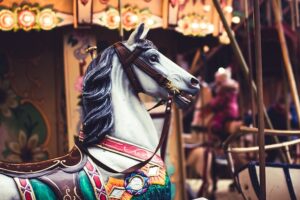 For something nostalgic, head over to the Tilden Park Merry Go Round, which was built in 1911 as a three-row machine with menagerie animals. According to quirkytravelguy.com, the carousel is "one of the few antique carousels remaining in the country," while also listed on the National Register of Historic Places. While there you can also explore the domed carousel building, along with the 22 hand-carved wood horses.
Adventure Playground is another wonderful place for children and families. "Inspired by an innovative European concept, children visiting Adventure Playground have the opportunity to create, build, and explore, contributing to the playground itself," says planetware.com. Children are allowed to work on new playground structures, decorate ones that already exist, or simply play. There are rules, and safety is important. Parents should be there to supervise, and they can become a part of the fun as well.
See What Makes Berkeley, California Famous
Be sure to check out the University of California, Berkeley. It was created in 1868 after California's gold rush had run its course. The university's founding credo called for it to "contribute even more than California's gold to the glory and happiness of advancing generations."
Today, the university is known for being at the forefront of social movements in the 1960s involving political activism and anti-war protests. When you stroll around the campus, you'll come across an "unusual free speech monument," according to quirkytravelguy.com. "Its inscription reads, 'This soil and the air space above it shall not be a part of any nation and shall not be subject to any entity's jurisdiction.'"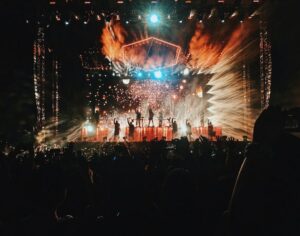 If you have time, take in some music at The Greek Theatre, an iconic venue that has hosted many legends, from Paul Simon and David Bryne to Bonnie Raitt.
Head on over to Telegraph Avenue, which is right outside of the university's gates. This is the place where students love to hang out. Shopping and food choices are abundant. "With its quirky shops, Telegraph has retained some of the Bohemian vibe of the 1960s," says planetware.com. "Hints of Berkeley's colorful counterculture heyday can be seen in the vintage record stores and tie-dye-clad post-hippies wandering the avenue."
You'll find affordable places to eat due to the high numbers of students living in the area. From bagels to pizza by the slice, Telegraph Avenue has it. Plus, there are hipster bookstores and vintage record stores, including Amoeba Music and Rasputin Music.
Fun Berkeley Cruises
There are scenic cruises on the San Francisco Bay for every holiday, from Easter and Mother's Day to the 4th of July and Christmas. These feature amazing views of Berkeley's waterfront and the San Francisco Bay sights, including the Golden Gate Bridge, Alcatraz Island, and the Bay Bridge. You'll enjoy great food, full bar service along with live music.

Berkeley might be a bit unconventional, but it brings charm. The city is eclectic and has so many fun and unusual things to offer. You'll come away with an appreciation for its influential history and enjoy the city's lively culture!