Did you know that you can see whales in Boston? Yes! Just a short boat ride from this dynamic East Coast city, you can catch glimpses of several species of whale in their natural habitat. 
Conde Nast Traveler touts Boston Harbor Cruises as one of the top spots for whale watching in the country, especially from October through early November when the crowds have thinned out a bit. With experts from the New England Aquarium onboard to answer questions, Boston Harbor City Cruises' New England Aquarium Whale Watch Cruise gets you up close and personal with these magnificent animals. Here's everything you need to know ahead of a whale-watching trip in Boston.
1 What kinds of whales can I see?
Humpback whales, minke whales, and fin whales (also called finback whales) are some of the most common whale sightings near Boston. The critically endangered right whales also pass through the area, though spotting them is a special treat as they're extremely rare. Pilot whales, blue whales, sperm whales, and sei whales have also been seen in the vicinity.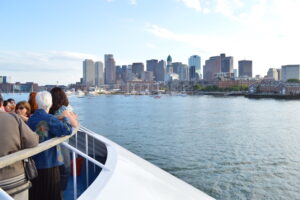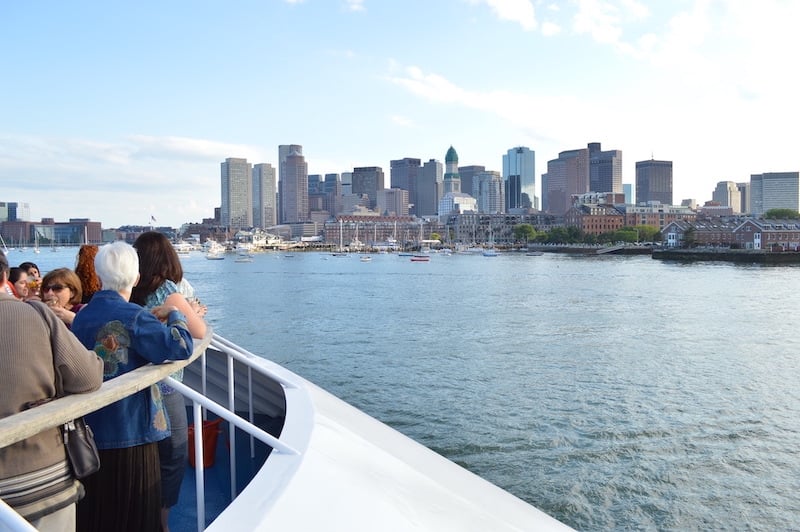 2 What is the best time of year for a whale-watching cruise?
Prime whale-watching season in Boston lasts from May to October, when the whales migrate to the warm North Atlantic for the summer. You can sometimes see whales in March, April, and November too.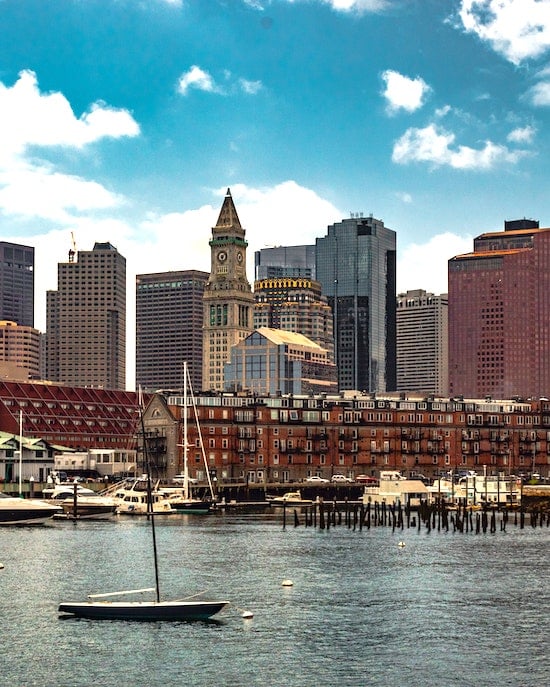 3 What is the best place to see whales in Boston?
You'll have the best odds of seeing whales in the Stellwagen Bank Marine Sanctuary. Located between Cape Ann and Cape Cod at the mouth of Massachusetts Bay, this federally protected marine sanctuary encompasses 842 square miles of excellent whale-watching territory.
4 What is the best time of day to see whales?
Whales can be active throughout the day, so there isn't really a best time for whale sightings per se. Boston Harbor City Cruises whale-watching trips take place throughout the day to increase the chances of a sighting.
5 How long are Boston whale-watching tours?
Most tours last between three-and-a-half and four hours. High-speed catamarans reach the whale-rich marine sanctuary quickly, leaving plenty of time to search for whales and other marine life in the area.
6 What should I wear on a Boston whale-watch cruise?
Everyday clothing and comfortable shoes are the best things to wear during your cruise. It's also a good idea to bring a light jacket—even in the height of summer, the temperature can be cool out on the open sea.
Along with outdoor viewing decks, Boston Harbor City Cruises boats have climate-controlled interior cabins with comfortable seats and big windows, so you can still see all the action while relaxing indoors at the same time.
7 What else should I bring to go whale-watching?
Along with comfortable clothing, pack sunscreen and a water bottle. You can also bring food, but snacks are available to buy onboard as well.
8 What about motion sickness?
On windy days, the open waters outside Boston Harbor can get choppy, and passengers occasionally suffer from sea sickness. To alleviate the symptoms, bring along motion-sickness medication, and look toward the horizon to stabilize yourself.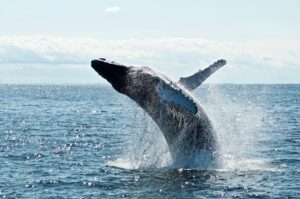 9 What other marine life can I see during a whale-watching cruise?
A whale-watching cruise with no whale sightings is extremely rare, especially between May and October. During that time, it's almost guaranteed you'll see whales—but even you don't, it's still an amazing chance to look for other marine creatures, such as harbor seals, Atlantic white-sided dolphins, and sea birds.
10 Where can I find whale-watching cruises in Boston?
The whale-watching tour from Boston Harbor City Cruises departs from Long Wharf, a historic pier in Boston Harbor.
11 Where can I learn more about whales on dry land?
While our cruises have a New England Aquarium naturalist onboard to answer questions, visiting the aquarium itself is also a great way to learn more about the whales you'll see.

12 How do I find a responsible tour company?
All responsible whale-watching tours in Boston have the Whale Sense seal of approval, which means the tours follow specific guidelines to protect and respect the animals. We're proud to bear this seal—by boating with us, you're contributing to the continued conservation of these magnificent creatures.
Experience the thrill of seeing whales in the wild
If you're visiting Boston during the summer, going whale-watching is one of the top things to see and do. Spotting a whale in its natural habitat is an unforgettable experience; you may even get lucky and see breaching whales or other fun behaviors.
When you're not whale-watching, tour Boston on foot, or take one of our other sightseeing tours around the harbor to further discover this exciting city.
Original post date: August 30, 2022