For West Coast locals and visitors alike, there are few places better suited for an awesome birthday bash than San Diego, California. In fact, there are so many fun things to do in San Diego for your birthday, it can be tough narrowing down your list of places you'd like to go, sights you'd love to see, and experiences you just need to have. However, if you start planning your San Diego Birthday itinerary early, you can make sure you get the absolute most of your time in the city.
Just 17 short miles from the United States/Mexico border, you can expect to have some of the most delicious food in the world, enjoy pristine beaches, and soak in the sun with some of the best views in North America. Not sure where to start? No worries — check out this short list of some of the best things to do in San Diego for your birthday for a little celebration inspiration.
San Diego Sights and Whale Watching
San Diego Whale & Dolphin Watching Adventure – If you're a fan of wildlife, you've come to the right city — San Diego is home to plenty of the most majestic creatures known to man. Aboard the San Diego Whale & Dolphin Watching Adventure cruise, you'll enjoy some of the best birthday sightseeing on the San Diego Bay with a professionally narrated tour of San Diego's whale-watching hot spots. You and your guests will keep your eyes peeled as you search for gray whales (in the winter), blue whales (in the summer), minke whales, fin whales, dolphins, sea lions, marine birds, and all sorts of other wild friends of the sea.

Additionally, you'll get the chance to check out a bunch of San Diego's iconic landmarks from a whole new perspective. Get ready to learn all about the aquatic life and Bay highlights that you pass for a truly once-in-a-lifetime birthday experience — just don't forget to bring your camera, since you won't want to miss the opportunity to snag a few pictures while aboard! Oh, and if for some reason your crew doesn't spot a whale on your whale-watching cruise, you will receive a pass that's good to return for a Whale Watching Cruise or Harbor Cruise from City Cruises San Diego to make sure you get to witness these awesome creatures in action. And, even though the whale-watching vessel cruises in the open ocean, it's actually the most comfortable yacht in San Diego, thanks to its built-in stabilizers which greatly reduce the yacht's motion. So no sea sickness to be had, just sick sights and memories to make!
San Diego Birthday Cruise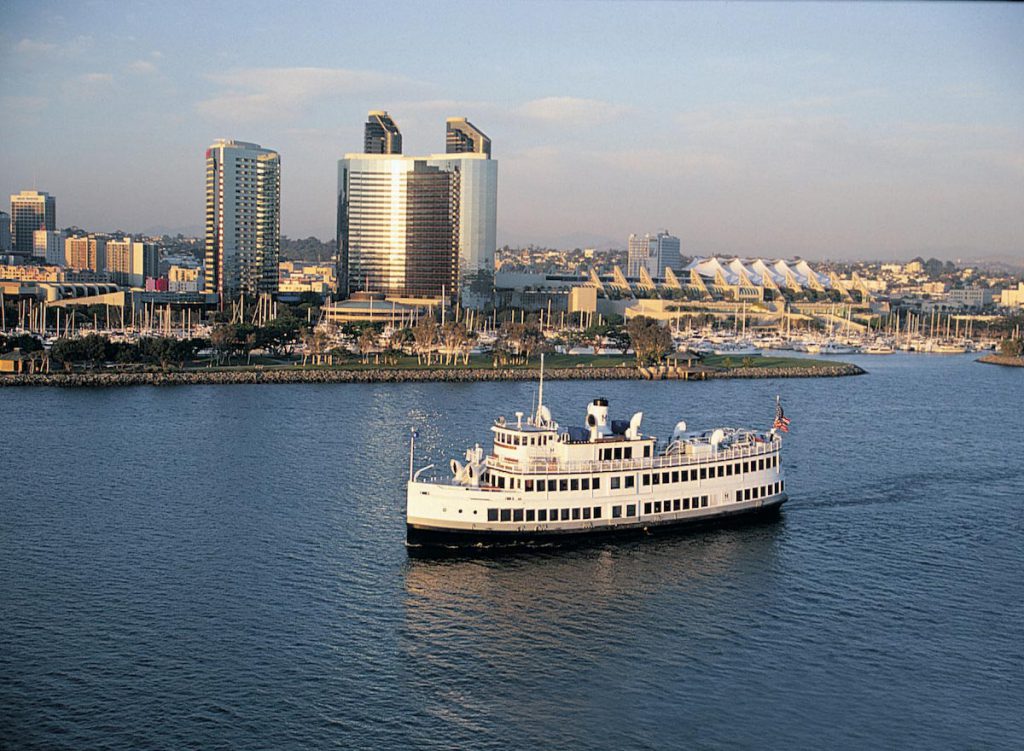 Premier Dinner Cruise in San Diego – Does your birthday vision include experiencing a spectacular San Diego evening from the comfort of a comfortable and spacious yacht? If so, no sweat — on the Premier San Diego Dinner Cruise, you and your birthday guests will sit down to a delicious plated dinner at your private table, made on board by our chefs from local, seasonal ingredients and served by our award-winning stewards. Then, you can pop out on the deck for a stroll under the stars while you take in breathtaking views of San Diego's most famous sights, including the Coronado Bay Bridge, the Star of India, and more. This is sure to be one unforgettable birthday.
Premier Brunch Cruise in San Diego – Looking for a surefire birthday bet? We've got your back with the most popular cruise in San Diego: the Champagne Brunch Cruise. No birthday is complete without a little bubbly and the delicious drinks pair perfectly with the sparkling waves and soft breezes which set the mood for this ultra-relaxing way to start off your big day. The cruise features free-flowing Champagne, along with unbeatable views of San Diego's top sights, including the Coronado Bay Bridge, the USS Midway Aircraft Carrier Museum, the Star of India, Naval Air Station North Island, and many more. So, sit back, relax, and get ready to enjoy the fresh air, sunshine, and sightseeing with your friends and family.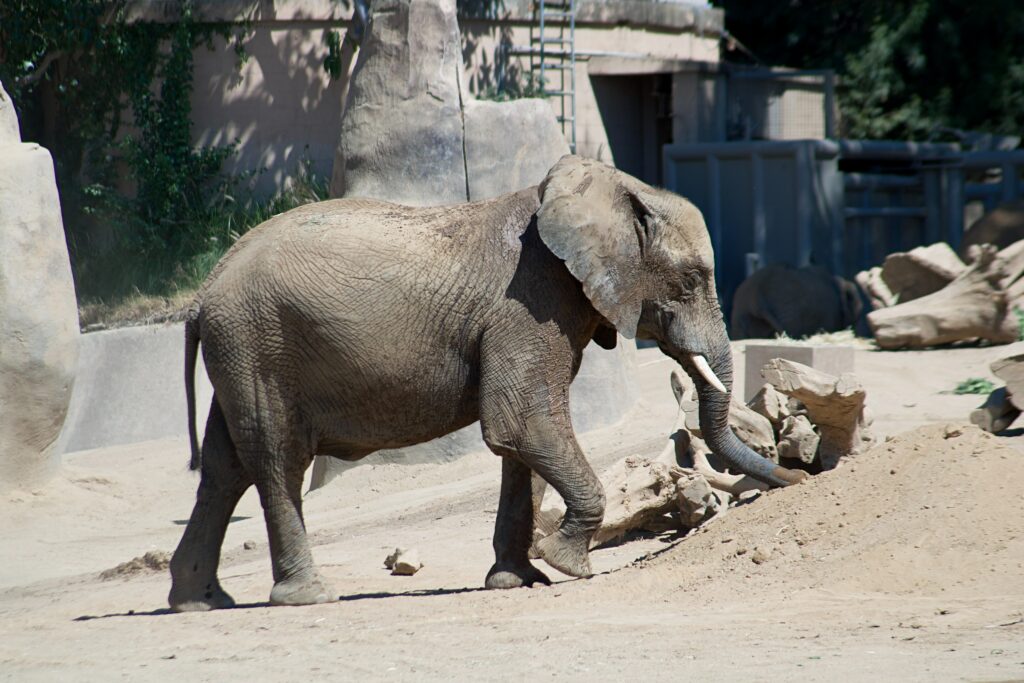 In the market for some landlocked fun? You can't go wrong with trying out some of San Diego's best restaurants, hitting the incredible Stone Brewery for some brews and sunshine, eating incredible Mexican food in the Barrio Logan neighborhood, and checking out the internationally renowned San Diego Zoo. No matter what you decide to do, San Diego is sure to make your birthday one to remember.
San Diego Private Birthday Party Boat
San Diego, with its expansive harbor, gentle waves, and shimmering Pacific backdrop, provides an idyllic setting for celebrating birthdays. Floating amidst this maritime paradise, a private boat brings an added layer of exclusivity and enchantment to your special day. When it comes to such tailored experiences in San Diego, City Cruises emerges as a beacon of excellence. City Cruises cater to a spectrum of celebratory desires: you can charter an entire boat, ensuring a grand and private festivity; opt for a dedicated deck to enjoy the celebrations with a select group; or reserve your very own table on one of the public cruises, creating a personal enclave amidst the vibrant energy of fellow revelers. City Cruises is not just about the vessel; it's about the holistic experience. The commitment to impeccable service, delectable dining options, and panoramic views of San Diego's skyline and the majestic Coronado Bridge set them apart. Whether you envision a grand soirée or an intimate gathering with loved ones, City Cruises promises an unforgettable birthday journey across San Diego's azure waters. Fill out this form today and an Event Planner will contact you!
San Diego Birthday Venue on the Water
If you're looking to have a traditional birthday party, then look no further. City Cruises' fleet of luxurious yachts and boats can be used as a venue to host your next birthday celebration. Our team is ready to start the planning process, so you and your guests can truly enjoy this one of a kind experience. Chef-prepared food, full-bar available, live DJ entertainment, spectacular San Diego views, and of course family and friends, make the perfect recipe for a memorable birthday. And the fun doesn't have to stop there! You can use City Cruises' floating venues for a number of other events such as weddings, family reunions, corporate events, after parties, and the list goes on.
FAQs – San Diego Birthday Fun Things to Do
What makes San Diego a great place to celebrate a birthday?
San Diego's weather is fantastic year-round, which means you can plan outdoor celebrations without worry. The city's diverse range of activities, from beach outings to cultural attractions, provides plenty of options to suit various interests. Plus, San Diego's vibrant nightlife scene and unique dining options make for unforgettable birthday experiences.
Why should I consider City Cruises for my San Diego birthday celebration?
City Cruises offers an exciting way to celebrate your birthday. With a range of cruising options, you can enjoy San Diego's stunning coastlines, skyline, and wildlife from the water. Whether you opt for a champagne brunch cruise or a premier dinner cruise, our comfortable, spacious yachts and professional staff ensure a memorable event.
What type of birthday cruises does City Cruises San Diego offer?
At City Cruises San Diego, we offer a variety of cruises to make your birthday special. From whale watching adventures and premier dinner cruises to champagne brunch cruises, there's an experience to suit everyone. Our cruises offer top-tier amenities, delicious food and drink, and spectacular views of San Diego.
Is it possible to rent a whole boat or a private deck for my birthday with City Cruises?
Yes, at City Cruises San Diego, you can rent out the whole boat or a private deck depending on the size of your party. This allows for a more intimate and personalized birthday celebration.
What can I expect from a birthday cruise with City Cruises?
On a City Cruises birthday cruise, you can expect an unforgettable celebration aboard our comfortable, spacious yachts. We offer a variety of options to suit your preference, from relaxed champagne brunch cruises to evening dinner cruises. Every cruise includes delicious on-board dining, stunning views of the city, and exceptional service from our professional staff. You'll have the opportunity to customize your cruise experience, making your birthday truly unique.
Why should I consider a birthday party boat for my celebration?
Hosting your birthday party on a boat offers a unique and memorable experience. With City Cruises, you can enjoy the beautiful scenery of the city skyline from the water, adding an extra layer of excitement to your celebration. Our boats are equipped with spacious decks, comfortable seating, and top-tier amenities to ensure your guests have a fantastic time. Additionally, our professional team will work with you to tailor the event to your specific needs and preferences, from catering to entertainment.
How far in advance should I book a birthday cruise with City Cruises?
We recommend booking your birthday cruise with City Cruises San Diego at least a few months in advance, especially during peak seasons. This ensures availability and allows ample time for planning any personalized details for your celebration.
What dining options are available onboard a City Cruises birthday celebration?
City Cruises San Diego boasts an array of gourmet dining options, including brunch, plated dinners, and themed menus. All our dishes are prepared using fresh, locally-sourced ingredients. If you have specific dietary requirements or wish to customize your menu, our team is happy to accommodate your needs.
Is there a dress code for the birthday cruises?
While there's no strict dress code, we recommend smart-casual attire for our cruises. If you're hosting a themed birthday party or prefer a more formal atmosphere, you can certainly communicate this to your guests.
What are some other popular birthday activities in San Diego?
San Diego offers a plethora of birthday activities ranging from beach picnics and surfing lessons to visiting attractions like the San Diego Zoo, Balboa Park, or the USS Midway Museum. For those seeking adventure, there's paragliding in La Jolla or hiking in Torrey Pines State Reserve. Night owls might appreciate the lively Gaslamp Quarter with its myriad of bars, clubs, and restaurants.
How does celebrating a birthday on a City Cruises boat compare to other San Diego attractions?
While San Diego's land-based attractions are undoubtedly engaging, celebrating on a City Cruises boat offers a unique perspective of the city. It combines the thrill of the open water with unparalleled views of the skyline, creating an atmosphere that's both exclusive and scenic. Onboard, you're treated to luxurious amenities and personalized services that you wouldn't typically find in a traditional venue.
Why is a boat celebration more unique than a beach party in San Diego?
A beach party, while delightful, is common in a coastal city like San Diego. A boat celebration with City Cruises takes your party off the familiar sands and into the vibrant waters, offering a dynamic, moving landscape. Unlike the beach, where you have one static view, on a boat, every moment presents a new vista, from the downtown skyline to the sun setting over the Pacific. Plus, there's an exclusivity to having a dedicated space on the water without the typical beach crowds.
What unique sights can I see from a City Cruises boat that I wouldn't see otherwise?
From a City Cruises boat, guests can witness panoramic views of San Diego Bay, the Coronado Bridge, naval vessels, historic landmarks, and even marine life. The water offers a vantage point that reveals a side of San Diego that many don't get to experience, making it a distinctive birthday celebration backdrop.
How does the ambiance on a City Cruises boat enhance a birthday celebration?
The ambiance on a City Cruises boat is a blend of sophistication and relaxation. The gentle sway of the boat, the sound of waves, and the open sky create a serene environment. Couple that with luxurious interiors, gourmet dining, and impeccable service, and you have an ambiance that makes for a truly unforgettable birthday celebration.
Original post date: June 29, 2023