New York is the city of all cities. It is a concrete jungle where skyscrapers abound and are the backdrop to a literal life where its inhabitants live in the fast lane every day. But did you know it's also a veritable oasis for all manner of birds? The truth is, the city is filled with green spaces and waterfront areas where you will find some of the best places in the world to watch birds.
Believe it or not, the city that doesn't sleep has top spots to watch birds that are easily accessible by subway, bus, or ferry. You can find these ideal bird-watching spots in each of the city's five boroughs, including Central Park in Manhattan, Prospect Park in Brooklyn, Jamaica Bay Wildlife Refuge in Queens, Pelham Bay Park in the Bronx, and Mount Loretto Unique Area on Staten Island. Hundreds of different species of birds may be seen in and around New York City, and the variety changes depending on the time of year.
"New York City is located at a point of concentration along the Atlantic Flyway bird migration route, and our harbor's varied ecology provides nesting habitats for a broad array of waterbirds, raptors, songbirds, and more," says NYC Audubon. After a long night of flight, birds migrate over the city to rest and refuel. The combination of many migrants with limited amounts of open space leads to a "funnel" into the green spaces of New York City's parks which results in a spectacular concentration of birds. "Fall out" happens when large numbers of these migrating birds land due to inclement weather creating a spectacle for birders to remember for years to come. Make sure that you bring your binoculars to enjoy the view.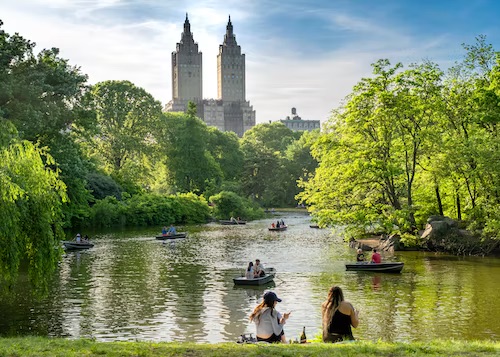 Top Birding Spots in Manhattan
Head over to Bryant Park in midtown Manhattan. It may be small in area, but you'll find a good number of birds during migration. Birds from past sightings include warblers, tanagers, and Chuck-will's-widow.
Located on Manhattan's northwest tip, Inwood Hill Park is another place to spot birds in the city. This park has about 150 species of birds. Spring migration is when you can find shorebirds and gulls. Waterfowl and hawks are seen here in the fall.
For the ultimate in birding in Manhattan, look no further than the city's most popular park, Central Park. Known around the world, it's also a wonderful place to spot numerous bird species. The park is located along the Atlantic Flyway with more than 210 bird species to spot, some who live there throughout the year, and others that are just making a stopover. Some of the best places in Central Park to bird watch include North Woods, The Ramble, Hallett Nature Sanctuary, and The Pond.
After you've seen the birds in Central Park why not get indoors for some shade and a bit of culture during the Meet The Met: Metropolitan Museum of Art Tour? An expert will guide you through 5,000 years of art in three hours. You'll have skip-the-line access to sites including The Temple of Dendur, Madame X, and the Ancient Pompeiian Room. This intimate tour of no more than 15 will be not only intimate but engaging.
Birding When in Brooklyn and the Bronx
The 526-acre Prospect Park is an "urban oasis located in the heart of Brooklyn, the crown jewel of Brooklyn birding," says the Brooklyn Bird Club. It was named "an Important Bird Area in New York State by National Audubon." You'll find many habitats at Prospect Park and almost 270 bird species in a year. There are possibly 35 warbler species as well.
Birding and the Bronx might not seem synonymous, but you'll find many birds to watch at Pelham Bay Park, which is New York City's largest park. There are more than 2,700 acres with diverse habitats that are a stopover for many birds, including the red-eyed vireo, gray catbird, chestnut-sided warbler, wood thrush, and many more.
Be sure to check Van Cortlandt Park in the northwest Bronx. As the third-largest park in New York City, you can expect to see many birds. The park is 1,146 acres, with half being natural areas including meadows, wetlands, and even a manmade lake. Songbirds (spring) and raptors (fall) have been seen during migration times. You will find owls, ducks, and hawks as well.
Bird Watching in Queens and Staten Island
"There are two fresh water ponds that were built by Robert Moses that are a main draw to the many birds who stop here during spring and fall migration," says NPS.gov of the Jamaica Bay Wildlife Refuge in Queens. The refuge is home to many birds year-round. And there are more than 300 species also spotted there. You will find wintering waterfowl, Brant, and ducks as well as raptors there.
Staten Island's Mount Loretto Unique Area is open throughout the year and has more than 200 acres that are great for hiking as well as sighting migrating birds. The area has five ecosystems, which makes it the perfect place for many habitats of birds. Some you'll see are Cormorants, bald eagles, and osprey.
And after a day of birding, kick back and enjoy the night sky on the Bateaux New York Premier Plus Dinner Cruise. This three-hour dinner cruise on the East and Hudson Rivers is an unforgettable and elegant experience. You'll dine with family and friends while catching the New York City views from a glass-enclosed deck. It features a plated dinner, a guaranteed table for your party size, and a live band performance. It's the perfect way to end a great day in nature.