Multiple cities are synonymous with bars on the water offering incredible views, especially New York City and Chicago. These two cities are known for their inventive drinks, superb cuisine, and city landscapes, which are unrivaled by other cities. You can enjoy a drink by the water with stunning views in either city, with top bars on the water listed below.
Having a drink on the water provides a unique atmosphere that's cool, chic, and peaceful. The below guide will provide insight into some of the top bars on the water that you can enjoy during a trip to either New York City or Chicago. You'll find some of the most exciting drinks between excursions at these spots.
Bars on the Water in Chicago
Regardless of which waterfront bars you choose in Chicago, you'll be afforded incredible views of Lake Michigan or the Chicago River. Select options in the downtown area near Millennium Park or on the city's outskirts for a more casual atmosphere.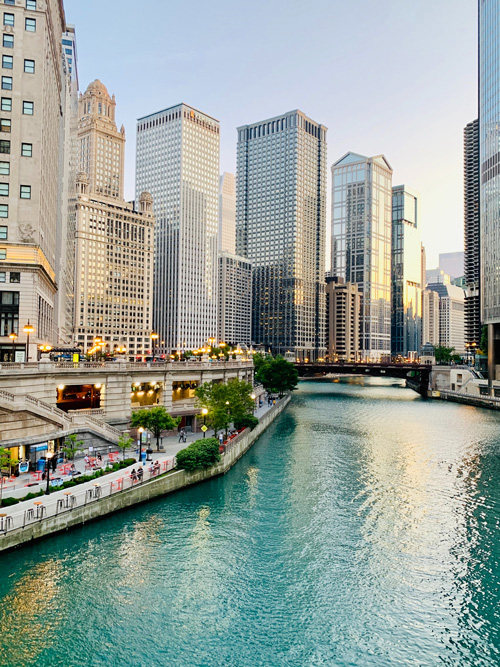 Found on South Beach, this waterfront bar is open seasonally during the summers. Reggie's is a small, casual spot on the beach with picnic tables. You can enjoy some of the best barbecue options and plenty of outdoor seating at this spot. Grab a beer and relax near the water as the live entertainment plays nearby.
Found at the popular Navy Pier, Offshore Rooftop is a top choice for bar-goers searching for a trendy spot on the water. This spot is available for indoor and outdoor rooftop seating with patio-style chairs and firepits. In the evening on Fridays, you can see fireworks over Lake Michigan from this rooftop bar.
Elegant and set in a unique tavern setting, The The Lakefront Restaurant is a top choice for bars on the water. This restaurant is situated in a historic theater. This high-end option serves food made with fresh ingredients in an American style. Craft beer selections and delightful wines are available for purchase. Enjoy a drink as you view the Chicago skyline and Lake Michigan from the windows.
Bars on the Water in New York City
As multiple bodies of water touch New York City, like the Hudson River, East River, and the Atlantic Ocean, there are many bars on the water. Below are a few options to try while in town.
Set on the East River in NY, nearby the South Street Seaport, the Watermark Bar offers incredible views of the Brooklyn Bridge and Brooklyn Bridge Park. There are options to enjoy indoor or outdoor dining, making it a top choice regardless of the weather and season. This location offers delicious oyster bar selections and the largest lobster rolls in New York City (can feed up to 15 people).
Grand Banks provides a bar destination as close as you can get to the water, as this bar is on a boat. This high-end bar features multiple tables to sit at and a few bars to order onboard, creating a unique experience for anyone who visits the bar. Try their rose and oysters combination; it's a top choice for many.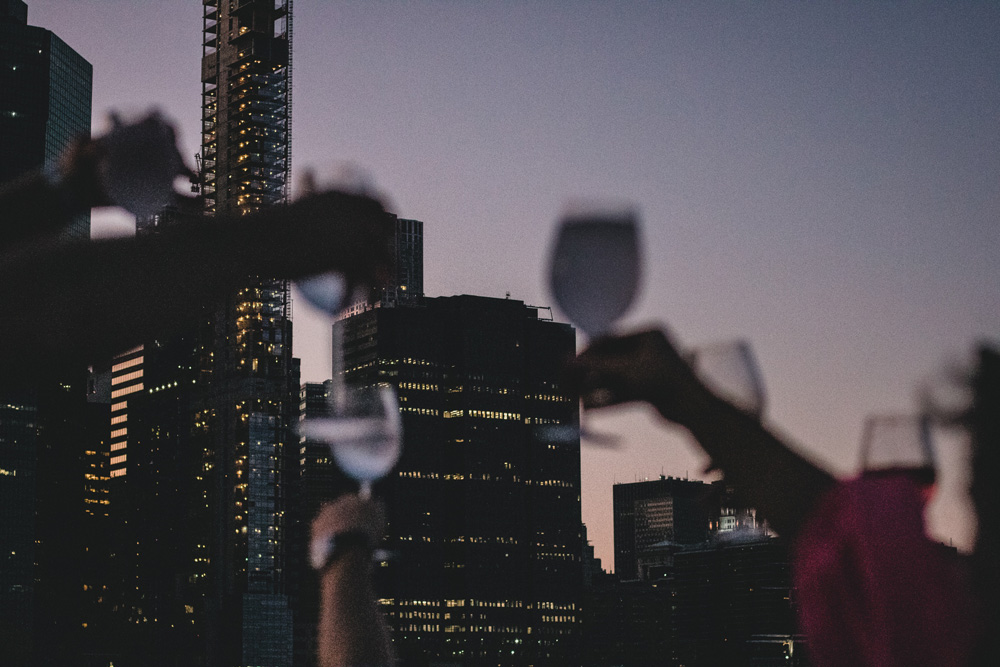 Anable Basin is a Long Island City spot hidden between warehouses and public parks. It features a huge space outdoors, making it one of the ideal bars on the water for larger groups. Pair their menu options like skirt steak with one of the fun cocktails available.
This bar is found on the deck of a Baylander IX-514 situated in the water. Baylander is docked at the West Harlem Piers and has a fascinating history as it was initially used in the Vietnam War. Dogs are also allowed aboard the Baylander, as long as they're well-behaved.
Bars on the Water: Experiences
While enjoying the views from bars on the water always offers a great experience, there are other ways to enjoy the water and a few drinks simultaneously.
Larger groups can rent boats for a fun party experience with incredible views and a temperature-controlled interior. These boats are perfect for any occasion and offer a new way to enjoy the water.
There's no better way to enjoy New York than by dancing to a live DJ and sipping on a cocktail on the New York Alive After Five Cruise. Food is available on board, creating an ideal after-work experience with stunning views of New York City landmarks like the Statue of Liberty.
Spend a few hours admiring the Chicago skyline aboard a Sights & Sips Signature Cruise on Lake Michigan. Snack on hors d'oeuvres and sip on a glass of wine while enjoying sightseeing on Lake Michigan.

Bars on the Water: Planning a Visit
It's important to remember that these energetic cities provide excellent bar options, even on the outskirts of the cities. If you're staying in another city section, you don't have to drive to these bars for great drinks.
You'll have some superb bars on the water near your accommodations. Those with extra time to explore should try the listed excursions and bars. Otherwise, a trip to the nearest bars on the water will likely provide a positive experience. Note how much time you have in the city and plot your itinerary to narrow your bar options.
FAQ:
What Part of Chicago Has the Best Nightlife?
Not one spot in Chicago has the best nightlife, as it depends on the typical bar style you prefer. Below are some of the neighborhoods known for their lively nightlife scene.
River North: Stylish and trendy, with higher-end bars, River North is a top spot for many.
Wicker Park: Trendy, hipster options are found in Wicker Park, providing a cool atmosphere to grab a drink or two.
Lincoln Park: Nearby the water, Lincoln Park provides a more relaxed bar setting in a nicer neighborhood.
What Is the Street in Chicago With All the Bars?
While many streets in Chicago have bars to check out, one street with the most options for bars is Clark Street. This street stretches 12 miles and works its way through multiple neighborhoods, offering you different atmospheres from dive bars to trendy spots.
You can select from 203 bars or establishments that serve alcohol along this street.
What Are Some Highly Rated Waterfront Bars in New York?
There are quite a few New York waterfront bars with positive ratings. Some top options include Putting Green, Brooklyn Waterfront, and Elevated Acre.