There are tons of fun and exciting San Francisco 4th of July events that are sure to make this year's holiday one to remember.
Don't let allergies, taxes, and spring cleaning get you down — summer is nearly here, and with it comes plenty of sunshine, outdoor activities, and fun with family and friends. And, if you're planning on being in the United States during the warmer months, it's time to start nailing down your plans for one of America's favorite summer holidays: the 4th of July. If you're going to be in San Francisco for Independence Day, you're in for a treat — whether you're a local or just visiting, the city and the surrounding Bay Area are great places to spend the holiday with loved ones. From its spectacular bay views and bustling neighborhoods to its off-the-charts art scene, delicious dining experiences, and exciting live events, there are tons of things to do in San Francisco for the 4th of July, if you know where to look. Struggling to figure out what to do in San Francisco for the 4th of July weekend? Don't panic: We've got you covered. There's no shortage of fun and family-friendly San Francisco 4th of July events that are bound to make this year's celebration one for the history books.
Things to Do in San Francisco for the 4th of July
You'll want to plot your course beforehand, since there are a bunch of fun things to do, see, and experience in San Francisco for the 4th of July. You'll want to make some time to visit Alcatraz for some history, adventure, and wildlife; check out the famous Golden Gate Bridge; stop by the world-renowned Lombard Street; pop into any of the fantastic museums the city has to offer; and possibly even poke your head into Anchor Brewing, home to one of America's only native beer styles: Steam Beer! On Independence Day, you can stop by Fisherman's Wharf for what's now the go-to firework-watching party in town, which sees neighborhood restaurants, activities, and retail shops all open to the crowds, along with street performers and live music. Planning on enjoying the holiday from the water? No sweat — the San Francisco Belle 4th of July Dinner Cruise is just what the doctor ordered. This year, celebrate July 4th on the San Francisco Bay with your friends and family. You'll set sail aboard the iconic San Francisco Belle where you'll enjoy a full dinner buffet, complete with premium wine and beer, a DJ, and of course, plenty of dancing! Oh, and you'll have one of the best seats in the city for a unique view of San Francisco's fireworks show!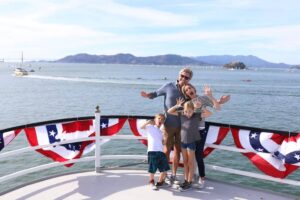 Fireworks Shows in San Francisco for the 4th of July
The fireworks display over San Francisco Bay will start shortly before 9:30 pm (or once it's dark enough) and lasts around 30 minutes — the best place to watch them is either on a 4th of July Premier Dinner Cruise, ferry, or from Fisherman's Wharf, but there are a ton of great spots where you can see the fireworks from all over the city, so it's easy to plan your evening. Be sure to check the Fisherman's Wharf website for more specific information surrounding the fireworks display when it's posted in June!
Ask a Local
What are the best places to watch fireworks in San Francisco for the 4th of July?
There are a bunch of great spots to watch the show, but we recommend viewing from a cruise or Fisherman's Wharf. Pro Tip: Wherever you go, you'll want to get there early, as crowds get large quickly.
What are some family-friendly activities to do in San Francisco over the 4th of July weekend?
Seeing the Golden Gate Bridge, visiting Alcatraz, exploring the city's incredible dining scene, checking out Haight Ashbury and learning about the Summer of Love, visiting the Aquarium of the Bay, and much more.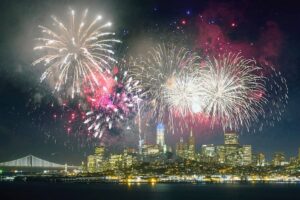 Can I bring my pet to the 4th of July events in San Francisco?
Definitely! It's a good idea to confirm with any specific venues or events you plan on heading to, but overall, San Francisco is a very pet-friendly town — just make sure to bring a leash and some disposable pet bags.
Are there any parking restrictions or road closures during the 4th of July events in San Francisco?
Your best bet is, if possible, to take public transit into the city. Otherwise, you can pay to park in a garage, or you can try your luck with street parking. You can also park in Union Square and take public transit down there. For information on specific restrictions or road closures, make sure to check the San Francisco municipal website closer to the holiday.
What types of 4th of July cruises are offered by City Cruises in San Francisco?
The San Francisco Belle 4th of July Dinner Cruise and the San Francisco 4th of July Premier Dinner Cruise are both excellent, family-friendly adventures that are sure to make the 4th of July 2023 a blast. On the Dinner Cruise, you'll celebrate the 4th of July from the water, while enjoying chef-prepared menus, creative cocktails, beer, wine, and San Francisco's most incredible skyline views. After your meal, you'll watch sparks fly on the water and enjoy a spectacular fireworks display as they fly overhead, honoring the nation's birthday.
So, if you're hoping to see some excellent fireworks and beautiful city views, San Francisco is a terrific place to be for July 4th. But don't forget: No matter what you decide to do this 4th of July, have a fun and festive time while you're in town!