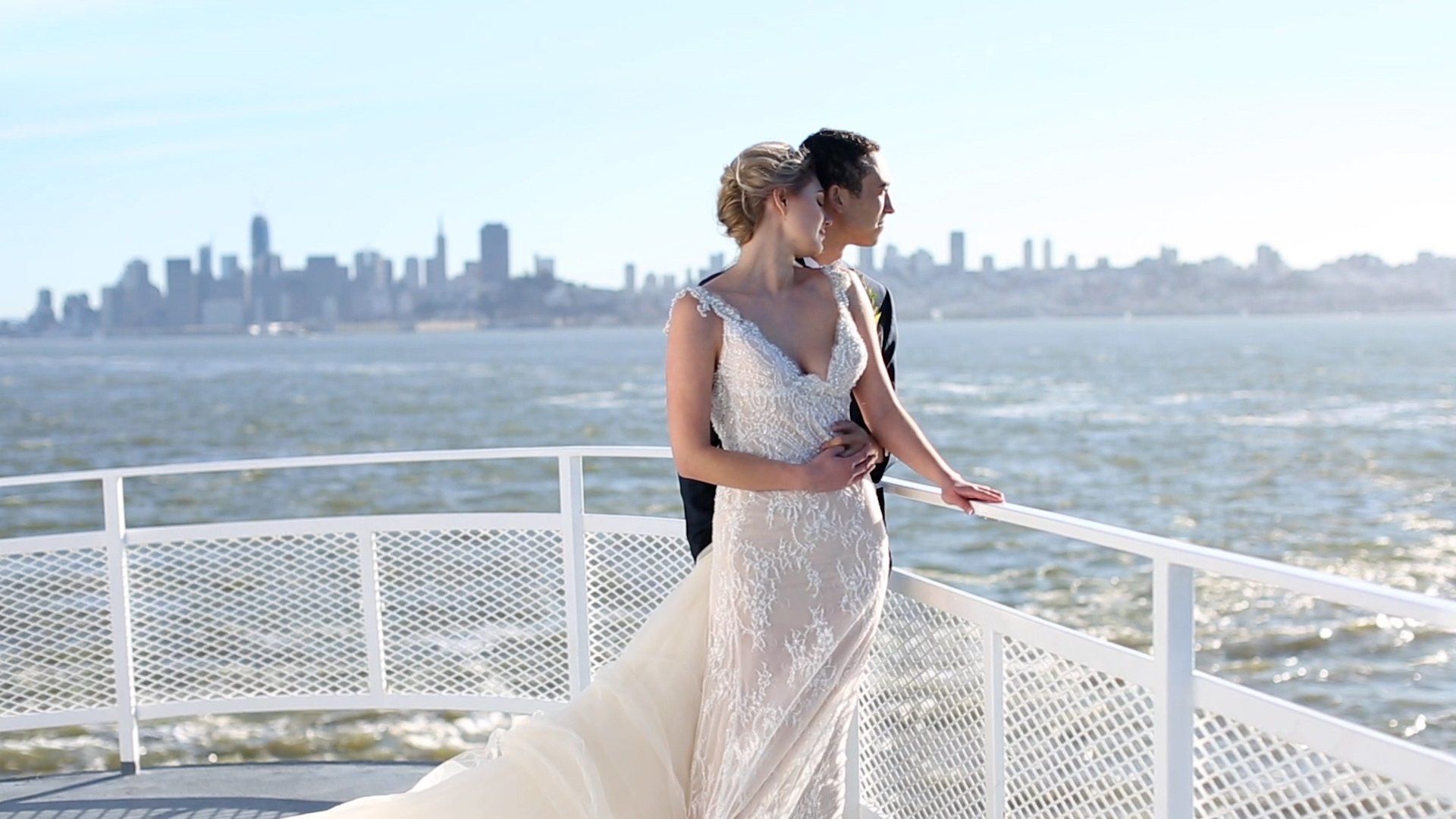 Long Beach Weddings on the Water
Host your dream wedding on the water aboard a unique floating venue with exceptional views of southern California's world-famous beaches and harbor views! City Cruises offers chef-prepared menu options, full bar service, and all-inclusive packages that can be customized to fit your budget, style, and party size. From 
ceremonies to receptions
, 
rehearsal dinners
, or any 
wedding-related event
, you and your guests will love our distinctive hospitality, climate-controlled interior, and open-air outdoor decks. Turn your dream wedding into an unforgettable celebration on the water with breathtaking views of Long Beach's coastal city skyline and sandy shoreline!
For more information on creating your dream wedding on the water, click here.
Frequently Asked Questions
How many people can go on a wedding cruise in Long Beach?
Our Long Beach fleet offers cruises from 100 to 550 guests. Contact us to find out more about them.  
Does City Cruises offer all-inclusive weddings in Long Beach?
All-inclusive weddings are the perfect way to clear your mind and enjoy your wedding planning because you don't have to go around finding vendors for each aspect of your celebration. City Cruises can solve the issue by offering all-inclusive packages with catering, a bar, decorations, and entertainment.  
How much do yacht weddings cost in Long Beach?
The cost depends largely on the size of your wedding, the services you want to include, and the type of vessel you choose. All you need is to fill out the form here or call our team at 800-459-8105. You can always contact us to get full information and pricing for your needs. 
What types of wedding packages does City Cruises offer in Long Beach?
City Cruises offers wedding packages ideal for your needs and budget, each wedding package is customized, and you are free to choose the services you need. Since there are no two weddings alike, you should not settle for a boxed option. Our tailored experiences are here to make your dreams come true.  
Does City Cruises Long Beach offer a coordinator for the wedding cruise?
City Cruises offers all you need to enjoy your wedding, and a wedding coordinator is no exception. Contact our customer service to find out which wedding packages include the valuable knowledge of a wedding coordinator.  
What sights can be seen at a boat wedding in Long Beach?
After saying I do on board our boat, your mind will be blown away by the beauty of Long Beach waterfront. Known for its sandy beaches and deep blue sea, the calmness of this port has no comparison.  
Will there be photo opportunities on a Long Beach yacht wedding?
Long Beach is known for its beaches and sunny weather all year long; photo opportunities, indoor and outdoor, are here to make the most of your wedding photos. From a sandy coastline to the beauty of our decks.  
Where do wedding cruises depart in Long Beach?
Pier Location: 100 Aquarium Way, Rainbow Harbor Dock 6A 
Does City Cruises Long Beach provide a wedding vendor list?
We offer all you need on board, but if you wish, you can bring your cake and decorations if you comply with our policies. Find everything about them by contacting us here or call our team at 800-459-8105.