The city of York was filled with excitement this past weekend as the annual York Ice Trail took place from February 4th to 5th. The event attracted both locals and visitors who were eager to explore the 37 ice sculptures that were placed throughout the city centre. The sculptures were designed with the theme "A Journey Through Time" and were a hit with children and adults alike.
The trail started at Parliament Street and took participants on a journey through the history of York, from the prehistoric ages to the future. Each sculpture was sponsored by a local business in collaboration with Make It York and the main event sponsors, York Park & Ride. The sculptures were designed and created by Icebox, Europe's leading ice specialists.
The finale of the trail took place in St Sampson's Square where a live ice carving was performed by Icebox. The grounds of Middletons Hotel were transformed into a mystical world of mythology, complete with four show-stopping ice sculptures, photo opportunities, and activities for everyone to enjoy. City Cruises, The Potions Cauldron, and York Gin were also on-site with crafts, competitions, and surprise creatures; aided by the famous Thwaites Shire Horses, dressed in their finest attire.
City Cruises' contribution to the York Ice Trail, the "20,000 Leagues Under the Ouse" sculpture, inspired by the classic novel "20,000 Leagues Under the Sea," depicts a menacing Kraken encircling one of the company's passenger boats, the River Prince. Chloe Shefford, City Cruises' Event & Sales Coordinator who designed the sculpture, expressed her excitement for the event and her gratitude for the opportunity to participate. She said, "I'm a resident of York and look forward to this event every year. I'm so glad to be a part of it again and to collaborate with other wonderful local businesses at the stunning Middletons Hotel."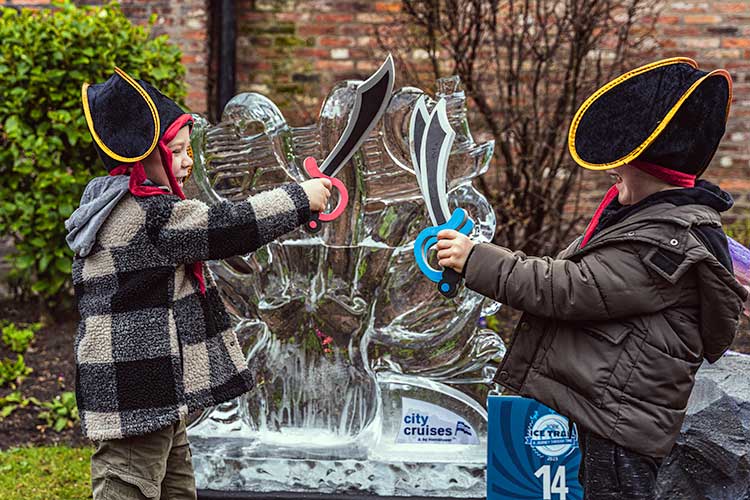 York Ice Trail was an immensely enchanting experience for all who participated. The "A Journey Through Time" theme was brought to life through the unique and captivating ice sculptures, and the event was a great opportunity for local businesses to showcase their creativity and collaboration. If you missed this year's event, be sure to mark your calendars for next year's York Ice Trail and experience the magic of ice and history in one of England's most historic cities.
Visiting York for the coolest festival going? Jump on a Sightseeing Cruise while you are in the city!