Due to its small size, finding an affordable yet nice place to stay when visiting Venice, Italy, can be a difficult task.
But have no fear: This incredibly unique city has plenty of unique hotels to match. Whether you're looking for a private, cozy Airbnb conveniently located in a quiet neighborhood or an edgy, modern boutique hotel that contrasts with the city's historic style, you'll find plenty of one-of-a-kind accommodations here—even on a budget.
What are the most affordable and unique places to stay in Venice?
Staying in central Venice's charming and historic neighborhoods can be budget-friendly, as these unique Venice hotels prove. Note that prices may fluctuate depending on the season, with the busy summer months likely having the highest rates.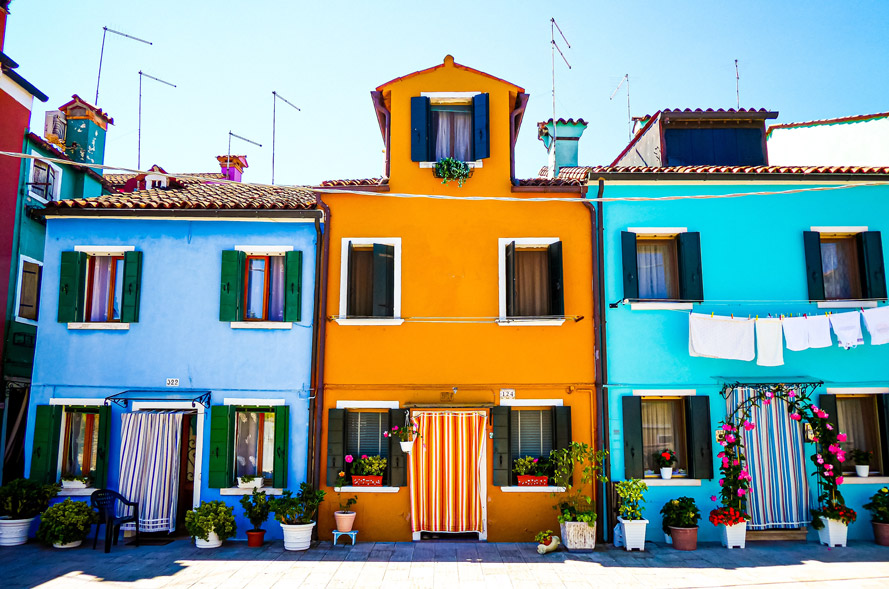 1. Casa Burano
The sun-faded, neutral tones of the buildings on the main islands of Venice stand in contrast to the brightly painted, multicolored houses on the island of Burano, where Casa Burano is located.
To create this stylish bed-and-breakfast, the winemaking Bisol family converted five houses in central Burano into a set of chic, scaled-back rooms, with white walls, simple furnishings, and refreshing splashes of pastel and primary colors. Thanks to the colorful decor, private abodes, and welcoming staff, this vibrant stay is also fun for families.
2. Corte di Gabriela
Situated inside a refurbished and reimagined 19th-century palazzo in central Venice, just a short walk from the Grand Canal, Rialto Bridge, and Piazza San Marco, this boutique hotel was named one of the most romantic hotels in Italy—and the world—by the readers of TripAdvisor  in 2022.
Not looking for a romantic stay ? This singular property will also appeal to fans of boutique hotels and their unique approach to hospitality and design. All the rooms are simply but elegantly furnished, upgraded with modern conveniences and stylish touches (think: red light fixtures) to create a warm and visually intriguing blend of past and present.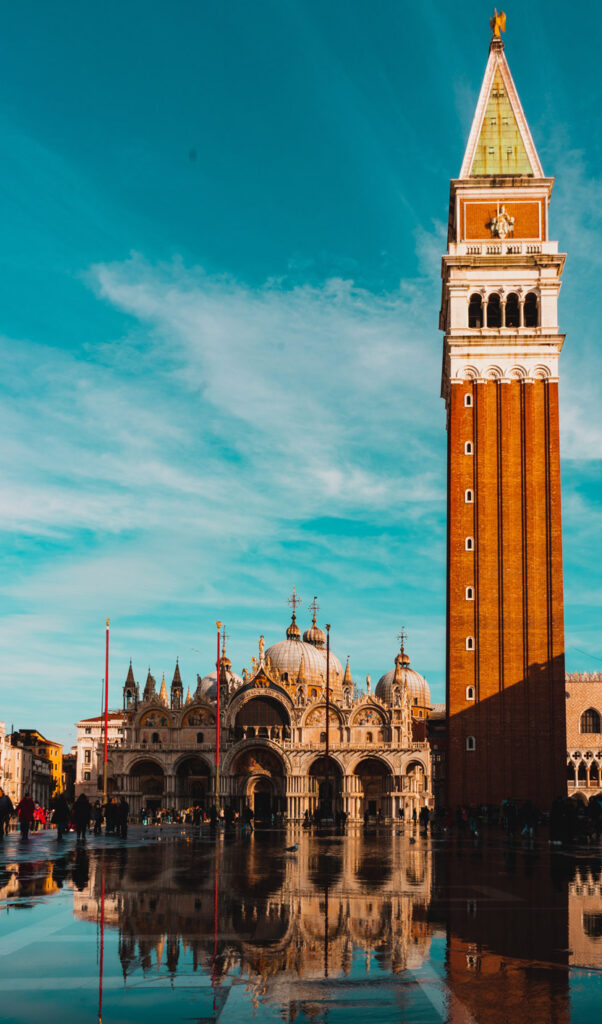 3. Generator Venice
Located across the water from Piazza San Marco, this historic building turned hotel may be a hostel, but don't let that scare you off.
Generator Venice is likely to be the nicest hostel stay you've ever had, with luxurious hotel-level design, such as velvet couches and elaborate tile patterns. But it has modern flair too, as evidenced by the neon lights and industrial-chic decor.
While more typical communal rooms do exist, there are also ample private rooms, giving you the sense of staying in a five-star hotel at a fraction of the cost.
4. Il Palazzo Experimental
Among the best boutique hotels in the city, a stay at Il Palazzo Experimental is a must for design lovers. The signature art deco–esque look both compliments and contrasts the older buildings of Venice, feeling like a breath of fresh air with rounded corners, gold accents, and soft colors.
Opened by the international Experimental hotel brand in 2019, with 32 rooms, a restaurant, a private garden, and a bar, this trendy but affordable spot is walking distance from the Grand Canal and offers easy access to the city's iconic landmarks and top sights.
5. Room N.5 Airbnb
With exposed wooden beams, spartan furnishings, and contemporary design, this two-person rental is just steps from the Rialto Bridge and San Marco Square, but it feels a world away, thanks to its location on the peaceful Santa Marina canal.
Situated on the ground floor right by the water, with arching windows that look directly out onto the water like a magical portal, this suite's canal-side location gives the entire space a moody, low-light feel as well.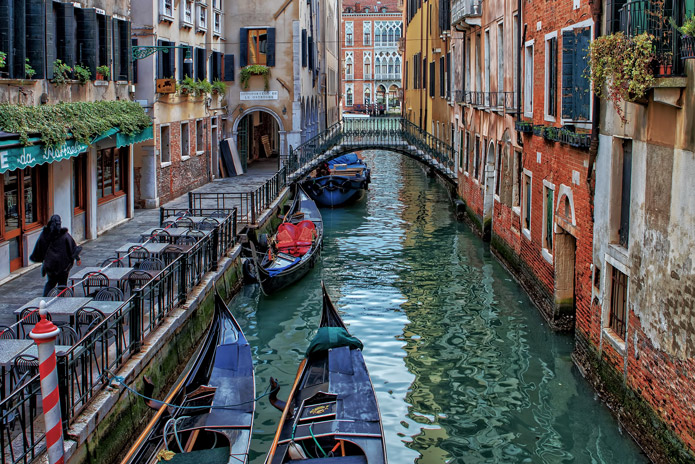 6. Grand Canal next to Guggenheim Airbnb
It doesn't have to cost an arm and a leg to stay in a rental with a view of the Grand Canal. You can watch gondolas drift by from the windows of this bright and spacious two-bedroom apartment rental, which comes with a small kitchen and living room area. The Peggy Guggenheim Museum of modern art is practically next door too.
7. Ca' Manzoni Apartment near Piazza San Marco
This private apartment in a charming house near central Venice feels like a cute cottage in the French countryside with its antique furnishings, pastel-pink color scheme, and overall delightful atmosphere.
The rooftop terrace is the cherry on top: It looks out onto neighboring rooftops and is the perfect place to start your day with a cup of coffee while listening to the bells of nearby St. Mark's Square.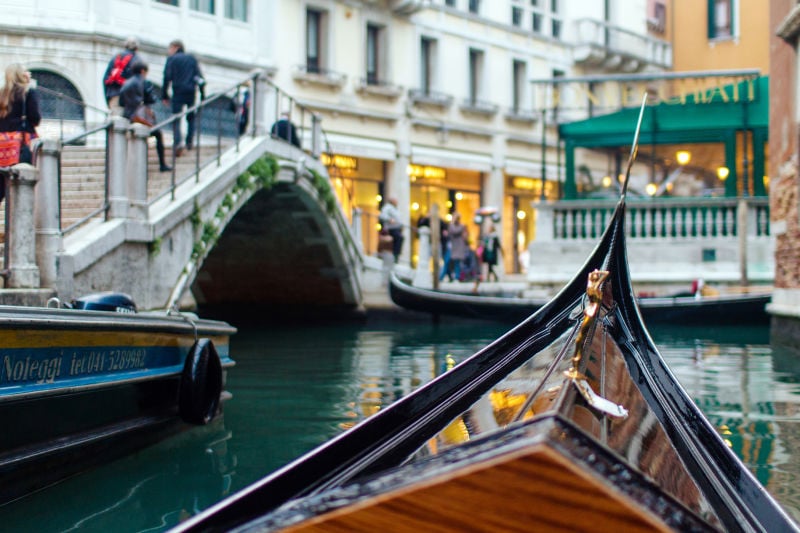 Save on your Venice stay without sacrificing style or comfort
By booking affordable, one-of-a-kind rentals and hotels in Venice, you'll be freeing up funds to put toward classic Venetian experiences, such as gondola rides and boat tours of the Grand Canal, food tours that hit local markets and offer tastes from some of the best restaurants in town, and guided walking tours that stop at famous landmarks and iconic sights—all while helping you learn about the rich history of this floating city.