You probably don't think of it as a big New York selling point — but there's nothing quite like catching the sunset in the city.
Whether you're a local or just visiting, there are so many amazing things to love about New York City. From the skyline and fast-paced energy to the diverse cultures, incredible food, nightlife scene, and much more, there are way too many reasons to love the Big Apple to list them all here. Of course, there are a ton of fun and exciting things to do in New York City while you're in town, too — and one of the most slept-on attractions that the City That Never Sleeps has to offer is an amazing sunset! Yep, while you're probably not as likely to hear about watching the sunset in New York as you are at, say, a tropical resort or mountain community, there's nothing quite like catching the sunset in the city. With the unforgettable skyline in the background, it makes for a great time with loved ones or (of course) a magical, romantic evening. And, lucky for you, there are plenty of incredible vantage points to watch the sunset in town, including the High Line, the observatories at both the World Trade Center and the Empire State Building, the Brooklyn Bridge, Hunter's Point South Park, Valentino Pier, and many more.
Date Night with a Sunset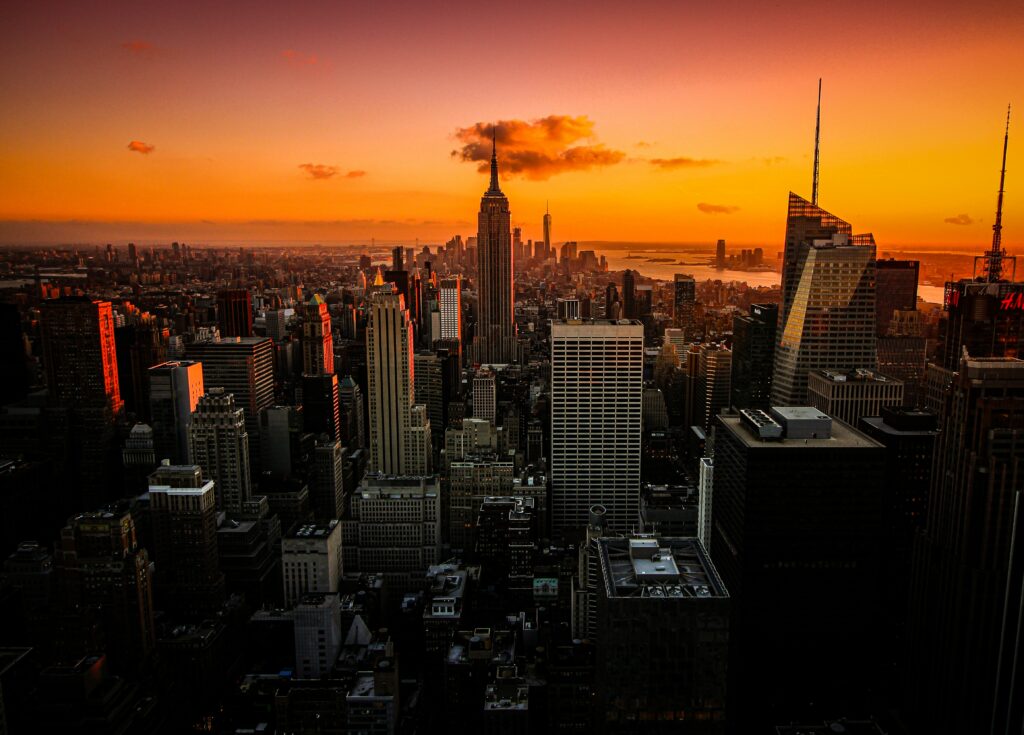 Of course, the sunset is just one of the wonderful and romantic things to do in New York City. If you're looking to plan out an unforgettable evening, we suggest going out to dinner in a homey neighborhood such as Little Italy, where you can either make a reservation at one of the countless delicious restaurants or wander around the narrow streets until you find a bistro that looks to be up your alley. Then, you can always venture north to catch a movie at the AMC on 19th Street, where you can sprawl out on the comfortable reclining chairs and enjoy your movie with some candy and popcorn — and, of course, the full bar conveniently located within the theater — before heading out to catch the sunset. However, while viewing the sunset from a bridge or park is undeniably awesome, there's no better way to truly experience the skyline and the sunset than on one of the best sunset cruises in New York City.
New York City Sunset Cruises
If you're a fan of the water, taking the New York Signature Dinner Cruise is a must — no matter if you're a local or just in for the weekend. (Regardless of the occasion, this dinner cruise on the East and Hudson Rivers is sure to be an unforgettable evening.) When you embark on the cruise, you'll dine the night away with friends and family while you soak in New York City's breathtaking skyline views. The 2.5-hour cruise features a delicious dinner buffet with freshly prepared entrees, salads, and desserts, as well as unlimited coffee, hot tea, iced tea, and water. Pro Tip: Don't forget to bring your camera, since you'll be seeing some of the most spectacular sunset views of the city and its landmarks, including the Empire State Building, the Brooklyn Bridge, and the Statue of Liberty — all of which you'll be able to snap gorgeous photos of from the large, open-air rooftop lounge. Oh, and did we mention that there's also onboard entertainment complete with DJ music, access to shared spaces, and interactive games? Plus, it can be a great way to include the whole family as children are welcome and infants under three cruise for free!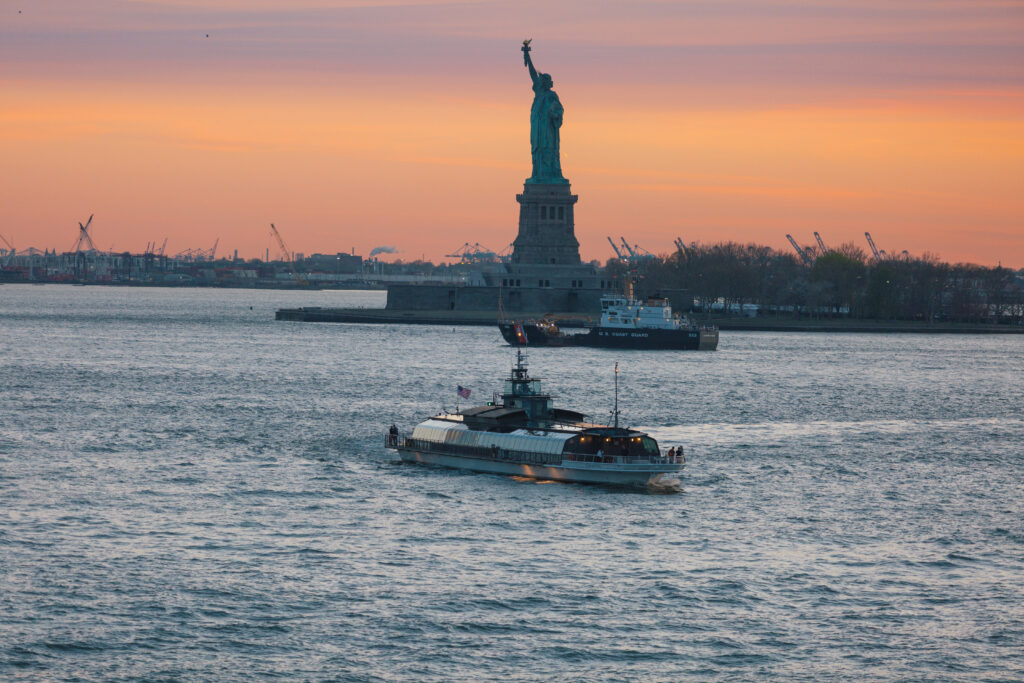 And, if you're in the market for a more unique adventure, you can't go wrong with the Bateaux New York Premier Plus Dinner Cruise. The Bateaux New York is an unforgettably elegant experience on the East and Hudson Rivers, with those same iconic views of the city skyline — only on the Bateaux, you'll view them from the incredible, glass-enclosed deck. Inspired by European design, your cruise on this fantastic vessel will bring you and your guests a new, luxurious perspective from the water, and a whole new way to take in a sunset. Of course, it wouldn't be a dinner cruise without, well, dinner, and you can trust us when we tell you that the delicious plated dinner with freshly prepared entrees, salads, and desserts doesn't disappoint. There's also a live band performance with a female vocalist, featuring songs that cover multiple styles and eras, and you can always upgrade your experience with window table reservations for prime views of the city as well as creative cocktails, a selection of wine, and ample beer from the well-stocked bar.