Thanksgiving, a holiday representing the act of giving thanks or the expression of gratitude, is celebrated annually in the United States on the fourth Thursday in November. Since the first celebration in 1621, people typically celebrate the holiday by eating a large meal with family or friends modeling the feast shared between the Wampanoag people and English colonists. This year why not gather your nearest and dearest for a Thanksgiving out on the water in Berkeley with the incredible views of San Francisco Bay on a City Cruises yacht to kick off the holiday season?
Eat, Drink, Sail, and Give Thanks with City Cruises Berkeley
The weather in November offers cool but mild days and slightly chilly evenings. It makes for a good time to visit Berkeley and be outside. There are plenty of fun things to do in town for the Thanksgiving holiday such as theater performances, live music, and tons of sightseeing activities. Looking for something unique and unexpected to do for Thanksgiving this year? Start a new tradition by taking your crew on a holiday adventure aboard a Thanksgiving Premier Dinner Cruise in Berkeley. You and your guests will enjoy a celebratory dinner buffet with all the trimmings, freshly prepared by our chef. While onboard enjoy incredible views of Berkeley's waterfront as well as spectacular sights of scenic San Francisco Bay. Our attentive crew will take care of all the details for you so you can enjoy the holiday with family and friends without the stress of cooking and cleaning, allowing you to connect with the ones you love most. After dinner, head to the dance floor to kick it up with live entertainment so you can work up an appetite for scrumptious desserts. We offer full bar service along with unmatched hospitality to provide you with the ultimate comfort and fun. Get some fresh air while onboard or get cozy in our climate-controlled interiors to spend quality time without the hassle of having to clean up.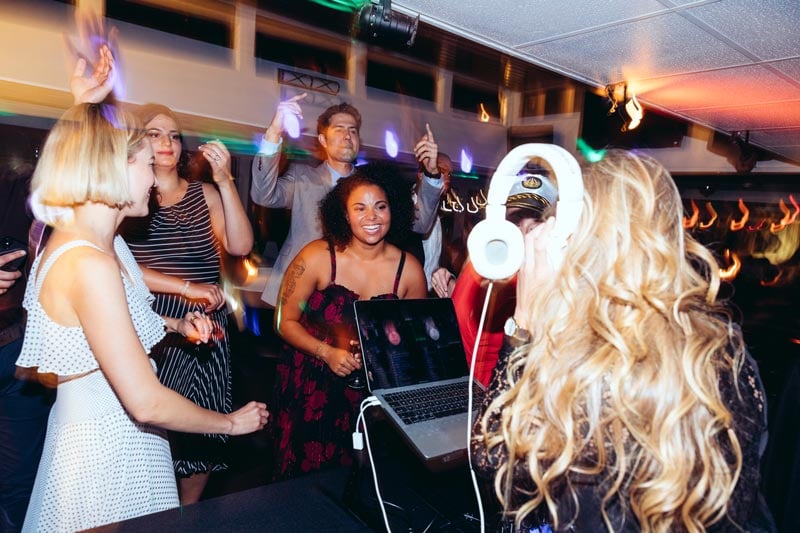 Count Your Blessings Not Your Calories with City Cruises in the Bay Area
Imagine gathering with your favorite people aboard a luxury yacht while feasting upon a scrumptious buffet dinner of freshly prepared Salads, Three Cheese Baked Macaroni, Oven Roasted Salmon, Hand Carved Roasted Turkey, and all the trimmings like Fresh Vegetables, Traditional Stuffing, and Garlic Mashed Potatoes and Mashed Sweet Potatoes. Don't forget the delectable desserts you have to save room for like Apple Crisp, and a full display with Assorted Cakes, Brownies, Pastries, and Seasonal Fruits to satisfy your sweet tooth. Our bar is fully stocked with beer, wine, creative cocktails, and an assortment of refreshments. Our friendly crew will make sure you have everything you need to enjoy your meal with your loved ones so that you can relax and enjoy. We make every effort to accommodate dietary restrictions so that everyone in your party is well taken care of.
Thanksgiving Brunch in Berkeley 2023
Some people like to enjoy a Thanksgiving meal earlier in the day, so we have you covered! Take advantage of the sunny views of Berkeley's waterfront from the exquisite San Francisco Bay while dining on a magnificent brunch on City Cruises Thanksgiving Premier Brunch Cruise.  Soak in the fresh salty breezes after you have dined upon Breakfast Pastries, Smoked Salmon, French Toast, and assorted breakfast fare. More of a lunch person? Caesar, Greek, and Pasta Salads will start your lunch right before diving into Birria Style Chicken, Oven Roasted Salmon, or Hand Carved Tri Tip Steak. Dining with little ones? We have options just right for them with a kid's station complete with Chicken Tenders and French Fries. Round out your meal with scrumptious desserts and fresh seasonal fruit before you participate in some fun onboard games, and live entertainment for a Brunch experience that will become everyone's favorite.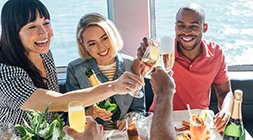 An Unexpected Thanksgiving in Berkeley
Make this Thanksgiving an unexpected and pleasant experience that you and your loved ones will cherish for years to come. Imagine having someone else take all the stress out of the holiday and allowing yourself to be fully immersed in the experience. Let us handle the details and clean up so that you are free to enjoy onboard activities to keep the event lively and fun. This is your chance to dress up and capture a beautiful and memorable photo of your whole gang with the amazing backdrop of San Francisco Bay to get the perfect shot.
A November to Remember Aboard City Cruises Berkeley
The city is brimming with restaurants and eateries, but none can compare to dining on the water with the fresh air, delicious food, and beautiful surroundings that await you. Get ready to embark on a luxury brunch or dinner cruise and sail into the perfect holiday meal with those you love most. Contact City Cruises today to plan your Thanksgiving Celebration in style.