Networking is the exchange of information and ideas among people with a common profession or special interest, usually in an informal social setting. Finding the right informal social setting or venue for your next San Diego networking event can be tricky. You know what they say," Location, location, location," is everything, and hosting your networking event aboard a City Cruises yacht in San Diego on the water is sure to be a success. You simply cannot find a better venue than cruising around San Diego Bay with picturesque views of the Coronado Bay Bridge, the USS Midway Aircraft Carrier Museum, the Star of India, the Naval Air Station North Island, and more to get the conversations rolling and the creative juices flowing. Imagine a cocktail or a glass of wine in hand with the refreshing salt air breezes flowing and skyline views surrounding you. Your event will make a splash with your colleagues and clients, and everyone will thrive in the relaxed environment aboard a stunning and luxurious yacht. Chances are people will be talking when they hear where you will be holding your event and people will clamor to get an invitation aboard.
"Sea" More at Your San Diego Networking Event
Building connections with the right people at the right time is crucial to your business or career, yet networking for some can be difficult. People tend to avoid it because they feel uncomfortable or dread events altogether. However, building and maintaining relationships with other professionals in your industry or related field can help expand knowledge, opportunities, and connections. In today's world, networking can take many forms, including online communities, or attending industry events. Taking a break from fluorescent lighting and the confines of four walls and embarking on a luxurious yacht aboard a City Cruises San Diego yacht will prompt guests to enjoy sharing ideas and resources and collaborating on projects and will allow guests to be excited and look forward to a unique outing.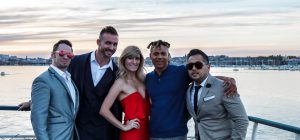 Networking Event on the Water
Something is calming and relaxing about being on the water, and there will be plenty of conversations about the beauty surrounding you while cruising around San Diego Bay. The idea is to get the conversations flowing, and talking points don't necessarily have to be about work – they can be about hobbies or the event itself! Especially when you are aboard a luxurious yacht with open-air decks to toast to successes and build relationships with the ocean breeze creating the ideal environment for collaboration. Being aboard one of our impressive vessels will make even the most apprehensive person feel more relaxed and able to engage in small talk. Getting people together unconventionally will promote enthusiasm and give everyone a chance to kick back and relax with a refreshing change of scenery.
Comfort, Luxury, and Hospitality with City Cruises
With a variety of yacht sizes to choose from, City Cruises San Diego can help you find the perfect one to host a small team or a larger group. Onboard Wi-Fi, plenty of space to work and collaborate, and catered meals will make everything a breeze. There are countless benefits to hosting your event on the water.
Thinking about hosting an intimate networking event for a smaller group? Newport Hornblower offers a unique San Diego experience with creative meeting and dining spaces. Large, picturesque windows surround you while dining with crystal chandeliers and elegance aplenty. You and your guests will love the seven-foot ceilings, contemporary lounge, built-in dance floor, and hardwood flooring throughout. Need entertainment? We can do it. Connect with our expert planning team and we can make it happen.
Thinking about hosting a huge blowout event? We can do that too. The Inspiration Hornblower can accommodate up to 1,200 guests and this beautiful vessel will inspire even the most reluctant participant. With 12-foot ceilings, wall-to-wall bay windows designed for ultimate water views, a spacious parquet wood dance floor, and state-of-the-art amenities, everyone will be inspired to have conversations. Need some fresh air? take it up to the open-air sky deck which offers 360-degree views of downtown San Diego. Gather around cocktail tables and chairs allowing you to find spaces to hold conversations or make your next deal under the open sky.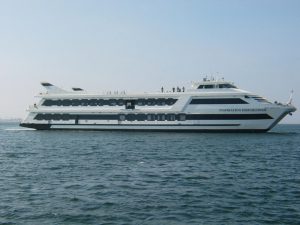 City Cruises San Diego is Ready to Host Your Next Networking Event
We want you to relax and enjoy the experience alongside your guests so we will take care of all the details for you. Sit back and take pleasure in our incomparable hospitality. Our team can help you plan from start to finish. We can book a table for your networking event, rent out a deck, or you can take over an entire yacht. We have several to choose from in our impressive fleet, all featuring stunning views and customizable packages. Everyone enjoys a good time and sailing aboard a City Cruises yacht will help you make that happen. We have onboard entertainment to enhance fun and interaction with live music and group activities. We can arrange a variety of options to make your event fun for all-including you!
Networking events can benefit you personally as well as professionally by helping you develop long-lasting friendships, building your self-confidence, and expanding your circle of contacts. These connections can enrich your life and provide you with support in your personal journey. Make your next networking event in San Diego something that will create a buzz and become the talk of the town. City Cruises will help you make your event both productive and fun. Leave the conference rooms and banquet halls behind and set sail in San Diego. Ready to book your private event? Fill out this form and one of our event planners will contact you!