You and your partner share not just a special bond, but also new friend groups that enrich your life together. More couples getting set to tie the knot are looking at this as a fun opportunity to have their last hurrah together. Gone are the days in which having a co-ed bachelor(ette) party was frowned upon. Here are some pros and cons of having a Jack & Jill party…
PRO: Money is being saved!
Yes, this is true! Whether the couple decides to stay local or take a flight, the Airbnb/hotel rates ultimately cause way less damage to wallets because of the group pricing. Also, you can negotiate and find group party rates for other activities, like a bar/restaurant or even an escape room!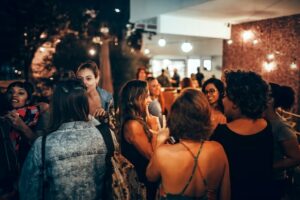 CON: You're all staying together:
This means everyone might have an opinion on costs and what they want to do, which can be infuriating. If you can't seem to come to an agreement, then maybe it's best that you each have your own bach party.
PRO: Free from nerve-wracking details:
By doing a joint bash, there won't be any future awkward conversations such as, "How was the party? Did you do anything dumb?" Consider this conversation axed since you will be together and won't have to worry about those nerve-wracking details.
CON: It May be less personal:
Your own party will be more personal because you can hand-pick the guests and make sure that everyone meshes well together. A joint party might not have that same vibe since some of his/her friends might not be your cup of tea.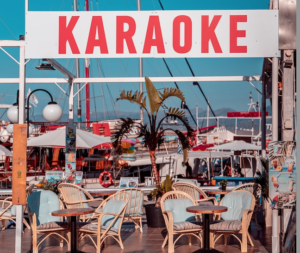 PRO: Awesome activities together:
You'll get to do awesome activities together as an entire group while creating exceptional memories. For example, singing song requests in a karaoke bar, going on a brewery tour, or playing group games like beer pong or flip cup. This is a great way to start off your married life!
CON: Take time away from your own personal group:
This might take time away from your own personal group (i.e., the bride spends less time with her girls and the groom spends less time with his guys). Perhaps planning a day where the group has separate activities can help.
Pro: You can mix and match:
You can mix and match your activities so that everyone is happy! For example, you can start with a group dinner followed by barhopping or clubbing. Then, you can end the night with a sleepover at your place or an Airbnb.
Con: Not everyone will want to participate in everything:
This goes back to the idea of mixing and matching activities. Not everyone will want to do everything, so you might have some people who sit out during certain parts of the night.

Jack and Jill parties aren't for everyone and remember having a joint bash can go really good or extremely sour. It's what you and your partner make of it. Good Luck!
A City Cruises cocktail cruise is the perfect place to host a bachelor or bachelorette party; you can do it together or separate… no judgment, just a guarantee that you'll have a great time.