Ah, the romance of Niagara Falls. There are plenty of modern reasons Niagara Falls is considered the honeymoon capital, including a bevy of great restaurants, gorgeous views, and our very own romantic Falls Illumination Cruise. 
But did you know the natural wonder has attracted newlyweds for over 215 years? That's right – Niagara Falls has been a honeymoon destination longer than Canada has been a country. Here's how Niagara Falls honeymoons got started (and why they never stopped).
A Brief History of Honeymooning
If you got married before the 1800s, honeymooning wouldn't even cross your mind. Not only was traveling for pleasure unusual in those days, but we also have no written evidence that a deliberate vacation following a marriage – a "honeymoon" – was even mentioned prior to the early 19th century.
Like many English words, the word "honeymoon" evolved over time. It is first seen in the 14th century as a term describing the "sweet" beginnings of marriage. But since tourism wasn't a hopping industry in the 14th century, we have to wait until 1804 to find the first piece of popular writing using "honeymoon" to describe a post-wedding trip.
Here's that 1804 passage from a Maria Edgeworth story (you can read the full text here).
The term "honeymoon" increased in usage after that – slowly at first, then more quickly as leisure travel and romance in marriage became more and more popular.  This chart traces the rise of the word "honeymoon" over time in English language texts. The word has had quite a journey to become the popular term we know today!  
Here's Where the History Gets Really Interesting for Niagara Falls.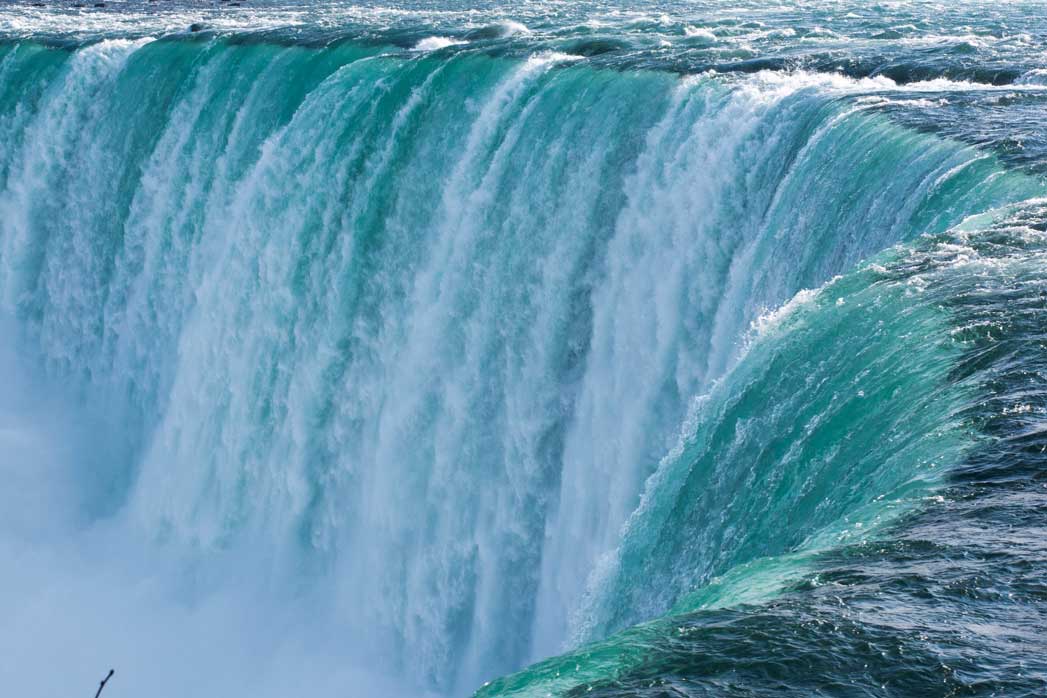 Even though the romantic trip we know as a "honeymoon" doesn't show up in texts until 1804, the first couple we know took a post-marriage journey to Niagara Falls in 1801.
That's right – people were honeymooning in Niagara Falls before it was cool. Heck, they were honeymooning in Niagara Falls before most historians and etymologists even say "honeymooning" existed. No wonder this is considered the honeymoon capital of the world!
The reason we know about that first honeymooning couple in Niagara Falls is that they were pretty famous. The new bride was 18-year-old Theodosia Burr, the daughter of U.S. Vice President Aaron Burr. Theodosia traveled to Niagara Falls shortly after her marriage to a wealthy landowner and future South Carolina governor Joseph Alston. This was a time before cars and planes, so the couple trekked from Albany, New York to Niagara Falls by packhorse, bringing several servants to help on the journey.
This famous couple was reportedly followed by another famous honeymooner, Napoleon Bonaparte's brother Jerome. This trip has gone down in popular legend thanks in part to the perilousness of the journey – Jerome and his bride reportedly traveled to Utica, New York all the way from New Orleans by stagecoach, then took to horseback and camped their way to Niagara Falls. To read a full account of Bonaparte's journey and marriage written by Sherman Zavitz, official historian for the city of Niagara Falls, click here.
How to Plan a Niagara Falls Honeymoon in the 1800s
It's pretty easy for couples to plan a trip to Niagara Falls today. Plentiful flights, hotel bookings, and tickets to famous Niagara Falls attractions are just a click away.
But as the stories of Theodosia  Burr and Jerome Bonaparte show us, it wasn't always this easy. Here are a few things you would have to consider when planning a 19th-century honeymoon to Niagara Falls.
After the Erie Canal was completed in the 1820s, tourists were able to travel on the "northern tour" to reach the popular honeymoon destination. A few decades later, the development of railroads in New York and Southern Canada allowed even more convenient travel between popular destinations, including Niagara Falls. While this was still a much longer journey than the modern flight, it was far faster (and more comfortable!) than a week-long trek on horseback.
In some ways, Niagara Falls was prepared to welcome the bevy of tourists that began coming through after the opening of the Erie Canal. The first inns in Chippawa were built as early as 1796 to accommodate visitors who came through town for commercial and defence reasons. Later, tourism in the area set off a flurry of development closer to Niagara Falls herself, giving early honeymooners a variety of options when they landed in the area.
If you took a Hornblower Niagara Falls Boat Tour <inbound link?> on a recent getaway, you're in good company – tourists have been using sightseeing boats to observe the natural wonder since 1848! Sightseeing was the main attraction for tourists, and honeymooners often told friends and family back home of enjoyable days walking through the landscape and admiring the majesty and natural beauty of Niagara Falls. Stunters also came to entertain guests from time to time, with the first arriving in 1829.
The Honeymoon Capital of the World Takes the Silver Screen
The 20th century brought a shift to Niagara Falls – more tourists, more attractions, and more hype. As photography and videography technology developed, many of those who had only dreamed of Niagara Falls was able to admire it even from afar.
Perhaps the most famous example of this is the Marilyn Monroe film Niagara. The movie features – you guessed it – two honeymooners in Niagara Falls. The story capitalized on the romance of this location, and the city was abuzz as it was filmed over two weeks in June of 1953.
Since then, Niagara Falls has been the setting of a number of on-screen romances. Lois Lane and Clark Kent are seen at the Falls in Superman II, while Jim and Pam famously said "I do" on a Niagara Falls boat tour in a 2009 episode of The Office. All the while, couples from all over the world have continued to flock to Niagara Falls for a romantic honeymoon. Clearly, the romantic reputation of Niagara Falls is still going strong!
Join the Romantic Tradition of Niagara Falls!
Niagara Falls holds a special place in the hearts of couples around the world. From scenic proposals to destination weddings and memorable honeymoons, the Falls have been the backdrop to many, many love stories.
Niagara Falls boat tours have been a long-time staple for visitors to Niagara Falls, which means we're lucky enough to have many of these happy couples on board our boat year after year. Here are just a few of the recent images our visitors have shared with us from their romantic Niagara Falls experience!
Modern couples may not have spent weeks on horseback to arrive at their destination like our early honeymooners, but they were just as awe-inspired by the majesty of the Falls. Luckily, some things never change!
Planning a couple's getaway to the Falls this spring or summer? Book your tickets to one of these great Hornblower experiences today!

What Are Some Activities That Couples Can Do on Their Honeymoon In Niagara Falls?
Niagara Falls is a stunning natural wonder, and it's no wonder it's such a popular destination for couples looking to spend some quality time together. There are plenty of activities for couples to enjoy in Niagara Falls, whether you're looking for ways to relax or ways to get your adrenaline pumping. There's no shortage of romantic things to do in Niagara Falls! Here are just a few of our favorites: 
1 Walk Hand-In-Hand Along The Niagara River Gorge
The Niagara River Gorge is one of North America's most beautiful natural areas. And what better way to experience its majesty than by walking hand-in-hand with someone you love? 
The Niagara River spectacularly carves out the Gorge as it flows over millennia from Lake Erie to Lake Ontario. The cliffs on either side of the river rise as high as 50 meters (160 feet), and the total length of the Gorge is around 27 kilometers (17 miles). 
Walking along the Niagara River Gorge is a truly unique experience. The sound of the water crashing against the rocks, the smell of the spray, and the feel of the mist on your skin is an unforgettable experience. And, of course, the views are simply breathtaking. 
There are several ways to explore the Niagara River Gorge. You can take a leisurely stroll along one of the many trails that wind their way along the river. Or, for a more adventurous experience, you can go whitewater rafting or kayaking through the rapids. No matter how you choose to explore it, the Niagara River Gorge is sure to leave a lasting impression. 
2 Indulge In Some World-Famous Niagara Falls Wine
Niagara Falls is home to some of the best wineries in Ontario, and there are plenty of ways for couples to enjoy them. There are several wine tours available that will take you to some of the best wineries in the area. Or, if you'd prefer to explore on your own, you can simply pick up a map and make your own way from vineyard to vineyard. 
Whichever way you choose to do it, visiting Niagara Falls wineries is a great way to spend a day together. You'll get to sample some delicious wines, learn about the winemaking process, and enjoy the stunning scenery. 
3 Get Your Adrenaline Pumping With A Niagara Falls Jet Boat Ride
For couples looking for a more thrilling experience, a Niagara Falls jet boat ride is the perfect activity. These high-speed boats will take you on an exhilarating ride through the Niagara River Gorge, past the American and Horseshoe Falls. 
You'll get to experience the power of the Niagara River up close and personal, and you might even get soaked by the spray from the Falls! It's an exhilarating experience that's sure to get your heart pumping. 
4 Watch The Sunrise (Or Sunset) Over Niagara Falls
There's nothing more romantic than watching the sunrise (or set) over Niagara Falls. The first light of the day paints the falls in a soft, pink glow, and the natural wonder comes alive as the sun rises higher. The crowd's cheers drown out the roar of the water, and for a moment, time stands still. Whether you're standing on the Canadian or American side, watching the sun rise over Niagara Falls is an unforgettable experience.  
There are a few different ways to do this. 
One option is to take a ride on the Niagara Falls Incline Railway. This historic railway takes you up to the top of the Niagara escarpment, where you'll get a stunning bird's eye view of the Falls. 
Another option is to take a ride on the Niagara City Cruises boat tour. This popular tour takes you right up to the base of Niagara Falls, where you'll get soaked by the spray from the Falls. Either way, you're sure to have a romantic experience you'll never forget. 
5 Enjoy A Candlelit Dinner At One Of Niagara Falls' Fine Restaurants
For a truly romantic dining experience, there's nothing better than a candlelit dinner at one of Niagara Falls' fine restaurants. There are a number of great restaurants to choose from, each with its own unique atmosphere. 
If you're looking for an intimate setting, try one of the Niagara Fallsview Casino Resort's seven restaurants. This upscale eatery offers a refined dining experience with stunning views of Niagara Falls. 
For a more casual setting, try the Hard Rock Cafe Niagara Falls. This popular restaurant is located in the heart of the Niagara Falls tourist area and offers a fun and festive atmosphere. 
No matter your taste, you're sure to find a Niagara Falls restaurant perfect for a romantic evening out. 
6 Relax At One Of Niagara Falls' Many Spas
After a busy day of sightseeing, there's nothing better than relaxing at one of Niagara Falls' many spas. There are a number of great spas to choose from, each offering its own unique services. 
One of the most popular spas in Niagara Falls is the Fallsview Indoor Waterpark. This waterpark features a number of pools, slides, and waterfalls, as well as a spa area with massage services. 
Another great option is the Niagara Fallsview Casino Resort's Spa & Fitness Centre. This full-service spa offers a wide range of treatments, from massages to facials. No matter what your preference is, you're sure to find a spa in Niagara Falls that's perfect for you. 
7 Go On A Shopping Spree At The Niagara Fallsview Casino Resort
For couples who love to shop, the Niagara Fallsview Casino Resort is the perfect place to spend a day. This upscale casino features a number of high-end shops, as well as a wide variety of restaurants and cafes. 
The casino is also home to a number of great amenities, including a theatre, a nightclub, and a bowling alley. 
Whether you're looking for a new outfit or a special souvenir, you're sure to find it at the Niagara Fallsview Casino Resort. 
Niagara Falls Honeymoon Conclusion
Niagara Falls has been a popular honeymoon destination for centuries, and with good reason. The natural beauty of the falls and the surrounding area is breathtaking. Also, there are plenty of activities and attractions to keep couples busy. If you're looking for a romantic getaway, consider Niagara Falls, it's sure to impress.