New Jersey may be nicknamed the "Garden State," but its shared waterway with New York City makes it a great starting point for lots of fun-filled activities.
You have many options like brunch, lunch, and dinner cruises, sightseeing tours, holiday trips, whale and dolphin watching cruises, adventure boat rides, and even helicopter tours.
Then there are the unique vantage points from which to see the Statue of Liberty, Brooklyn Bridge and other iconic new York City landmarks.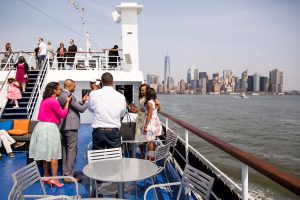 Brunch, Lunch, and Dinner Cruises
What a great way to dine with friends and family while basking in the New York and New Jersey skyline views out on the water. Make it a date with someone special or celebrate a milestone event like an anniversary, graduation, engagement, or new job. These excursions depart from Weehawken, New Jersey
Holiday cruises are also the perfect way to spend time with family and enjoy the relaxation of eating (and not cooking) a holiday meal while soaking up the breathtaking cityscapes. Turn over your Thanksgiving or Christmas responsibilities to our experienced crew so you can focus on people first. Other special occasion cruises include New Year's Eve and Mother's Day outings.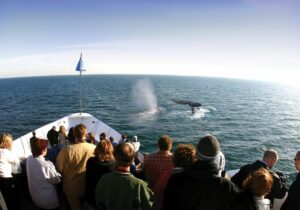 Whale and Dolphin Watching Cruises
New York City might not be the first place you think of when it comes to whale watching. Still, whale and dolphin watching cruises offer an unparalleled opportunity to see majestic whales splashing in the Hudson River.
While on a whale watching cruise, you may see North Atlantic Right, Fin, Humpback, or Minke Whales, bottlenose dolphins, sea turtles, pelagic birds, and many other species. Knowledgeable naturalists narrate the trip and share information about the wildlife you encounter.
Food, Spirits, and Cultural Tours
When you're ready to get back on land, food tours are a great way to get a taste of New York City and learn about new cuisines, as well as the history and culture behind them. Food tours are led by culinary professionals who take you to several restaurants in the area, discussing the ingredients, preparation methods, and meaning behind the food. Then, you get to sample dishes and take photos!
Brewery tours are another popular option for travelers looking for something fun and unique to do during their visit. You can take an in-depth tour of a brewery and learn about beer-making from one of the brewmasters.
Museum and historical site tours offer visitors insight into the city's treasured cultural sites, like the Museum of Natural History, the Metropolitan Museum of Art, and the 9/11 Memorial. Museums have priceless art and artifacts from all over the world and gives you insight into other cultures and lives.

Helicopter Tours
Land and sea are not the only ways to see New York–you can also check it out by air.
Take to the sky to see Manhattan from a different perspective on this New York City helicopter tour. Get up close and personal with the Empire State Building, Statue of Liberty, Central Park, George Washington Bridge, and many others without waiting in line or traffic.
If you time it right, take a helicopter ride just before sunset to get a spectacular view of the city and sky transitioning from day to night. However, the city's mood changes from work to play if you take a night flight. In addition, you'll get the bird's eye view of all the building lights and 9/11 memorial plaza's Tribute in Light — things you can't experience during the day.
Usually, helicopter tours can only hold a handful of guests. So if you're with a large group, you may need to book separate tours or consider a different type of tour.