We celebrate our mothers every day of the year, but on Mother's Day we go all out to show our moms just how much we appreciate their place in our hearts and lives. And what better way to celebrate Mother's Day in Boston than with a delicious brunch?
We've rounded up seven lovely brunch spots serving up great food and drinks in splendid atmospheres that are sure to delight mom on her special day. These are our top choices for the best Mother's Day brunch: Boston edition.
1. Tuck into delicious French food at Bistro du Midi
Bistro du Midi is one of the most beloved spots to enjoy top-notch French cuisine in Boston, and its great views of the Public Garden make it the perfect setting to toast mom on her big day.
The stellar brunch menu at this classy yet laid-back French bistro is chock-full of decidedly modern and refined takes on classic breakfast and lunch treats, and the offerings are delicious: billowy ricotta pancakes, a fantastic salmon Benedict featuring smoked grapefruit tea-cured salmon and lemon-chive hollandaise, and a phenomenal croque monsieur with black forest ham and gruyère cheese, among others.
You'll also find just about all the fresh seafood you can imagine, from fresh East Coast oysters and Narragansett Bay clams to a jumbo shrimp cocktail and a decadent seafood plateau fit for royalty.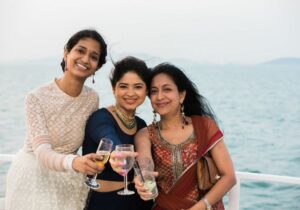 2. Take mom on a two-hour brunch cruise in Boston Harbor
A fantastic way to celebrate mom is by jumping on our two-hour Premier Brunch Cruise on Odyssey. This Mother's Day brunch cruise is the perfect way to take in some breathtaking panoramic views of historic Boston Harbor and its waterfront landmarks while sharing a delicious meal with mom.
3. Savor farm-to-table fare at Henrietta's Table
Henrietta's Table is the perfect spot to take mom for a classic New England farm-to-table brunch for the whole family on Mother's Day. The buffet-style brunch served up at this cozy eatery features truly fresh dishes made with seasonal ingredients.
The menu rotates, but you can choose from crowd pleasers, such as steak and eggs, Maine rock crab and corn chowder, and a fresh lobster-salad roll, or more adventurous offerings, like homemade paté and hash with house-smoked salmon and perfectly poached eggs, smothered in a decadent preserved-lemon hollandaise sauce.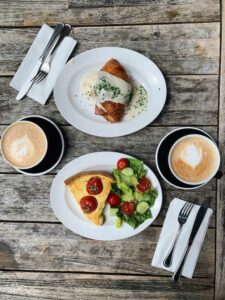 4. Pull out all the stops at One + One Restaurant at the Four Seasons Hotel One Dalton Street, Boston
The Four Seasons Hotel's One + One Restaurant offers excellent food paired with great service and a graceful atmosphere, plus a brunch menu full of elegant dishes that will make Mother's Day brunch extra special.
Expect delicious seasonal dishes, such as pumpkin pancakes with maple-pecan caramel and spiced chantilly and an over-the-top breakfast Reuben sandwich on toasted rye, stuffed with pickled red onions, poached eggs, cheese, and griddled corned beef, drizzled in choron sauce (a tomatoey Béarnaise).
You'll also find healthy options here, such as a fresh Maine lobster omelet served with sautéed spring asparagus and confit cherry tomatoes, as well as a divine avocado toast featuring fresh seeded country bread, perfectly poached eggs, fresh sorrel, and delicately shaved radish.
For an extra treat, try one of the restaurant's unique specialty beverages, such as the Apple Macchiat-oat, concocted with apple, espresso, and oat milk, or the Pistachio Rose Latte, featuring date syrup, rose water, espresso, and warming spices.
5. Head to Alcove for waterfront views and a loaded raw bar
The star of the brunch menu at Alcove is a terrific raw bar loaded with fresh New England seafood, including sure-shots like fresh littleneck clams, shrimp cocktail, and local oysters alongside tasty treats like smoked-trout pâté, surf-clam ceviche, and Island Creek white-sturgeon caviar, served with chips and French onion dip.
But not to worry if seafood isn't your thing. The menu also features brunch classics, such as brioche French toast, veggie quiche, and a breakfast scramble plate. Outdoor seating is available, and your meal will taste all the better if you enjoy it on the waterfront patio…as long as the weather plays along.
6. Treat your queen bee to a classic brunch at the Beehive
The Beehive is a great joint for a casual and affordable Mother's Day brunch. The menu has most of the usual suspects, such as eggs Benedict, French toast, and a fried-chicken sandwich, but they're all served up with less-expected touches, such as truffle aioli and North African–style tomato sauce.
An added bonus? For those with dietary restrictions, there's a generous handful of vegan, vegetarian, and gluten-free offerings.

7. Enjoy laidback contemporary American dining at Harvest
Located in Harvard Square, Harvest's brunch menu has something for everyone. Classic brunch dishes like French toast and steak and eggs are on offer alongside delicious (and adventurous!) seafood concoctions, like an excellent swordfish pastrami with caraway crumbs and a salmon tartare tostada served with a sesame soy sauce, roasted peanuts, jalapeño, and spring-pea puree.