As the great Al Green (and later David Byrne of the Talking Heads) sang, "take me to the river," let us head out to the home of some of New York City's most iconic landmarks, such as the Ellis Island National Monument and the Statue of Liberty along the Hudson River. The Hudson River is a 315-mile river that flows from north to south primarily through eastern New York originating in the Adirondack Mountains. Hudson River boat tours are perfect for families, couples, and friends looking for something fun and exciting to do together without having to leave Manhattan
As a defining natural feature in a major region such as New York, you can drive across its bridges, admire its beauty from parks and historic sites, or enjoy the views from the best spot-the water!
Hudson River Sightseeing Cruises
There are various options for your river cruise, depending on the time of day, year, what you're celebrating, or if it's just for a leisurely time on the water. But no matter when you go, you will see the magnificent NYC skyline from the west side and the Jersey City skyline from the east. So you will enjoy views from all directions.
The river flows almost entirely within the state, except for its final segment where it forms the boundary between New York and New Jersey.
And if you check the water periodically, you may see seals and the occasional dolphin playing with a kayaker, just a few of the over seventy creatures that call the Hudson River home. As one news report recently noted, "the many creatures of the Hudson River may surprise you." For the full eco-experience, go paddling on the Hudson! You can rent kayaks at Hudson River Park in lower Manhattan.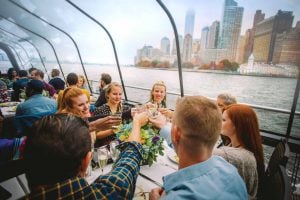 Lunch, Brunch, and Dinner Cruises on the Hudson
If you would rather kick back and drink in the views over a sumptuous meal on the water, dining cruises are available throughout the year.
There is no better way to see the iconic views of New York City than from the climate-controlled glass-enclosed deck inspired by European design. Imagine the beautiful views from a luxurious perspective.
Lunch and brunch cruises are usually two hours, while dinner cruises are typically three hours. Lunch cruises tend to be more casual than dinner cruises, making them ideal for a family or group outing. On the other hand, dinner cruises specialize in accommodating couples and friend groups looking for more of a night out.
Whether it is for brunch, lunch, or dinner, you can expect a freshly prepared meal complete with salads and desserts to please your palate while enjoying curated music and light narration. Some even offer a live pianist to accompany your voyage.
Holiday Cruises on the Hudson River
A holiday harbor river cruise in New York City is a great way to see the city's world-renowned landmarks, such as the Statue of Liberty, Ellis Island, the Brooklyn Bridge, and Battery Park. There is something for everyone for all occasions, from Valentine's Day and Easter to the 4th of July, New Year's Eve, and Mother's Day.
You can celebrate virtually any holiday while cruising along to panoramic views.
Take your pick of brunch, lunch, or dinner holiday cruises. But book early–these always sell out.
The Palisades Cliffs
Sometimes, nature is the best tonic—even when visiting NYC. And If you're in NYC during the fall, there's no need to take a car to see the leaves change colors. You can simply hop on a boat. So climb aboard a Fall foliage cruise that meanders up the Hudson River. Be sure to marvel at the Palisade Cliffs just past the George Washington Bridge. The Palisades are a geological wonder that dates back to 200 million years ago that was almost lost to industry, but luckily you can still appreciate their unique history and explore them today.
And if you go during the Fall or Spring bird migration season, be sure to bring your binoculars! The Hudson River (and all of New York City) is part of the Atlantic Flyway, so don't miss this winged spectacle.

Breakneck Ridge in Hudson Highlands State Park
Let's say you still want to experience the Hudson River—but from a breathtaking vantage point that is outside NYC. Then consider a day trip to Breakneck Ridge, which is about 60 miles north of the city and accessible via Metro North train (at Grand Central Station). It's a hiking trail in the Hudson Highlands that winds through scenic forestland and past rocky cliffs. The trail's name comes from its incline—it's one of the steepest trails in the United States, with an average grade of about 45 degrees. So wear a sturdy pair of sneakers and watch your step!
Native Americans and European settlers used the area surrounding Breakneck Ridge for centuries as a place to hunt and fish. It was also a significant lookout point during the Revolutionary War called "Beacon Hill."
Guaranteed: You will enjoy stunning panoramic views from atop Breakneck Ridge. The view is nothing short of spectacular.
In addition to being an excellent hiking destination, Breakneck Ridge also serves as part of the Hudson River Valley National Heritage Area. This organization works to protect beautiful natural areas throughout New York State.
The Hudson River has something for everyone. It's where you go to see the grandeur of the NYC skyline or dazzling nature. Again, as a famous song says, "take me to the river."
FAQs – Hudson River Cruises & Tours
What is the duration of the Hudson River cruise and boat tour?
The duration of the Hudson River cruise and boat tour can vary from 2 hours to full-day experiences.
Is food and drink provided on the Hudson River cruise and boat tour?
Yes, most boat tours and cruises provide food and drinks, including snacks and refreshments. Some cruises may offer a full meal service. It depends on which one you go for!
Are the Hudson River boat tours and cruises suitable for children?
Yes, most boat tours and cruises are family-friendly and suitable for children of all ages.
What kind of boats are used for the Hudson River tours and cruises?
The boats used for Hudson River tours and cruises vary in size, style, and amenities. Some are large, multi-deck boats, while others are smaller vessels.
Can I bring my own food and drinks on the Hudson River boat tour or cruise?
Policies may vary, so it's best to check with the operator beforehand. Some boat tours and cruises may allow you to bring your own food and drinks, while others may not.
What should I wear on a Hudson River boat tour or cruise?
Dress appropriately for the weather and bring a light jacket or sweater as the temperature can change on the water. Comfortable clothing and shoes are recommended.
Is there a restroom on board the Hudson River boat tour or cruise?
Most boats have restrooms on board.
Do I need to book my Hudson River boat tour or cruise in advance?
Yes, it is highly recommended to book in advance as these tours and cruises can get booked up quickly, especially during peak seasons.
Are the boat tours and cruises available year-round?
While some boat tours and cruises operate year-round, others may be seasonal. It's best to check with the specific operator to confirm availability during your desired travel dates.
Is there a guide on board during the Hudson River boat tour or cruise?
Yes, most boat tours and cruises provide a knowledgeable guide who can provide information about the Hudson River, its history, and the surrounding landmarks.
Original post date: February 9, 2023