You may not be ready to hear this, but winter is right around the corner —
which means that, yes, you do have to start thinking about holiday shopping. (That is, if you want to get the best prices and for all of your gifts to arrive on time!) Now, we all have that one person in our lives who is difficult to shop for, especially if they love to travel. And sure, if you're able to drop a paycheck — or three — on an extravagant, luxurious trip, then by all means, go for it! But a more realistic option is to help outfit the traveler in your life with everything they'll need for their next excursion. From luggage to loungewear and cameras to calendars, here are some of the best travel gifts to buy for a loved one this holiday season.
Pre-Trip Gifts

Calendar ($) – Even if your giftee is a planner, traveling can make even the most organized among us lose track of things. A solid calendar or planner can be the difference between smooth sailing and a rescheduled flight. Plus, they'll be able to count down the days to their big trip!
Luggage Tracker ($$) – You know what they say: Expect the best, prepare for the worst. Nobody wants to lose their luggage, so give the gift of peace with a luggage tracker.
Luggage ($$$) – Everyone needs a good suitcase or carry-on when they're traveling — and besides being sturdy and reliable, gifting your loved one some good-looking luggage is a great way to show you care.
Travel Magazine Subscription ($) – Is your giftee dying to travel, but doesn't know where to go? Get them a subscription to a reputable travel magazine for some easy inspiration. The gift that keeps on giving!
City Experiences Gift Card ($ – $$$) – Know where your loved one is traveling, but don't want to force plans on them? Give them a City Experiences Gift Card so they can book exciting things to do on their time, wherever they go.
For During the Trip


Post-Trip Gifts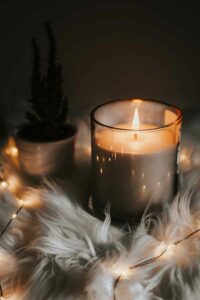 Picture Frames ($) – Help the traveler in your life show off all of those pictures they took while out and about with a sweet picture frame. (It's better than a Facebook album — trust us.)
Scratch Off Destination Map ($ – $$) – Have a serious globetrotter in your life? A scratch-off destination map is a unique gift that'll help them keep track of where they've been and plan their next big trip.
Location Specific Scented Candles ($ – $$) – A scent can mentally take you back to your trip or destination, sure, but an even better gift for your busy traveler is a scented candle that reminds them of home.
Scrapbook ($ – $$) – Don't write this one off as something your grandma used to do — scrapbooks are a fun way to create something beautiful out of photos, ticket stubs, and other mementos from a trip. (In other words, grandma was onto something!

The year-end holiday traditions are precious. It's when many of us are finally able to take time to catch up with friends and family. Now you have a helpful guide that is chockful of gift-giving ideas. Of course, half the fun is seeing the smile when that someone special opens up his or her gift.