Rich in history, architecture from centuries past, and plenty of modern-day spots for shopping, culture, and dining, Old Town Alexandria is a downtown destination beloved by locals and visitors alike. Designated a national historic district, this small city is situated right on the Potomac River waterfront and located a few minutes from Washington, D.C. Cobblestone streets, brick-lined sidewalks, and 18th century townhouses dot the landscape. The busy, buzzing main thoroughfare of King Street, which is ideal for a casual stroll, features 200-plus independent businesses including boutiques and restaurants, and a burgeoning social scene—both day and night. So how does one decide what to see and do? Don't worry we have you covered, because it's time to uncover some of Old Town Alexandria's hidden treasures, so let's get started, shall we?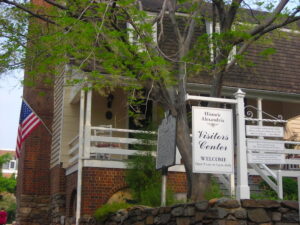 Whenever you head to a new destination, there are always area attractions you just must check out. Otherwise, your Instagram feed will be lackluster, and if you didn't see those major sites, can you really say you experienced that city at all? Case in point for Old Town Alexandria which has a handful of spots you want to get a good look at. We're talking about places like the Hollensbury Spite House, America's narrowest house (just seven feet) that was constructed (you guessed it!) out of unadulterated spite by its namesake owner who was sick of dealing with traffic near his house. Of course, back then it was horse-drawn carriages bumping the walls of his domain, so it's a fun backstory to such a unique piece of history. Less spiteful area attractions include the pedestrian walkway of the Wilkes Street Tunnel, which features sandstone vaulted walls. As part of the Orange & Alexandria Railroad, it was founded to prompt trade with western Virginia and served a crucial role in the Civil War and the First World War connecting Washington D.C. and Richmond. Meanwhile, the Woodrow Wilson Memorial Bridge—also an ideal destination for walking with its dedicated trail—is a bascule bridge spanning the Potomac River situated between Alexandria and Oxon Hill. And last but not least, we can't forget one of Old Town Alexandria's signature public sites: the cobblestone streets of Captain's Row. Complete with gaslight lamps, the houses featured here have been restored to their Revolutionary War glory (after a fire decimated most of the original structures in 1827).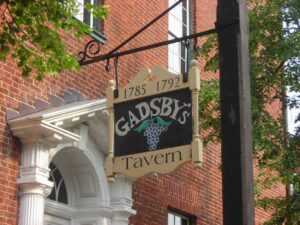 Where to Wine and Dine
If you thought Virginia was solely rich in American and cultural history, you'll need to add culinary spots to your list as well. Not only has the Old Town Farmers' Market been in business since 1753 boasting delectable local fruits and vegetables (as well as baked goods, flowers, and meats), but the Gadsby's Tavern, which has offered fine dining since 1770, has been host to some of history's most important events and figures (namely our Founding Fathers—George Washington, John Adams, James Madison, and Thomas Jefferson—among others). This National Historic Landmark also has a dedicated museum to its backstory. Speaking of historical elements and gourmet goodness, Virtue Feed and Grain is a two-story contemporary restaurant and bar housed in a feed and grain warehouse from the 1800s. It features an eclectic local menu and an extensive whiskey collection. But don't worry beer lovers…because Port City Brewing Company is designed with you in mind. As the longest-operating brewery in the metro D.C. area, this attraction offers stellar brews, regular tastings, and tours, plus fun events at its state-of-the-art facility.
Cruising on King Street
If you're a shopper looking to hit your stride, King Street is exactly where you'll want to be. Not only does this area of Old Town Alexandria has the D.C. region's biggest collection of independent, trend-setting boutiques—with everything from vintage barware to sustainable fashion—but there are also national stores too including Anthropologie and West Elm. The area is also beloved for live music, top-tier dining, and cool attractions. In fact, not far from King Street, visitors will find the Stabler-Leadbetter Apothecary Museum (formerly a shop that closed in 1933) where original ingredients, famed potions, products, and documents are on view. They can also head to the Torpedo Factory Art Center, a former U.S. Naval Torpedo Station turned art hub that houses the largest number of publicly accessible working artist studios in the country.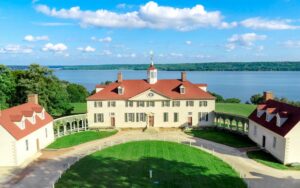 Sites You'll Want to See
For outdoor enthusiasts, a trek to Waterfront Park yields walking trails for strolling, plenty of spots for sitting, as well as boat docks and numerous statues and monuments to offer both external beauty and a bit of history. Of course, true history buffs have their pick of the litter in the Old Town Alexandria area, with access to historic spots such as George Washington's Mount Vernon Estate, the Mount Vernon Trail, and the Jones Point Lighthouse as well as the unforgettable and impactful stories shared about the Black experience in America that visitors will find at the Freedom House
The best way to explore Old Town Alexandria and the surrounding region is by boat, and the ease of water taxis can't be beat. Take for example our Potomac Water Taxi. With routes connecting D.C., Maryland, and Virginia, it's a breeze to safely explore the area as you cruise along the Potomac River on a narrated sightseeing tour—complete with your own personal guide. Whether you opt for the Georgetown-Alexandria route, the Georgetown-Wharf route, or the Washington Monuments route, everything's taken care of for you. That way, you can just sit back, relax, and enjoy yourself…so what are you waiting for?