New York City is "packed with every cuisine and dish imaginable," as the Food Network puts it. So whether you're searching for the best burger or bagels and lox, we'll help you sniff it out.
You can start by sampling the city's many culinary delights with a food tour. This way you get a taste of different foods and neighborhoods simultaneously.
Food tours are a fun, tasty way to experience New York City and learn about its history and residents. They create a more intimate introduction than traditional walking tours because you'll be eating, drinking, and socializing with others who signed up for the same tour. It's an enjoyable way to make new friends from around the world and learn about their cultures.
The Greenwich Village NYC Food Tour will introduce you to numerous dishes at seven of the most beloved family-run eateries in Greenwich Village. Have breakfast and lunch, chat with the owner of the neighborhood pasta shop, check out their family's antique pasta machine, and visit several Italian heritage sites. In addition, you'll learn how to make espresso, sample a slice of famous New York pizza at one of the Village's best-loved pizzerias, and discover precisely what makes gelato different from ice cream.
After this, you'll be hungry for more, so here are some favorite destinations for native New Yorkers and tourists alike.
Serendipity3 is a quirky and eccentric eatery and ice cream shop in New York City that's a feast for the eyes and sweet tooth. Famous for its giant desserts, the Frrrozen Hot Chocolate comes topped with a maraschino cherry, is served in a martini glass, and is worth the trip.
If you're adventurous, plenty of options on the menu make for a great lunch or dinner. In addition, they go all out decorating for holidays, so be sure to stop by during the winter holidays.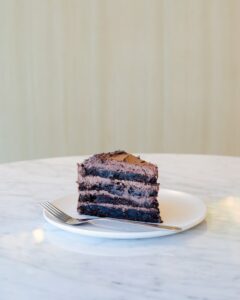 If you're a Sex and the City fan, you've seen this place and probably have an opinion.
The original Magnolia Bakery is located in West Village, where Carrie Bradshaw got her cupcake in the show's final season.
However, if you want your cupcakes with a side order of SATC nostalgia or feel like a stylish Manhattanite, the original shop is worth visiting.
Jimmy Buffet's Margaritaville Times Square
Jimmy Buffet's Margaritaville Times Square NYC is a casual restaurant, bar, and entertainment venue. The location is on 8th Avenue between 44th and 45th Streets.
The restaurant serves traditional American fare like burgers, salads, sandwiches, fried chicken, pasta, tacos, and steaks. There are also exotic dishes like alligator tail nachos or Jumbo Pretzels with cheese sauce that you can order along with your main meal.
Jimmy Buffet's Margaritaville Times Square NYC has a fully stocked bar to concoct your favorite drinks, including strawberry-mango frozen margaritas and daiquiris, white Russians
mixed with vodka, and pina colada mixers blended with coconut rum.
If Harry Potter and Lord of the Rings met a New York City pub, it would look like the Cauldron. The restaurant offers a variety of food options like burgers, fish and chips, salads, and wraps set in a detailed fantasy world. The bar specializes in creating bubbly and "smoke"-filled cocktails, and you can sign up for a class to learn how to do it yourself. Reservations are recommended.
Beatstro is a hip-hop-themed restaurant that serves up some of the best Caribbean food you'll find in the city. It's a relaxing place to hang out with friends because music always plays, and a DJ plays throwback jams throughout your meal. There's also a dance floor that gets pretty packed late at night.
The food is equally enjoyable, offering comfort food like wings, sandwiches, burgers, and more. It's open late, so it typically stays busy until 2 am.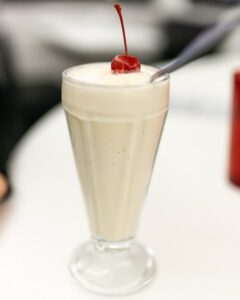 Brooklyn Farmacy and Soda Fountain
Brooklyn Farmacy and Soda Fountain is a lovely place to grab a sandwich and soda, especially when traveling with kids. The space is open and inviting, with plenty of seating, including outdoors during the warmer months.
If you want a milkshake, this is your spot. The Farmacy has an extensive list of classic flavors—such as chocolate chip mint, berry cheesecake, and banana split—and fun twists on classics like caramel apple pie or strawberry shortcake. They also offer non-dairy options for those who prefer them.
Located in the East Village, Barking Dog is a hot dog joint that serves gourmet hot dogs and other finger food. The menu includes hot dogs, hamburgers, tacos, and mac and cheese. The restaurant has been featured on the Food Network and was voted Best Hot Dog in New York by Zagat for five years straight.
Lillie's Victorian Establishment
James 'Jimmy' Lillis opened the establishment in 1993 and is known as a neighborhood pub and restaurant with live music, entertainment, and events with a classic Victorian vibe. The structure was built in the 1800s and restored to its original beauty. Many additions of antiques from around the world remain inside today.

If you've been to Action Burger, then you know the drill: You can get a burger, fries, and drink for under $10 every day between 2 pm and 8 pm, and they're open until 2 am, which means it's the perfect spot to hit up after a late night out in Midtown West or Hell's Kitchen (the two most bustling areas of New York City).
While plenty of other places offer cheap eats, this staple has some pretty killer burgers on its menu. Its signature action cheeseburger with grilled onions and mushrooms is as famous as the atmosphere.
Metropolitan Opera Bar & Grill
The Metropolitan Opera Bar & Grill is located in the basement of the Metropolitan Opera House, right across from Lincoln Center. This restaurant is a great place to eat if you're looking for something with an upscale atmosphere but still relatively affordable and kid-friendly.
The food is fantastic, the service is speedy, and it makes you feel like you're eating in a royal dining room. Their signature "Metropolitan Burger" comes with rare-grilled prime rib and shoestring fries.
It's also open for lunch during weekdays and dinner on weekends. If you dine in the evening, you can enjoy incredible performances while enjoying your meal. If you're planning on taking your kids along, they can enjoy favorites like chicken fingers or macaroni and cheese.
Named after Ellen Hart-Sturms, a quintessential New Yorker who was named Miss Subways in the spring of 1959, Ellen's Stardust Diner, located on 51st and Broadway, is a retro-themed restaurant that is popular amongst children and adults. It is both dinner (or breakfast or lunch) and a show with a talented singing waitstaff named The Stardusters. The world-famous singing waitstaff sings all day from open to close entertaining locals and visitors alike. There are no reservations and wait time recommendations cannot be made as seasons and schedules vary daily. Expect long lines at this popular establishment, but even while you wait, there is entertainment with impromptu groups of theater fanatics, music nerds, and aspiring actors gathering out front and bursting into song. It's loud and colorful inside and anything but quiet and a sort of controlled chaos but that's what people love about it. There is an array of typical diner fare such as pancakes and bacon or Meatloaf and chicken potpie but the experience is the real showstopper. You do not want to miss an opportunity to check this place out as the singers with dazzle you with Broadway-caliber talent and an unforgettable experience.
Original post date: November 10, 2022