It's that time of year again! When you just realized it's Father's Day this Sunday, June 18th, 2023, and you still have to come up with a gift idea for Dad. Don't worry, you last-minute planners, we've got everything Dad loves all in one place and a whole day of fun planned!
1 Views of Niagara Falls
Niagara Falls is home to one of the world's greatest natural wonders; whose dad wouldn't love to see that? But you may not have known that Niagara City Cruises offers the best views of the Falls up close and personal.
2 Canadian BBQ
All the excitement of seeing the geological phenomenon that is Niagara Falls is sure to stir up Dad's appetite! Our Riverside Patio is the perfect place to plan a lunch or dinner before your boat experience. Serving BBQ staples like pulled pork sandwiches, cheeseburgers, and sweet treats like funnel cake fries, there is something on our menu every dad will love.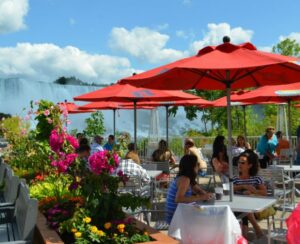 3 Niagara Craft Beer
The perfect pairing to go with Dad's BBQ is an ice-cold pint of our local Niagara Falls craft brew. With the brewery located just up the hill, it doesn't get more local than the Niagara Brewing Company! Supporting local will make Dad feel good, and he'll love his Amber Eh beer almost as much as he loves his favourite child. (We'll just assume that's you.)
4 #InTheMist Memories
While you're here, don't forget to capture your incredible day with Dad! So, get out your cell phone and practice those selfie shots because you'll want to remember this forever. While posting on social media, don't forget to use #InTheMist to share your experience and possibly be featured on the Niagara City Cruises website or social platforms.
5 More Fun in the Sun
Now that you've had some time to relax, take a walk down Clifton Hill and enjoy some of the other attractions Niagara Falls has to offer! From the Niagara SkyWheel to Ripley's Believe It Or Not, there is something for everyone here.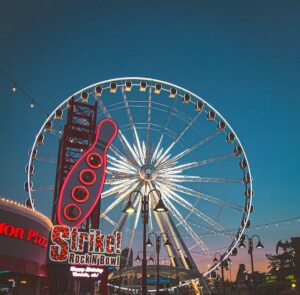 6 Shopping Spree
You can't come to Niagara Falls without doing a little shopping. While walking down Clifton Hill, make sure to stop at one of the many souvenir shops. You can find everything from keychains and T-shirts to shot glasses, all branded with our famous Falls logo. If you want something a little more unique, check out some of the local art galleries for handcrafted Niagara Falls gifts.
7 Fallsview Casino
Take a chance and try your hand at the slots or poker tables at Fallsview Casino. With over 3,000 slot machines and more than 130 gaming tables, there is sure to be something for everyone here. While trying to beat the house, take in the incredible views of the Falls from the casino floor.
8 A Night to Remember
After an action-packed day with dad, what better way to finish it off than with a show at the Niagara Fallsview Casino Resort. The shows there feature world-renowned performers that are sure to dazzle. From magicians to comedians, there is a show for everyone here.
9 Take a Hike Along the Niagara Gorge
One of the best ways to see the Falls is from below, and the best way to do that is by taking a hike along the Niagara Gorge. With over 20km of trails to choose from, you'll be able to find the perfect one for your father and family. Be sure to stop and take in the views from some of the many lookout points along the way.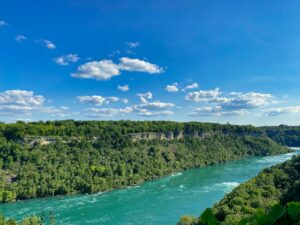 10 Clifton Hill Fun Pass
The Clifton Hill Fun Pass is the perfect way to save on some of Niagara Falls' best attractions. For one low price, you'll be able to visit some of the most popular attractions, like Ripley's Believe It Or Not Museum, Madame Tussauds Wax Museum, and the Niagara SkyWheel.
11 Visit the Butterfly Conservatory
The Butterfly Conservatory is a must-see for any nature lover. With over 2,000 butterflies from around the world, it's the perfect place to relax and enjoy the beauty of nature.
12 Get a Bird's Eye View of the Falls
For an incredible view of the Falls, make sure to stop by the Niagara Fallsview Casino Resort. From here, you'll be able to see all three of Niagara Falls's magnificent waterfalls.

13 Take a Ride on the Niagara Falls Incline Railway
Take a ride on the Niagara Falls Incline Railway for a unique way to see the Falls. This historic railway will take you down to the Niagara Gorge for an up-close-and-personal view of the Falls.
Getting Here
Make sure you know how to get around while in Niagara Falls! See the directions page for more information. We don't want you or dad to have to stop and ask for directions.
Buy Tickets
Now here is the easy part!  Buy your tickets online in advance to save time. Then plan your special trip with dad and have a great Father's Day.