Happy Earth Day 2021! 
Today, City Experiences celebrates the environment and natural beauty that makes our experiences stand out. With our collection of memory-worthy experiences, we're committed to a variety of programs that keep our waters blue and our land green. 
We have built an entire initiative around our dedication to practicing conservation and environmental responsibility called "RESPECT Our Planet," which combines our aquatic and land-based efforts in a single objective: respecting the natural beauty of our planet.   
Here are some of our key accomplishments through this initiative: 
Over 6,000 trees saved

 – Through the expansion of our Anchor ticketing platform, we are now 80% digital.  Based on number of e-tickets sold, the 

Encore

 team estimates we have saved 33 million pieces of paper and approximately 6,335 trees!

 

Over 700 metric tons recycled – 

Through its waste diversion and poncho recycling initiative, 

Niagara City Cruises

 has recycled over 713 metric tons over the past eight years.  It has achieved an annual waste diversion rate of 80%, half of which are the iconic red ponchos recycled – they are compacted on-site and then given new life as other plastic products.

 

These recycled ponchos make a huge difference – keeping everyone dry and reducing our waste imprint!

Over 235,000 gallons of fuel saved 

– In 2008, 

Alcatraz City 

Cruises

introduced

 the first hybrid passenger ferry service in the United States.  In 2012, 

Statue City Cruises 

and 

City Cruises New York

 introduced the first hybrid ferry on the East Coast.  We have since expanded our hybrid fleet and continue to reduce our annual fuel consumption by over 235,000 gallons, which is the equivalent to taking 450 cars off the road or planting 718 acres of trees!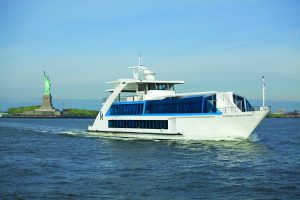 Reducing Emissions and Exhaust 

– The 

City Cruises UK

 fleet utilizes electronic engine management, controlling the fuel injection and timing to improve performance and lower fuel usage and emissions.  Its exhaust systems are as eco-friendly as possible, reducing noise and emissions, and vessels also use a low Sulphur marine grade diesel fuel designed to greatly reduce harmful exhaust gasses.

 

Protecting our shorelines 

– The vessels used by 

NYC Ferry

 use a low-wake design which decreases disruption to upland shorelines.

 

Environmental Awards 

– In 2019, 

Niagara City Cruises 

was the recipient of the City of Niagara Falls Environmental Award in recognition of its significant contribution towards the protection and enhancement of the City's environment, which includes using biodegradable lubricating oil 

in an effort to

 protect the eco-system, equipping vessels with fuel-efficient engines, and the previously mentioned recycling initiative.

 

Billion Oyster Project

 – In 2015, 

Statue City Cruises

 became a major supporter and participant in the Billion Oyster Project, a local New York Harbor initiative to repopulate the harbor with 1 billion oysters to their natural environments over the next 20 years. Oysters naturally support water filtration and help the local ecosystem thrive to allow for cleaner water for all.  

 

Did you know that the New York Harbor is home to natural oyster reefs, which provide habitats for hundreds of other native species?

100% offset of electrical consumption – Since 2015, Statue City Cruises has offset 100% of its annual electrical consumption through investing in 100% wind power Renewable Energy Certificates (REC). On an annual basis, Statue City Cruises prevents 467,699 pounds of carbon dioxide emissions entering the atmosphere which is equivalent to greenhouse gas emissions from 518,658 miles/year driven by personal vehicles, Carbon Dioxide emissions from 23,870 gallons of gasoline consumed and saved the carbon sequestered by 1.7 acres of U.S. forests in one year.
Earth Day isn't the only day we can all make a difference. We partner year-round with aquariums and other environmentally focused partners, and are always looking to do our best to keep our waters and experiences in tip-top shape so that you, and other adventurers like you, can return to where you made your first amazing experience.