To see a dolphin for the first time is amazing and to see one in British waters is even better!
Dolphins of Poole, Dorset, UK (27th August 2022) – In Poole we are proud to (quite regularly) see dolphins on our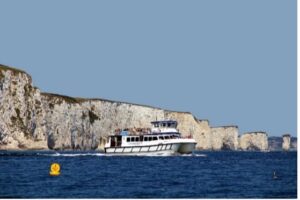 Poole / Swanage sightseeing and Jurassic Coast cruises. In Dorset the most common species that will be seen are bottle nose dolphins and these fantastic mammals are very playful. Our boats do not go to them, they come to our boats and are happy to play and jump around the boat to the delight of our passengers!
Bottlenose dolphins can problem solve, show empathy and self-awareness and display emotional intelligence.
Our latest sighting was over the August bank holiday on the 4.45pm boat (Solent Cat) back from Swanage. Our Captain saw them between Swanage and Old Harry's Rock and they stayed with the boat for a good 10 minutes.
What an experience to watch!