Alcatraz, initially named Isla De Alcatraces, or the island of the Pelicans- rarely has any pelicans! The name was meant for Yerba Buena Island but ironically someone had difficulties with reading maps! White seagulls cover Alcatraz Island giving it the nickname, "The White Rock," since so many seabirds roost on the island and leave a white look to the sandstone island. Alcatraz Island, or "The Rock" is in San Francisco Bay, California, and occupies an area of twenty-two acres, one and a half miles offshore.
Visiting Alcatraz is one of the most exciting attractions to do in San Francisco. If you want to know the best time to visit Alcatraz, you are in luck. With so many options to choose from, planning your trip will give you the most bang for your buck. Below are some tips for the best times to visit Alcatraz.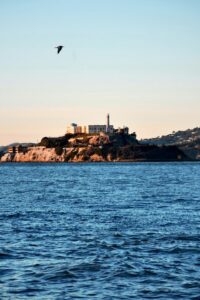 Best time to avoid crowds
Typically, Mondays to Thursdays are a safe bet if you would like to avoid peak crowds. If you plan to visit during a holiday weekend, be prepared for bigger crowds than usual. The least crowded months are January, February, and March. However, rain is quite common during winter and early spring so plan accordingly. You must keep in mind that once inside the prison, visitors can pack in making for some discomfort if you do not plan properly. The earlier tickets will give you a head start on your visit to avoid crowds. Plan to spend a few hours as you step back in time during this Alcatraz Day Tour and experience the legendary island that has been a Civil War fort, a military prison, and one of the most notorious Federal penitentiaries in U.S. history. Plan to spend a few hours on this tour.
Best time to check up on your facts about the island
It may surprise you to learn that the island was used as a prison for only 30 years (from 1934-1963) and no longer houses inmates due to the excessive costs of operations. It has become a national landmark for tourists intriguing over one million visitors each year. Having a little background knowledge can make for a more enjoyable experience., so do your research before you go! Alcatraz Day Tour and Big Bus Classic Tour allow you to step back in time and experience all there is to know about this legendary island. Discover its layered history with an expert tour guide.
Explore the best of San Francisco with the Big Bus Classic Tour, with over fifteen hop-on, hop-off locations spanning from Fisherman's Wharf to the Golden Gate Bridge. This is an exciting and convenient way to experience San Francisco's stunning culture, food, parks, architecture, and views
So why is Alcatraz famous? Al Capone, Machine Gun Kelly, and John Kendrick are amongst the most notorious of the prisoners kept on the island. Arguably the most famous of the bunch was Al Capone. The authorities were so nervous that he would escape while being transferred to the island, that they transported his three-car train via barge. They feared he would bribe his way to an escape route during the transfer from his train to his boat to the island. Their solution? Bring the entire train to Alcatraz! The Federal Government decided to open this maximum-security, minimum-privilege penitentiary to deal with the most incorrigible inmates in Federal prisons and to show law-abiding citizens that the government was serious about stopping rampant crimes in the 1920s and 1930s.
The guards and their families lived in Alcatraz too. It seems crazy but they had separate quarters from the prisoners and their movements were limited since they were living on an island fifteen minutes from shore. You will hear their stories and how they all became quite close in their shared (and quite difficult) times.
Only fourteen total escape attempts were made during the years that the prison was open. Of those who attempted to escape, none are believed to have successfully made it to shore without drowning, being captured, or being shot during the attempt. Therefore, prisoners with a history of successful or attempted escapes elsewhere were often sent there. Although three inmates successfully escaped the island, they do not believe they survived. Their story was dramatized in the film Escape from Alcatraz (1979).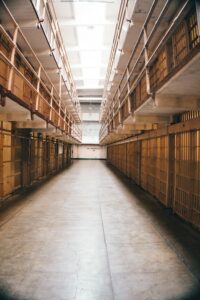 Best time to See Behind the Scenes
Alcatraz Behind the Scenes Tour
If you want a peek at behind-the-scenes information not previously available to the public, join a group of thirty or fewer on a guided adventure to the Island's fascinating past. Hidden doorways, tunnels, and an underground jail will satisfy your passion for Alcatraz's secrets. You will get a chance to explore areas that are off-limits to the public and hear fascinating stories about the island's history and relevance today. This is an extremely popular tour that will provide you with many opportunities to engage in-depth with your tour leader and participants since the group size is limited, so book early to ensure you get a spot! Bring your cameras because you will get an opportunity to capture unusual photos and discover off-the-beaten-track areas of Alcatraz that are closed to regular visitors. Plan on spending approximately two hours and enjoy your round-trip ferry ride where adventure awaits. Please note this tour requires extensive walking on steep hills and climbing multiple staircases.
Best time for nice weather
Fog is always a problem when visiting San Francisco and can obscure the view when visiting Alcatraz. With an unpredictable climate that can change suddenly, the best time for decent weather is April-May or September-October. Surprisingly, the summer months can be quite cold and foggy. Most families want to travel in the summer so you will encounter fewer crowds and clearer skies as well if you visit during non-summer months. This is the perfect time to experience Night on Alcatraz Island with Fisherman's Wharf & Sourdough Bread Tour. You will experience the prison of Alcatraz after nightfall when you have the island with a limited crowd of people. This much sought-after ticket will offer you a night like no other. On this one-of-a-kind experience, take walks through San Francisco neighborhoods of Fisherman's Wharf with a pitstop at the renowned Boudin Bakery where you will get up close and personal with San Francisco's unofficial mascot- the Sea Lions! Then load the ferry to the "inescapable" Island as night falls over the bay. The dark and shadowy waters create a spooky effect building excitement for your trip. Engaging cell house narrated audio by former inmates, guards, and the children that once called Alcatraz Island home will intrigue you, and Interjections of Alcatraz lore from your guide will leave you wanting more. If only the bay waters could talk, the stories they would tell!
Best time for a creepy experience
If you do not scare easily, definitely opt for the Alcatraz Night Tour. It is a bit more expensive but well worth it. A bonus to this tour is that you get to see San Francisco lit up at night which is incredible. You will hear compelling stories made more chilling by torchlight. Expert historians provide evening talks that change every night. This Alcatraz Night Tour is limited to just a few hundred visitors per evening and special programs, tours, and activities not offered during the day are included. Cell door demonstrations, short talks, and special exhibits await you if you dare!

Best time to take on a big challenge
For over 40 years, triathletes from all over the world have attempted to achieve a feat that most feel impossible. World Champions, amateur triathletes, and Olympic Medalists from 50 states and over 50 countries put their endurance to the test as they tackle San Francisco's legendary Bay, steep hills, and rugged terrain. This must-do event draws thousands each summer to reveal who has what it takes to ESCAPE!  City Cruises is a 2023 proud sponsor of the Escape From Alcatraz Triathlon with a 1.5-mile swim from Alcatraz Island to the shores, a grueling 18-mile bike ride, and a strenuous 8-mile run through the Golden Gate trails, set to one of the most beautiful backdrops, the San Francisco Bay. Although several others have attempted similar races since the early 1980s, the Escape from Alcatraz Triathlon continues to grow drawing more and more competitors to see if they have what it takes.