Designated a UNESCO World Heritage Site, Amsterdam—also affectionately known as the "Venice of the North"—is beloved for its captivating canals, unique architecture, buzzing nightlife, and a wealth of influential Dutch art and cultural offerings. This city is also celebrated for its expansive history dating back to the 13th century, and its outdoor attractions. Whether that's iconic windmills and beautiful tulip fields or amazing bike paths, the Netherlands' capital is a great European destination that makes a trip more than worthwhile. Of course, we'd be remiss not to mention its top-notch dining scene and visitors will find several gourmet options synonymous with the city that are bound to please the palate. To help you decide where to go and what to do, here's our Top Ten list of Amsterdam city experiences you just won't want to miss.
Art lovers find bliss in Amsterdam's Museum District where they will discover the Van Gogh Museum, home to the biggest collection of the artist's works in the world (more than 200 paintings, 500 drawings, and 750 letters); the Rijksmuseum (the Netherlands's national museum), a destination dedicated to Dutch arts and history that houses masterpieces such as The Night Watch from Rembrandt and Vermeer's The Milkmaid; and the Stedelijk, a museum of contemporary and modern art that features works from Karel Appel, Marc Chagall, and Piet Mondriaan (among others), as well as innovative exhibitions.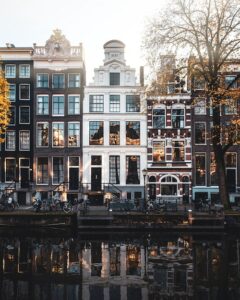 2. Vondelpark
As the largest and most well-known municipal park in the city, Vondelpark is 45 hectares of lush surroundings that are packed with lots of things for visitors and residents to enjoy. Constructed in 1850, the site features several playgrounds for children, cafés, and restaurants, and an open-air theater. It's a hub of activity in all seasons. Vondelpark is ideal for sitting, strolling, biking, picnicking, and more.
Animal enthusiasts discover diversity in spades at ARTIS, where wildlife abounds in beautiful surroundings and includes a range of numerous plants and animals (elephants and zebras included). Doubling as the Netherlands' oldest zoo and the world's fifth oldest zoo in existence, ARTIS also boasts an aquarium, arboretum, planetarium, the Groote Museum (dedicated to connecting all animals, people, plants, and microbes), and Micropia (dedicated exclusively to microbes). Fun fact: The Groote Museum is a significant architectural structure in Amsterdam's history as the city's oldest museum building.
For those seeking spectacular views and the thrill of a lifetime, the A'DAM Lookout has your number. Not only does it offer a light show en route to a 20-story rooftop bar and restaurant with a 360° view of the city and an interactive state-of-the-art exhibition, but there's also an attraction that puts you over the edge of it all. "Over the Edge" is the highest swing in Europe, dangling 100 meters above the ground on top of the tower. Those who dare to hop on for this ride will swing back and forth over the edge, and as they do, they'll see the city and all its beauty beneath their feet.
5. De Oude Kerk (The Old Church)
Founded in 1213, De Oude Kerk is Amsterdam's oldest structure, and one of its youngest art institutes. Situated amid the Red-Light District, De Oude Kerk was originally the heart of late medieval city life where marriages, celebrations, funerals, and religious services all took place. Today, music and art play a pivotal role in bringing fresh viewpoints to the church's history as artists from around the globe are invited to make context-specific projects (from small to large) linking its past and present.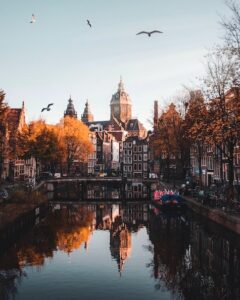 Who doesn't love a great street market? With so many hidden gems to discover, they are hard to resist—especially in a city like Amsterdam. Named for 17th-century painter Albert Cuyp, this 100-year-old attraction features more than 260 vendor stalls selling fruits, fish, spices, plants, accessories, clothing, cosmetics, and more and is the Netherlands' biggest and most popular open-air market in the country. Located in the De Pijp District, the area also includes several cafés, bars, restaurants, and shops.
7. De Negen Straatjes (The Nine Streets)
This upscale neighborhood of Amsterdam is situated in the UNESCO World Heritage Site of Grachtengordel. Just a short walk from the city's Royal Palace, it's chockfull of fabulous boutiques, stylish cafés, and chic hotels. On the southerly edge, visitors will find Amsterdam's floating flower market Bloemenmarkt, and on nearby Prinsengracht lies the Anne Frank House, a historical treasure that relays the powerful story of the Jewish teenage diarist's life and experience during the Second World War.
With plenty to see, you're bound to work up an appetite, so we'd be remiss not to mention one of the best ways to experience De Negen Straatjes, and that's the Ultimate Amsterdam Food & History Tour. It takes you on a delectable three-and-a-half-hour tour of the city's culinary delights. Dutch cuisine is demystified, and foodies indulge in more than Amsterdam's signature stroopwafel (although that's provided!). You'll go to iconic family-run businesses (and others) in three historic neighborhoods (Spui, De Negen Straatjes, and Jordaan) sampling flavorful delicacies at everything from 19th-century bakeries to traditional Dutch cafés hailing from the 1920s.
8. The National Maritime Museum
For ocean devotees and nautical-curious travelers, a visit to The National Maritime Museum is a must. Housing one of the world's largest and most noteworthy maritime collections, this attraction displays ship models, navigation instruments, sea charts, and paintings spanning 500 years of Dutch maritime history linking the present day to the future. Situated near the city's old harbor, the National Maritime Museum also has an extensive maritime library, museum shop, and restaurant onsite.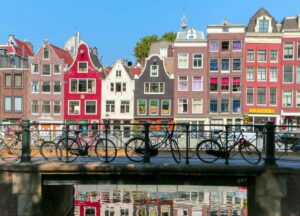 9. Magere Brug (Skinny Bridge)
Crossing the river Amstel, Magere Brug (Skinny Bridge) links the riverbanks of Kerkstraat between the Keizersgracht and Prinsengracht. Constructed in 1934, this bridge is renowned for romance. Not only does it offer exquisite views of the area, but it's also the spot where (like the Pont des Arts in Paris) lovers leave locks as declarations of devotion upon its chains. Because it's considered such a hotspot for amorous gestures, Magere Brug is also a popular place for marriage proposals and romantic starry-night strolls.
Science always has something new for us to discover, and Amsterdam's NEMO Science Museum is a prime example. Situated in the neighborhood of Oosterdokseiland, this science and technology center originated in 1923, and since 1997, has been housed in a uniquely designed building in the shape of a ship's bow (courtesy of architect Renzo Piano). NEMO has five floors of interactive exhibits and displays designed for children and adults to engage with and enjoy. As the Netherlands' largest science museum, it's a captivating and fun experience that offers a wealth of educational opportunities.