Whether you're craving pizza or cuisine from a small country on the other side of the world, you'll find it in New York City.
Thanks to generations of immigrants from diverse cultures arriving here from across the globe and turning this bustling, 24/7 city into a vibrant, multicultural melting pot, New York is one of the best foodie cities in the world.
Whether you turn to the experts at Devour Tours and embark on curated culinary expeditions, eating your way through famous foodie boroughs or neighborhoods like Greenwich Village, or track down the city's best food on your own, these are the bites you have to try for a true New York food experience.
Out of thousands of amazing restaurants, diners, food trucks, and bakeries, here are 21 foods you can only get in New York.
1. New York pizza slice
Out of all the foods associated with New York, perhaps none is more famous than pizza.
While creative pies made with all manner of dough, cheese, and toppings can be found throughout the city, iconic New York–style pizza consists of thin crust that's malleable enough to be folded in half—the best way to eat the giant cheesy slices the city is known for.
As for the best pizza? Each New Yorker has their own opinion, but it's all delicious in its own way.
2. New York cheesecake
Made with extra cream cheese for a denser, richer, and creamier base, New York–style cheesecake is the ultimate version of this decadent, indulgent dessert.
3. New York–style hot dog
Available from street carts and vendors throughout the city, this New York classic consists of a juicy hot dog topped with sauerkraut, sautéed onions, ketchup, and/or mustard inside a fluffy bun.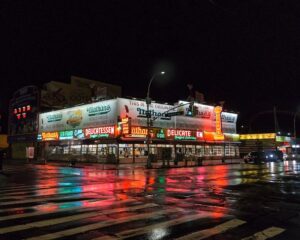 4. Nathan's Famous at Coney Island
What's now one of the most famous hot-dog brands in the world started as a nickel-hot-dog stand, opened in 1916 at Coney Island.
Along with trying out the carnival rides at this historic amusement park, it's worth making the trip for a classic Nathan's Famous hot dog. Add your own toppings, or do it up with a chili-cheese dog, which comes loaded with ground-beef chili and cheddar cheese.
5. Bagel with lox and cream cheese
Thanks to an influx of Jewish immigrants in the 1800s, New York is an unparalleled destination for Jewish cuisine.
Dipped in boiling water to give them a crispy, crunchy exterior and a soft, chewy interior, New York bagels are among the best in the world. Available in a variety of styles from plain to everything, the trademark way to enjoy a New York bagel is smeared with regular or scallion cream cheese and slices of lox (especially for brunch). Head to Russ & Daughters for the best of the best.
6. Pastrami sandwich
Made with thick slices of pastrami on rye bread, with spicy brown mustard and a kosher dill pickle on the side, pastrami sandwiches are one of the signature sandwiches of the City That Never Sleeps.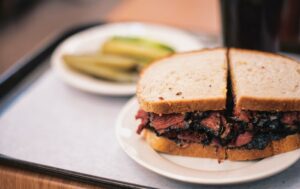 7. Corned-beef sandwich
Corned beef is another Jewish-deli staple, and much like pastrami, it's best enjoyed in a mile-high sandwich. Known as much for its exceptional food as it is for that infamous "I'll have what she's having" scene in When Harry Met Sally, Katz's Delicatessen is one of the best spots in the city to sample both cured meats.
8. Matzo ball soup
Found on deli menus throughout the city, this traditional Ashkenazi Jewish soup will cure what ails you, thanks to its hearty chicken stock, savory dumplings, and tender chicken and vegetables.
9. General Tso's chicken
Now found on Chinese food menus across America, this sweet and spicy deep-fried chicken dish actually originated in New York. Chinatown isn't the only place to find this famous dish; several Upper East Side restaurants, like Wa Jeal Sichuan Chili House, serve some of the best in the city.
10. Bacon, egg, and cheese sandwich
For many New Yorkers, there's no finer breakfast than a BEC, served hot, fresh, and cheap from the food trucks and bodegas dotting the city.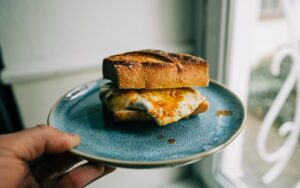 11. Egg cream
Taking its name from the cream-like head of foam that develops on top of the beverage, this egg-and-cream-free concoction is a Brooklyn staple, made with seltzer, milk, and chocolate syrup in a Coke glass.
12. Dominique Ansel's cronut
A relatively new addition to the pantheon of legendary New York baked goods, the cronut from Dominique Ansel Bakery is a flaky donut-style pastry, made with croissant dough and oozing with a rotating assortment of fillings.
13. Black and white cookies
Walk into pretty much any New York bakery and you'll find these iconic half-black, half-white cakey cookies, topped with royal icing and fondant.
14. Chocolate-chip cookies from Levain Bakery
Although black-and-whites will always be associated with New York, arguably the best cookies in the whole city are the giant gooey-and-chewy chocolate-chip cookies from Levain Bakery.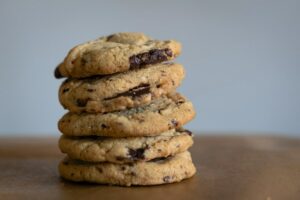 15. Spicy cumin lamb noodles from Xi'an Famous Foods
Specializing in Western Chinese cuisine, this beloved local chain is best known for its hand-ripped biang-biang noodles, particularly the tender and spicy cumin lamb version.
16. Magnolia Bakery's banana pudding
This cozy bakery became a household name after its Sex and the City appearance, and its delicious banana pudding—made with fresh bananas, vanilla pudding, and vanilla wafers—makes it a must-try on any NYC food crawl.
17. Dim sum
New York City does Chinese food right, especially classic dim sum dishes, like pork buns and dumplings. The best Chinese restaurants can be found in Chinatowns in Brooklyn, Manhattan, and Queens, where you can sit down for a classic dim sum dining experience.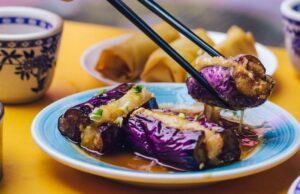 18. A classic steakhouse meal
The steakhouse is an NYC institution. You'll find plenty of historic and renowned fine-dining places around town for a juicy cut of beef, served with traditional sides like creamed spinach and macaroni and cheese.
19. Soft pretzels
Along with hot dogs, street meat from halal carts, and the New York slice, baked pretzels are a mainstay of New York's street-food scene. Similar to NYC bagels, these soft, doughy twists are boiled prior to baking for a crunchier shell.
20. Manhattan clam chowder
Prepared with a tomato-sauce base as opposed to cream, brothy Manhattan clam chowder dates from the 1800s and the Italian and Portuguese immigrant communities of Rhode Island.

21. New York–style Italian ice
Similar to snow cones or sorbet, Italian ice is a quintessential New York dessert or sweet treat, made with fruit-flavored frozen or semi-frozen water.
Eat your way through New York City
This list barely scratches the surface of all the incredible dining experiences you can have in New York. To take a bigger bite out of the Big Apple, let Devour Tours be your guide to even more great eats.