Behind the Scenes of Chicago Restaurant Week with Chef Francesco Simone aboard City Cruises Chicago
Only steps away from the Magnificent Mile, just east along the Chicago Riverwalk, Francesco Simone, executive chef at City Cruises Chicago, will be preparing a 3-course plated dinner for hundreds of diners every Friday, Saturday, and Sunday during the 2022 Chicago Restaurant Week. From March 25 to April 10, you can embark on a dinner experience like no other aboard an Odyssey Chicago River premier cruise at an exclusive Chicago Restaurant Week price of $55.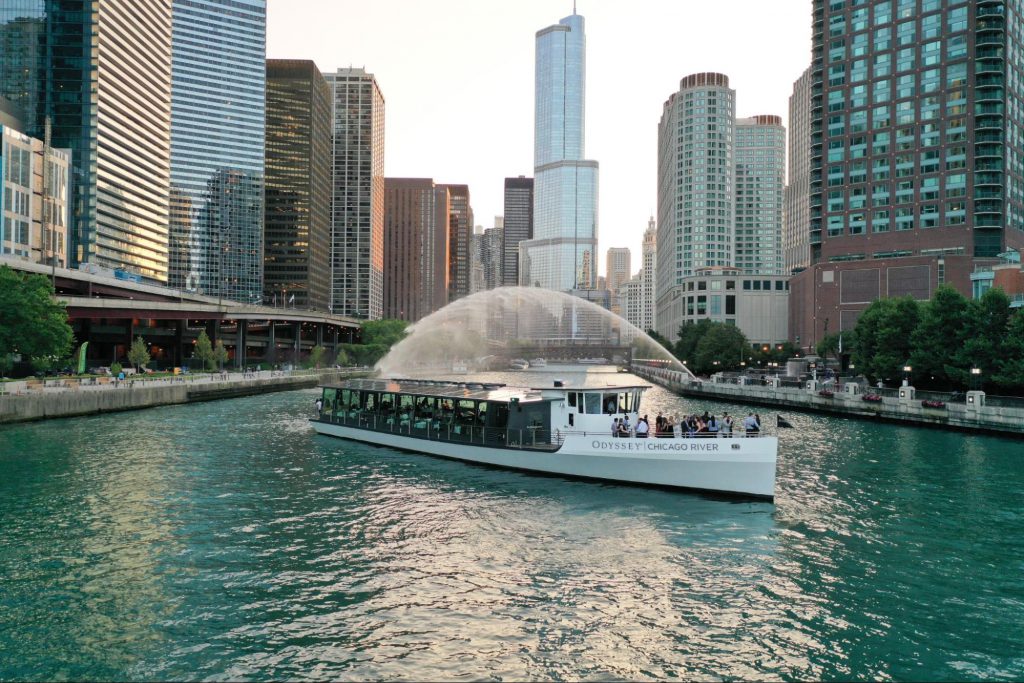 Start the evening with starters, sights, and sips
This isn't a typical restaurant experience. Instead of dim lights and wall art views, when stepping on the Odyssey Chicago River, you are struck by large, full-length, 270-degree windows where the city's architecture is on full display. Throughout the course of your cruise, the Chicago skyline will tower over you as your dinner table lights up in the night sky. Change into your dressy attire and come out on the water to enjoy an upscale dinner, live entertainment, and stunning skyline views on the water. 
At first, you'll be entranced by the ambiance, but there isn't much time for gawking. After the host greets you, you're whisked away to your table to begin the evening's meal service. Led by our polished tableside servers, it won't be long until you have a drink in hand. From our curated beverage menu, your waiter will serve your selection from the unlimited coffee, tea, or water included in your meal ticket, one of our delicious creative cocktails from our cash bar, or a sommelier-paired wine by the glass or bottle.

Consider this just the beginning of the evening's culinary experience. You'll be delighted when your first course of soup or salad is served. The Baby Beet and Arugula Salad is topped with cheddar cheese, cherry tomatoes, and balsamic vinaigrette. Many select this appetizing salad for the first course, but you can opt for a soup that is fit for the setting, a hearty seafood chowder. Clams, flounder, and potatoes team up in our signature seafood chowder to make you feel as if you're seaside.
Our new dish exclusive to Chicago Restaurant Week
For your main course, it's only right to give our new dish a try. Created exclusively for Chicago Restaurant Week, the Linguini Di Mare, a popular Italian pasta dish meaning "fruit of the sea", is assembled with the absolute freshest ingredients we could get our hands-on. Freshly prepared onboard and served over a bed of piping-hot squid ink linguine, this ultimate recipe is made with mussels, scallops, jumbo shrimp, and calamari in a thick red Arrabiata sauce. 
A City Cruises chef since 2011, Chef Francesco knows a thing or two about designing menus for our guests, many of whom attend this special event with close friends and family. He created the Linguini Di Mare with his own family in mind. "This is a dish that we used to make a lot growing up with my grandparents," Simone said. "The rustic spicy tomato sauce goes fantastic with mussels and shrimp and the squid ink pasta adds that extra flavor to finish it off." On par with your favorite Italian restaurant, this delicious seafood medley is perfect for anyone who loves both Italian cuisine and seafood.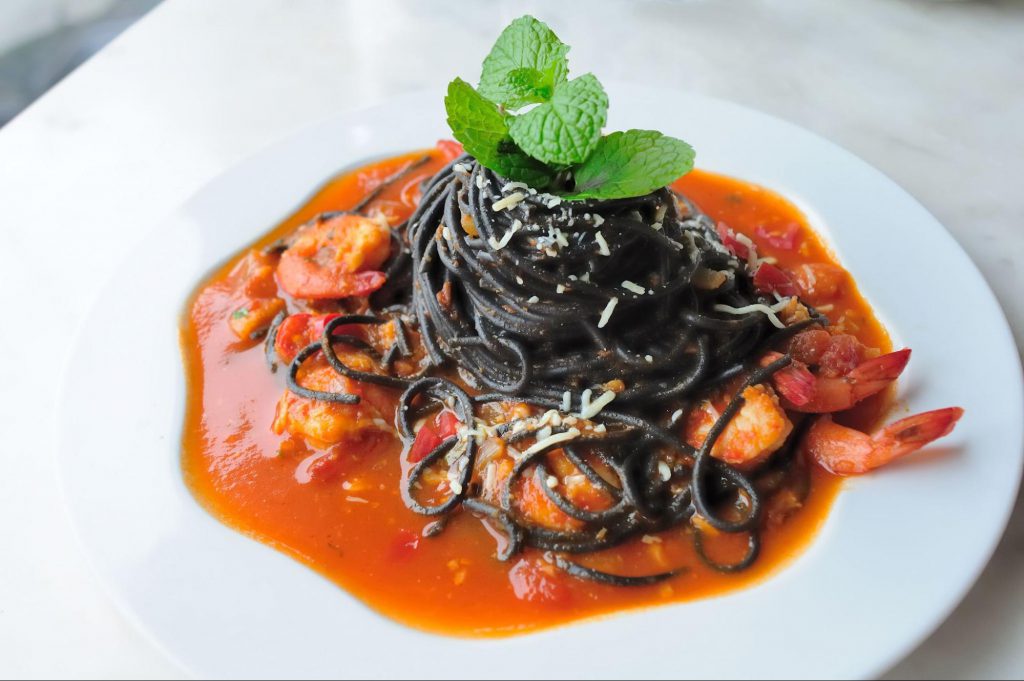 Just when you think it's enough, you're served a dessert you'll want to indulge in. Our New York Style Cheesecake will become your instant favorite. Our creamy, golden cheesecake is crack-free and paired with a lemon mascarpone cream and blueberry compote. You can't go wrong with this light and refreshing dessert staple.
Try delicious add-ons and upgrades
Chef Francesco has an instinctive skill in devising appealing menus to satisfy a wide range of tastebuds, ranging from sophisticated gourmet main courses to delicious add-ons. If for some reason Linguine Di Mare isn't your speed, there are a few other entree options including a vegan root vegetable fricassee, a broiled salmon filet dish with roasted tomato vinaigrette, and an oven-roasted chicken breast with rosemary thyme. Or you can choose one of our seafood towers as an add-on to enhance what's already on your plate.
Simone admits that when cooking, he feels the most rewarded after simply seeing the delighted reactions of guests enjoying his food. Delighted you will be when you see what Chef Francesco has in store. You won't believe you're getting this experience at an unbeatable Chicago Restaurant Week price of $55.

The perfect excuse to celebrate a special event
No part of the experience is overlooked. Make this exclusive dining experience even more memorable by purchasing a boarding photo as a thoughtful souvenir or upgrade to an open bar for unlimited cocktails and wine from our roster of drinks that, like the menu, consider a wide range of tastes. Special events are often celebrated around our dinner tables so let us know if you're dining for a special occasion. There may be a celebratory dessert or romance packages available to help make the evening extra special. 
No matter the occasion, a Chicago Restaurant Week dinner cruise on the Chicago River is sure to create an unforgettable evening. Experience premier dining like you never have, immersed in the city's beautiful sights and indulged in delicious food and gracious service.
Reserve your spot today at citycruises.com/chicago