For close to a quarter of a century, the concierge on the fast ferry has answered travelers' questions about all things Provincetown
By Christopher Muther Globe Staff,Updated August 10, 2023, 10:00 a.m
We're grateful to the Boston Globe and travel write Christopher Muther BHCC in profiling BHCC employee (and Provincetown icon) Donal O'Sullivan! The article is reprinted here in full, and the recognition that Donal receives here is richly deserved; indeed, he's an enthsiastic booster of all that Ptown has to offer!
CAPE COD BAY — The line formed early at Donal O'Sullivan's station and didn't diminish during the 90-minute ferry ride from Boston to Provincetown. The tourists and day trippers queued up on a sparkling July morning to ask O'Sullivan everything from the best place to get a lobster roll to "What is a tea dance?" After 23 years working as a concierge on the Provincetown/Cape Cod Fast Ferry, he has all the answers.
Q. "Is it rude to people watch?" asked a couple from Ottawa.
A. Absolutely not. People-watching is an essential activity in Provincetown.
Q. "Which is the best beach for birdwatching?" a woman from Germany inquired.
A. Beech Forest Trail on Race Point Road.
Q. "Where can I see drag queens?" asked a man who seemed a tad too eager for a queen sighting.
A. Anywhere on Commercial Street.
O'Sullivan's sense of humor is drier than Death Valley in July, and he calmly and playfully attends to anxious passengers hoping to make the most of their day on the Cape. Not a bad gig for a former cab driver from Dublin and one-time deckhand who had little knowledge of Cape Cod a quarter century ago.
The 74-year-old concierge shares his four-point plan with the first-timers. He tells them first to get high; by high, he's not telling travelers to take a hit of the devil's lettuce. He means to climb to the top of the Pilgrim Monument to get the lay of the land and a bird's-eye view of the town. He says they should then go wild and see nature on a dune tour or rent a bike and traverse the Province Lands trail.
"Eighty percent of Provincetown is a nature reserve, the Cape Cod National Seashore," he told a passenger from Virginia. "It's important to absorb that."
After getting high and going wild, O'Sullivan advises visitors to go commercial, as in walk and shop along Commercial Street. Finally, he suggests they go quiet and simply take in the surroundings.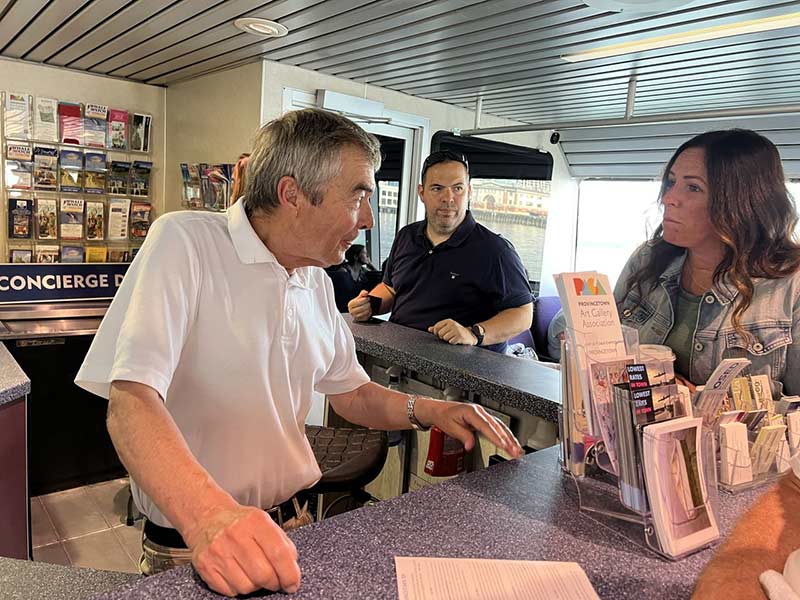 "You have such an extraordinary range of experiences," he said. "The natural beauty will blow you away. The natural light is extraordinary. You just need to stop and notice it all."
Despite Provincetown's reputation as an LGBTQ+ vacation mecca, O'Sullivan said most of the questions he gets are not related to the lively queer scene, although there are notable exceptions.
"One morning, a drag queen approached me when we were getting off the boat in Provincetown and said, 'I'm going to perform in Provincetown tonight, but I left my makeup bag in Boston. Would you mind getting me some makeup?'" O'Sullivan recalled. "So I found myself at the cosmetics counter at Macy's in Boston reading off the names and descriptions of things I'd never heard of before and brought them all back to Provincetown for him later that day."
After the ferry ride from Boston to Provincetown, I sat down with O'Sullivan to reminisce over his 23 years of helping travelers discover Provincetown.
How did you wind up as the concierge? Did you already have a broad knowledge of Provincetown?
I was a deckhand with the company doing commuter trips and whale watches since 1984. Then the company posted the concierge job during the winter. To the best of my knowledge, I was the only person who applied for it. So clearly, I was the most qualified candidate for the job.
So you didn't know a lot about Provincetown when you took the job?
I didn't even know where it was. I'd heard it was a fun summer town and, of course, had heard there was a large gay population. But my big revelation was coming down here and actually seeing it. I said, 'There's something extraordinary about this place.'
How did you begin your research?
I spoke with the Chamber of Commerce, they practically adopted me. But mostly, I just dove in. I would just hit the street and go anywhere. I would go into the library and say I was a concierge from the ferry, which I don't think impressed them at all. In fact, I later heard that one of the library employees complained about a weird guy coming in and saying he was the concierge on the ferry. But usually, I got a really good reception. Now I spend a lot of time in the town talking to business owners and finding out what's new.
Over the past 20-plus years, what have been the biggest changes you've seen in town?
It's gotten more expensive, of course. And I seem to notice that whenever a small business closes down, the one that replaces it is not as colorful or as special or as unique as the one before it. It's in danger of losing that kind of raggedy, unpredictable, by-seat-of-the-pants kind of attitude. Everybody's getting more efficient and more punctual. So that spontaneous part of the culture here is . . . it's not fading, but it's receded somewhat.
We don't get as many bachelorette parties as we used to. I think that's because they sensed a certain resentment for them in the town.
It's also amazing how much it hasn't changed. The essentials are still here. The Coffee Pot, the Portuguese Bakery, the Crown and Anchor, and the galleries. It's very hard for the buildings and facades to change because of historical preservation. In that sense, it's still very charming and always will be.
I know you have a very international group of folks who approach you at the concierge desk. Do they know about the town's reputation as an LGBTQ+ vacation hot spot?
I'm pretty inclusive in my approach. It's something that I'm so accustomed to I don't think a lot about it unless someone asks. There was one guy who was staying at the Marriott [Long Wharf] and saw the long line of passengers waiting to get on the boat in Boston. I explained to him it was headed to Provincetown, and I sold him on the beauty of it. He bought a ticket and got on the boat. I saw him on the return trip. He came up to me and said, "You never told me that town was full of homosexuals!"
Interview was edited and condensed.
---