Un giro romantico in barca è speciale perché permette alle coppie di trascorrere del tempo di qualità insieme, godendo della bellezza della natura. Offre anche la possibilità di rilassarsi e di godere della reciproca compagnia. Inoltre, può essere un'esperienza unica e memorabile da conservare per gli anni a venire.
It may be just the spark you need to show your significant other and will give you time to unwind away from the hustle and bustle. The boat itself is a romantic venue and paired with music, a refreshing breeze, and delicious food, -you cannot go wrong.
City Cruises offers romantic boat rides in cities across the US, Canada, Europe, and Australia. For intimate cruises with your loved one in the US,
Here are a few of the most popular destinations and cruise options for intimate cruises with your loved one in the US.
Gite romantiche in barca intorno a Chicago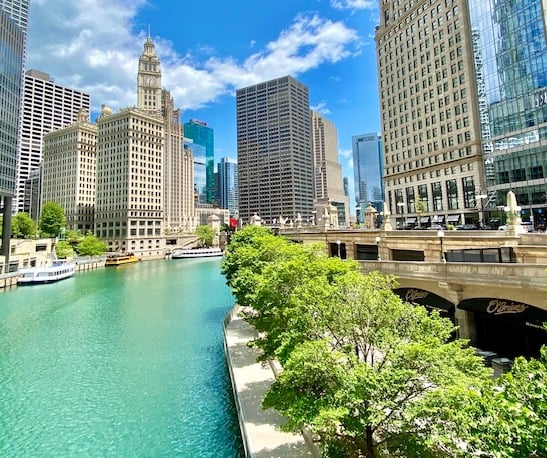 Experience Chicago aboard a romantic boat tour along the Chicago River or on Lake Michigan. A crociera con cena a Chicago offers a 3-hour experience along Lake Michigan or the Chicago River. Dinner cruises include a three-course meal, drinks, DJ-curated music, and jaw-dropping views. Opzioni per il brunch e il pranzo sono disponibili anche se si preferisce una data diurna.
Un tour dell'architettura a Chicago può anche offrire vibrazioni romantiche a chi è interessato a conoscere la storia della città stessa.
Romantici giri in barca intorno a New York
Seeing the New York skyline from a boat's perspective can take your breath away. New York City offers various opportunities to have a night out with the one you love, enjoying a moonlit dinner with a backdrop of an incredible skyline view.
La crociera con cena Bateaux New York Premier è una delle gite in barca più romantiche della città. Navigate lungo i fiumi Hudson e East e ammirate i vari punti di riferimento di New York City mentre gustate la cena, le bevande e l'intrattenimento musicale dal vivo durante il vostro viaggio di 3 ore in un battello chiuso in vetro.
Se desiderate vedere da vicino i monumenti di New York, anche questa è un'opzione! Statue City Cruises vi porterà alla Statua della Libertà per visitare il monumento in prima persona. Questo è l'unico tour che vi porta a Liberty Island per vedere la Statua e a Ellis Island!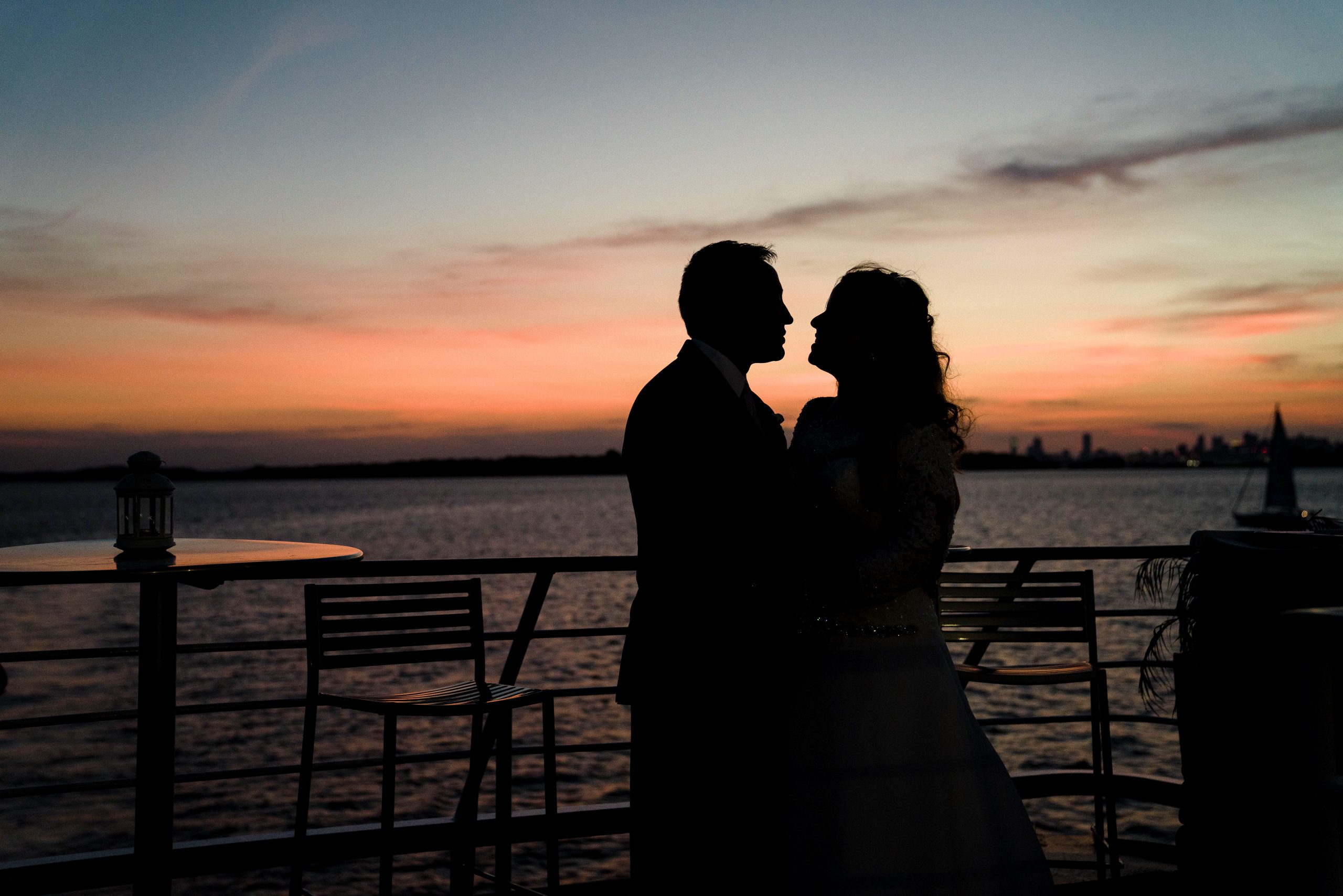 Gite romantiche in barca intorno a San Diego
San Diego Bay is full of romantic boat rides for visitors (and locals) to escape the city and enjoy the views. The Premier Dinner Cruise in San Diego offers passengers a romantic experience with a private table filled with seasonal dishes, drinks and cocktails, music, and incredible views. The cruise will sail past sights like the Coronado Bay Bridge and The Star of India.
San Diego offre ai visitatori anche altre opzioni di gite romantiche in barca durante tutto l'anno. Alcune delle più popolari sono specializzate in occasione di festività come il 4 luglio, la festa della mamma, la festa del papà, il Ringraziamento e il Capodanno.
Gite romantiche in barca intorno a San Francisco
San Francisco is a phenomenal city nestled on San Fransisco Bay. This iconic city boasts romantic boat rides for sightseeing, dinner, holidays, and more. One of the biggest romantic favorites in the Valentine Premier Dinner Cruise. Treat your partner to a night of elegance on the water with seasonal chef favorites, drinks, and views that could make anyone fall in love.
Se siete alla ricerca di romanticismo durante il resto dell'anno, la Premier Dinner Cruise è un'altra delle mete preferite dai fan. Ammirate la baia e i punti di riferimento circostanti mentre gustate una cucina stagionale abbinata a musica, bevande e una serata di intrattenimento.
Gite romantiche in barca intorno a Boston
Boston is a magical city and the perfect location for a romantic boat ride to soak in city views. Both Rowes Wharf and Seaport Blvd have cruises departing daily that serves as the perfect venue for your date.
La Premier Dinner Cruise di Boston offre viste spettacolari dello skyline della città. La crociera, della durata di 2-3 ore, prevede un pasto di 3 portate servito al tavolo, un bar ben fornito, intrattenimento a bordo e negozi di specialità.
La Signature Dinner Cruise sprigiona un po' più di energia. Questo romantico giro in barca include una cena a buffet, oltre a un bar ben fornito, opzioni di visita e musica dal vivo a bordo per ballare tutta la notte con la persona che amate.
Romantic Boats Rides Around Norfolk
Norfolk is a city on the water built on character by characters with a melting pot of people, cultures, and ideas, located in the southeastern Hampton Roads region in one of the fastest-growing ports. Home to the world's largest naval base means it is no surprise that there are many opportunities for a romantic boat ride.
The Signature Dinner Cruise provides you and your date an opportunity to dine and dance under the stars and enjoy a delicious chef-prepared meal while soaking in the spectacular views of the Navy's Atlantic Fleet from the skyline deck. This 2.5-hour cruise along the Elizabeth River will be just what you are looking for if you are aiming to impress! Onboard entertainment with DJ music will get you up and moving and grooving. You can customize your experience with additional upgrades such as window views and creative cocktails too.
If you prefer getting out on the water for some fresh air and sunshine, then take advantage of the Signature Lunch Cruise along the Elizabeth River and relax and unwind during this 2-hour cruise with a delicious lunch buffet, freshly prepared entrees, salads, and desserts. Dance along to DJ entertainment, listen to live narration, or take part in some interactive games on the skyline deck. You can grab a window seat and snuggle up too. There is something for everyone. Virginia is for lovers and there is no better place to cruise along on a romantic boat ride.
Gli Stati Uniti sono pieni di opportunità per una notte di romanticismo con un tour in barca intorno alla città. Molte compagnie offrono anche visite private, a un costo aggiuntivo. Se le città sopra citate sono alcune delle aree più attraenti del Paese per un giro romantico in barca, ci sono decine di altre località tra cui scegliere. Città come Seattle, Las Vegas, Washington DC, Filadelfia, Miami e San Juan sono tutte situate su corsi d'acqua, il che consente di avere diverse possibilità di trascorrere una notte romantica sull'acqua.

Domande frequenti sul giro romantico in barca
Dove si trovano le migliori gite romantiche in barca degli Stati Uniti?
Some of the best romantic boat rides in the United States happen to be in some of the most attractive cities to visit including places such as New York, Boston, San Diego, San Fransisco, Chicago, and Washington DC.
Quali sono le migliori gite romantiche in barca da fare?
There are many different types of romantic boat rides to take, but some of the best include sunset cruises, dinner cruises, and private charters. Sunset cruises offer a beautiful and romantic setting for couples to enjoy each other's company while watching the sunset over the water. Dinner cruises are another great option because they allow couples to enjoy a nice meal together while cruising around the water. Private charters offer a more intimate experience for couples who want to spend some quality time together without any distractions.
Come posso rendere il mio giro romantico in barca ancora più speciale?
Per rendere il vostro giro romantico in barca ancora più speciale, cercate di scegliere un momento in cui ci sia meno gente sull'acqua, in modo da avere più privacy. E non dimenticate di scattare qualche foto per ricordare l'esperienza!
Why take a romantic boat ride with City Cruises?
A romantic boat ride with City Cruises is the perfect way to celebrate your love. Whether you're on your honeymoon, celebrating an anniversary, or just looking for a unique and romantic date night, a cruise with City Cruises will surely make your special someone feel loved. These romantic cruises offer stunning views of the city skyline and gorgeous riverfront scenery that are perfect for setting the mood.
Cosa aspettarsi da una crociera con cena romantica?
City Cruises offers a variety of different dinner cruises to choose from, so you can tailor your experience to fit your needs. Whether you are looking for an intimate dinner for two or a larger group celebration, we have the perfect cruise for you.
Original post date: July 7, 2022