Une promenade romantique en bateau est spéciale car elle permet aux couples de passer du temps de qualité ensemble tout en appréciant la beauté de la nature. C'est aussi l'occasion de se détendre et de profiter de la compagnie de l'autre. De plus, il peut s'agir d'une expérience unique et mémorable à chérir pour les années à venir.
It may be just the spark you need to show your significant other and will give you time to unwind away from the hustle and bustle. The boat itself is a romantic venue and paired with music, a refreshing breeze, and delicious food, -you cannot go wrong.
City Cruises offers romantic boat rides in cities across the US, Canada, Europe, and Australia. For intimate cruises with your loved one in the US,
Here are a few of the most popular destinations and cruise options for intimate cruises with your loved one in the US.
Promenades en bateau romantiques autour de Chicago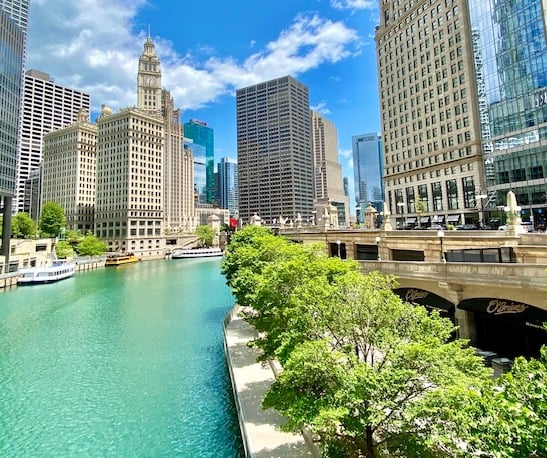 Experience Chicago aboard a romantic boat tour along the Chicago River or on Lake Michigan. A dîner-croisière à Chicago offers a 3-hour experience along Lake Michigan or the Chicago River. Dinner cruises include a three-course meal, drinks, DJ-curated music, and jaw-dropping views. Options de brunch et de déjeuner sont également disponibles si vous préférez une date en journée.
Une visite guidée de l'architecture de Chicago peut également offrir une ambiance romantique à ceux qui souhaitent découvrir l'histoire de la ville elle-même.
Promenades romantiques en bateau dans la ville de New York
Seeing the New York skyline from a boat's perspective can take your breath away. New York City offers various opportunities to have a night out with the one you love, enjoying a moonlit dinner with a backdrop of an incredible skyline view.
Le Bateaux New York Premier Dinner Cruise est l'une des promenades en bateau les plus romantiques de la ville. Naviguez sur l'Hudson et l'East Rivers en admirant divers sites de la ville de New York tout en dégustant un dîner, une boisson et un spectacle musical en direct tout au long de votre voyage de trois heures dans un bateau vitré.
Si vous souhaitez voir les monuments de New York de plus près, c'est également possible ! Statue City Cruises vous emmènera à la Statue de la Liberté pour la visiter par vous-même. C'est le seul circuit qui vous emmène réellement à Liberty Island pour voir la statue et à Ellis Island !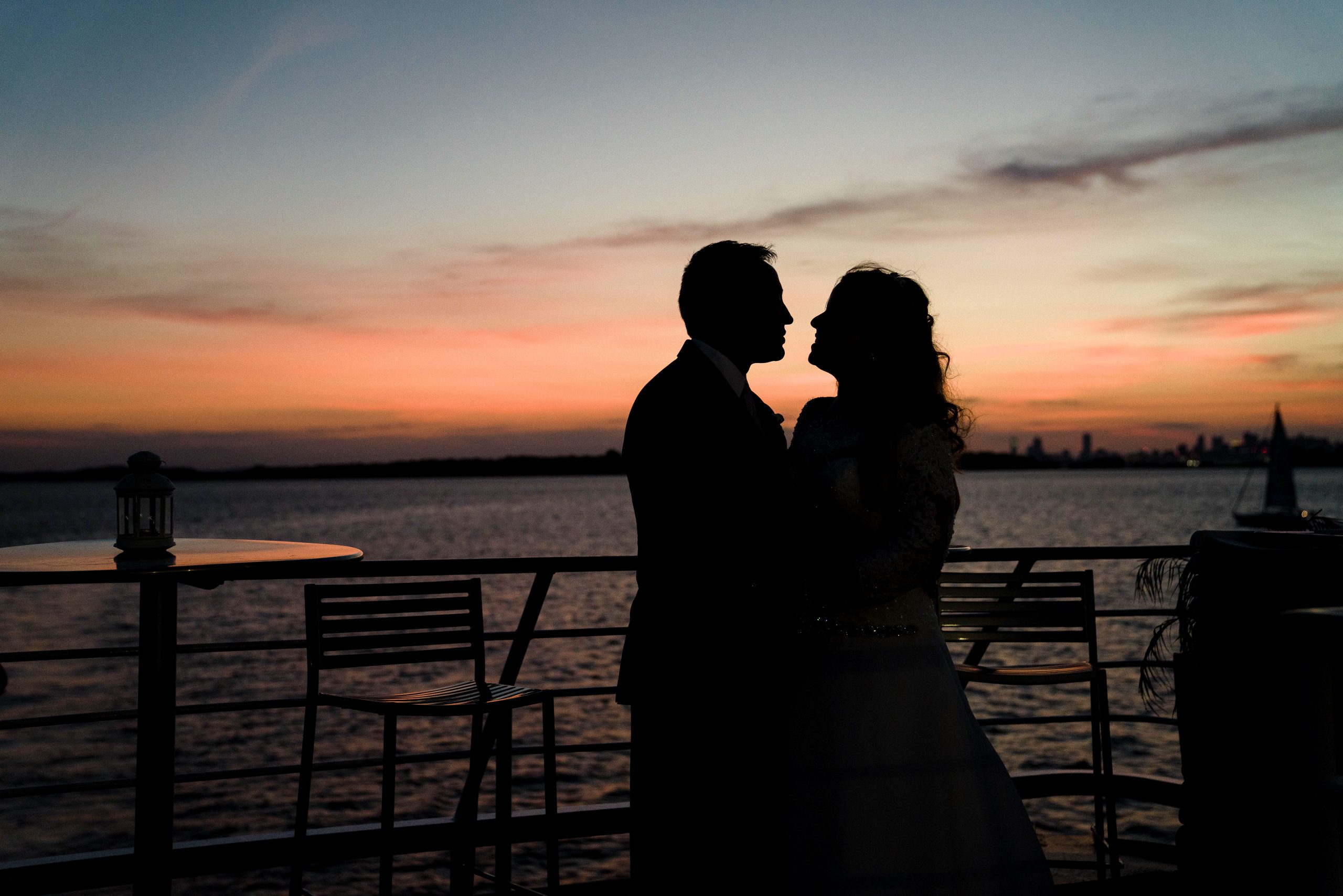 Promenades en bateau romantiques autour de San Diego
San Diego Bay is full of romantic boat rides for visitors (and locals) to escape the city and enjoy the views. The Premier Dinner Cruise in San Diego offers passengers a romantic experience with a private table filled with seasonal dishes, drinks and cocktails, music, and incredible views. The cruise will sail past sights like the Coronado Bay Bridge and The Star of India.
San Diego propose également aux visiteurs d'autres options de promenades romantiques en bateau tout au long de l'année. Certaines des plus populaires sont spécialisées autour des fêtes telles que le 4 juillet, la fête des mères, la fête des pères, Thanksgiving et le Nouvel An.
Promenades romantiques en bateau autour de San Fransisco
San Francisco is a phenomenal city nestled on San Fransisco Bay. This iconic city boasts romantic boat rides for sightseeing, dinner, holidays, and more. One of the biggest romantic favorites in the Valentine Premier Dinner Cruise. Treat your partner to a night of elegance on the water with seasonal chef favorites, drinks, and views that could make anyone fall in love.
Si vous recherchez la romance le reste de l'année, le Premier Dinner Cruise est un autre favori des fans. Admirez la baie et les sites environnants tout en dégustant une cuisine de saison accompagnée de musique, de boissons et d'une nuit de divertissement.
Promenades en bateau romantiques autour de Boston
Boston is a magical city and the perfect location for a romantic boat ride to soak in city views. Both Rowes Wharf and Seaport Blvd have cruises departing daily that serves as the perfect venue for your date.
Le premier dîner-croisière de Boston offre des vues spectaculaires sur les horizons de la ville. La croisière, d'une durée de 2 à 3 heures, comprend un repas de 3 plats servis à table, un bar bien approvisionné, des divertissements à bord et des boutiques originales.
Le Signature Dinner Cruise dégage un peu plus d'énergie. Cette option de promenade romantique en bateau comprend un dîner sous forme de buffet, un bar bien approvisionné, des options de visite et de la musique en direct à bord pour que vous puissiez danser toute la nuit avec l'être aimé.
Romantic Boats Rides Around Norfolk
Norfolk is a city on the water built on character by characters with a melting pot of people, cultures, and ideas, located in the southeastern Hampton Roads region in one of the fastest-growing ports. Home to the world's largest naval base means it is no surprise that there are many opportunities for a romantic boat ride.
The Signature Dinner Cruise provides you and your date an opportunity to dine and dance under the stars and enjoy a delicious chef-prepared meal while soaking in the spectacular views of the Navy's Atlantic Fleet from the skyline deck. This 2.5-hour cruise along the Elizabeth River will be just what you are looking for if you are aiming to impress! Onboard entertainment with DJ music will get you up and moving and grooving. You can customize your experience with additional upgrades such as window views and creative cocktails too.
If you prefer getting out on the water for some fresh air and sunshine, then take advantage of the Signature Lunch Cruise along the Elizabeth River and relax and unwind during this 2-hour cruise with a delicious lunch buffet, freshly prepared entrees, salads, and desserts. Dance along to DJ entertainment, listen to live narration, or take part in some interactive games on the skyline deck. You can grab a window seat and snuggle up too. There is something for everyone. Virginia is for lovers and there is no better place to cruise along on a romantic boat ride.
Les États-Unis regorgent d'opportunités pour une nuit de romance lors d'une visite en bateau de la ville. De nombreuses entreprises proposent également des visites privées, moyennant un coût supplémentaire. Si les villes mentionnées ci-dessus font partie des régions les plus attrayantes du pays pour une promenade romantique en bateau, il existe des dizaines d'autres endroits parmi lesquels choisir. Des villes comme Seattle, Las Vegas, Washington DC, Philadelphie, Miami et San Juan sont toutes situées sur des voies navigables, ce qui offre de multiples possibilités de passer une nuit romantique sur l'eau.

FAQ sur les promenades en bateau romantiques
Où se trouvent les meilleures promenades romantiques en bateau aux États-Unis ?
Some of the best romantic boat rides in the United States happen to be in some of the most attractive cities to visit including places such as New York, Boston, San Diego, San Fransisco, Chicago, and Washington DC.
Quelles sont les meilleures promenades romantiques en bateau ?
There are many different types of romantic boat rides to take, but some of the best include sunset cruises, dinner cruises, and private charters. Sunset cruises offer a beautiful and romantic setting for couples to enjoy each other's company while watching the sunset over the water. Dinner cruises are another great option because they allow couples to enjoy a nice meal together while cruising around the water. Private charters offer a more intimate experience for couples who want to spend some quality time together without any distractions.
Comment puis-je rendre ma promenade romantique en bateau encore plus spéciale ?
Pour rendre votre promenade romantique en bateau encore plus spéciale, essayez de choisir un moment où il y aura moins de monde sur l'eau pour avoir plus d'intimité. Et n'oubliez pas de prendre des photos pour vous souvenir de cette expérience !
Why take a romantic boat ride with City Cruises?
A romantic boat ride with City Cruises is the perfect way to celebrate your love. Whether you're on your honeymoon, celebrating an anniversary, or just looking for a unique and romantic date night, a cruise with City Cruises will surely make your special someone feel loved. These romantic cruises offer stunning views of the city skyline and gorgeous riverfront scenery that are perfect for setting the mood.
À quoi faut-il s'attendre lors d'un dîner-croisière romantique ?
City Cruises offers a variety of different dinner cruises to choose from, so you can tailor your experience to fit your needs. Whether you are looking for an intimate dinner for two or a larger group celebration, we have the perfect cruise for you.
Original post date: July 7, 2022