En romantisk bådtur er noget helt særligt, fordi den giver par mulighed for at tilbringe noget kvalitetstid sammen, mens de nyder naturens skønhed. Det giver også en chance for at slappe af og bare nyde hinandens selskab. Desuden kan det være en helt unik og mindeværdig oplevelse, som I kan værdsætte i mange år fremover.
It may be just the spark you need to show your significant other and will give you time to unwind away from the hustle and bustle. The boat itself is a romantic venue and paired with music, a refreshing breeze, and delicious food, -you cannot go wrong.
City Cruises offers romantic boat rides in cities across the US, Canada, Europe, and Australia. For intimate cruises with your loved one in the US,
Here are a few of the most popular destinations and cruise options for intimate cruises with your loved one in the US.
Romantiske sejlture i Chicago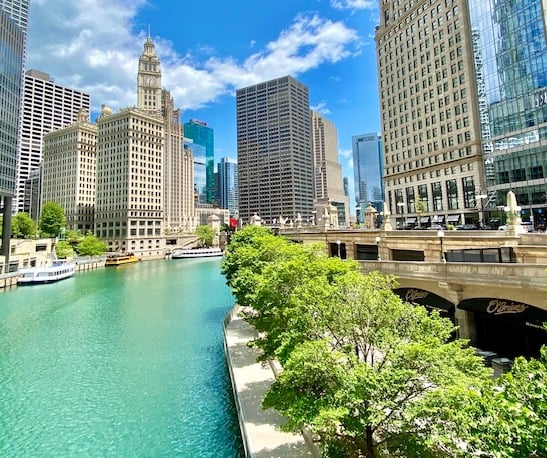 Experience Chicago aboard a romantic boat tour along the Chicago River or on Lake Michigan. A middagskrydstogt i Chicago offers a 3-hour experience along Lake Michigan or the Chicago River. Dinner cruises include a three-course meal, drinks, DJ-curated music, and jaw-dropping views. Muligheder for brunch og frokost er også tilgængelige, hvis du foretrækker en dagtid.
En arkitekturrundtur i Chicago kan også give romantiske stemninger for dem, der er interesseret i at lære om byens historie.
Romantiske bådture rundt i New York City
Seeing the New York skyline from a boat's perspective can take your breath away. New York City offers various opportunities to have a night out with the one you love, enjoying a moonlit dinner with a backdrop of an incredible skyline view.
Bateaux New York Premier Dinner Cruise er en af de mest romantiske sejlture, som byen byder på. Sejl over Hudson og East Rivers og se forskellige seværdigheder i New York City, mens du nyder middag, drikkevarer og levende musikalsk underholdning på din 3 timers rejse i en glasindkapslet båd.
Hvis du gerne vil se NYC's vartegn tæt på og personligt, er det også en mulighed! Statue City Cruises tager dig med til Frihedsgudinden, så du selv kan få en rundvisning ved dette vartegn. Dette er den eneste tur, der faktisk tager dig til Liberty Island for at se statuen og til Ellis Island!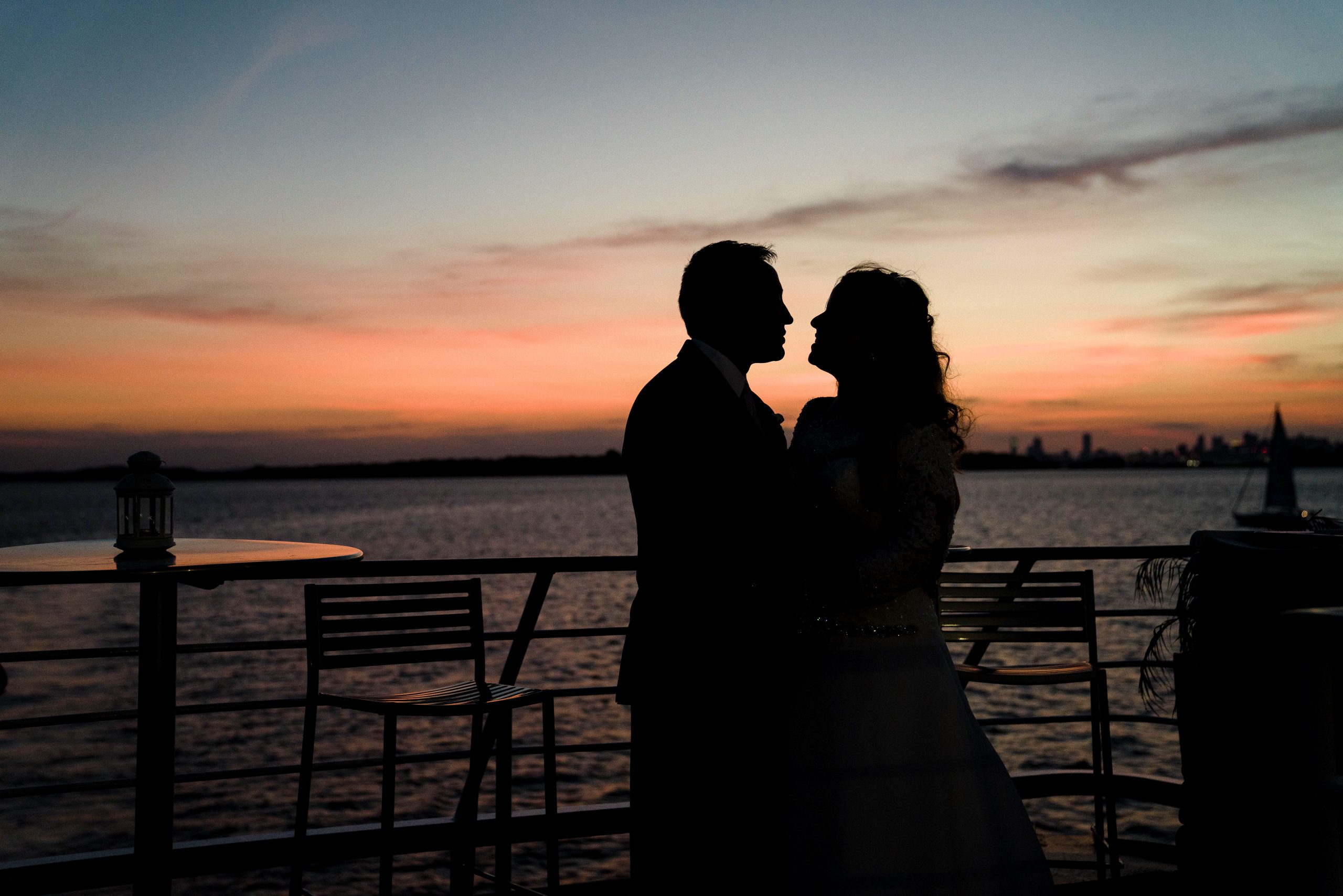 Romantiske bådture i San Diego
San Diego Bay is full of romantic boat rides for visitors (and locals) to escape the city and enjoy the views. The Premier Dinner Cruise in San Diego offers passengers a romantic experience with a private table filled with seasonal dishes, drinks and cocktails, music, and incredible views. The cruise will sail past sights like the Coronado Bay Bridge and The Star of India.
San Diego tilbyder også andre romantiske sejlture hele året rundt. Nogle af de mest populære er specialiseret omkring helligdage som f.eks. den 4. juli, Mors dag, Fars dag, Thanksgiving og nytårsaften.
Romantiske sejlture i San Fransisco
San Francisco is a phenomenal city nestled on San Fransisco Bay. This iconic city boasts romantic boat rides for sightseeing, dinner, holidays, and more. One of the biggest romantic favorites in the Valentine Premier Dinner Cruise. Treat your partner to a night of elegance on the water with seasonal chef favorites, drinks, and views that could make anyone fall in love.
Hvis du er på udkig efter romantik resten af året, er Premier Dinner Cruise en anden favorit blandt fans. Nyd bugten og de omkringliggende seværdigheder, mens du nyder et sæsonbestemt køkken, der kan kombineres med musik, drinks og en aften med underholdning.
Romantiske sejlture i Boston
Boston is a magical city and the perfect location for a romantic boat ride to soak in city views. Both Rowes Wharf and Seaport Blvd have cruises departing daily that serves as the perfect venue for your date.
Premier Dinner Cruise i Boston byder på spektakulær udsigt over byens skyline. Det 2-3 timer lange krydstogt byder på en 3-retters menu ved bordet, en velassorteret bar, underholdning om bord og signaturbutikker.
Signature Dinner Cruise giver lidt mere energi. Denne romantiske bådtur omfatter buffetmad ud over en velassorteret bar, sightseeingmuligheder og levende musik om bord, så du kan danse natten lang med den, du elsker.
Romantic Boats Rides Around Norfolk
Norfolk is a city on the water built on character by characters with a melting pot of people, cultures, and ideas, located in the southeastern Hampton Roads region in one of the fastest-growing ports. Home to the world's largest naval base means it is no surprise that there are many opportunities for a romantic boat ride.
The Signature Dinner Cruise provides you and your date an opportunity to dine and dance under the stars and enjoy a delicious chef-prepared meal while soaking in the spectacular views of the Navy's Atlantic Fleet from the skyline deck. This 2.5-hour cruise along the Elizabeth River will be just what you are looking for if you are aiming to impress! Onboard entertainment with DJ music will get you up and moving and grooving. You can customize your experience with additional upgrades such as window views and creative cocktails too.
If you prefer getting out on the water for some fresh air and sunshine, then take advantage of the Signature Lunch Cruise along the Elizabeth River and relax and unwind during this 2-hour cruise with a delicious lunch buffet, freshly prepared entrees, salads, and desserts. Dance along to DJ entertainment, listen to live narration, or take part in some interactive games on the skyline deck. You can grab a window seat and snuggle up too. There is something for everyone. Virginia is for lovers and there is no better place to cruise along on a romantic boat ride.
USA er fyldt med muligheder for en romantisk aften på en bådtur rundt i byen. Mange selskaber tilbyder også private fremvisninger mod et ekstra gebyr. Mens de ovennævnte byer er nogle af de mest attraktive områder i landet til en romantisk sejltur, er der snesevis af andre steder at vælge imellem. Byer som Seattle, Las Vegas, Washington DC, Philadelphia, Miami og San Juan ligger alle ved vandveje, hvilket giver flere muligheder for en romantisk aften på vandet.

Ofte stillede spørgsmål om romantisk sejltur
Hvor er de bedste romantiske sejlture i USA?
Some of the best romantic boat rides in the United States happen to be in some of the most attractive cities to visit including places such as New York, Boston, San Diego, San Fransisco, Chicago, and Washington DC.
Hvad er de bedste romantiske bådture at tage på?
There are many different types of romantic boat rides to take, but some of the best include sunset cruises, dinner cruises, and private charters. Sunset cruises offer a beautiful and romantic setting for couples to enjoy each other's company while watching the sunset over the water. Dinner cruises are another great option because they allow couples to enjoy a nice meal together while cruising around the water. Private charters offer a more intimate experience for couples who want to spend some quality time together without any distractions.
Hvordan kan jeg gøre min romantiske sejltur endnu mere speciel?
For at gøre jeres romantiske sejltur endnu mere speciel kan I prøve at vælge et tidspunkt, hvor der er færre mennesker på vandet, så I kan have mere privatliv. Og glem ikke at tage nogle billeder, så I kan huske oplevelsen!
Why take a romantic boat ride with City Cruises?
A romantic boat ride with City Cruises is the perfect way to celebrate your love. Whether you're on your honeymoon, celebrating an anniversary, or just looking for a unique and romantic date night, a cruise with City Cruises will surely make your special someone feel loved. These romantic cruises offer stunning views of the city skyline and gorgeous riverfront scenery that are perfect for setting the mood.
Hvad kan man forvente på et romantisk middagskrydstogt?
City Cruises offers a variety of different dinner cruises to choose from, so you can tailor your experience to fit your needs. Whether you are looking for an intimate dinner for two or a larger group celebration, we have the perfect cruise for you.
Original post date: July 7, 2022