Hold dit næste arrangement om bord på et unikt flydende sted! Tilpas din festpakke, så den passer til dit budget.

Sommerens firmaarrangementer - slap af og kom i kontakt med hinanden på den perfekte medarbejderudflugt denne sommer.
Hvad folk siger

Fejrede en vigtig milepæl på ICON. Personalet var fantastisk, og maden var lækker. Jeg vil gerne takke Jesus Gonzalez (D.J) for at holde os i gang med at danse. Jesus (Jessie) sørgede for at holde tidsplanen og skabte en fantastisk atmosfære for mine gæster. Tak for det! - Marjorie D
Den afslappende middag og det åbne vand i alle retninger. Solnedgangen var smuk, og musikken var i top. Vi gik lidt rundt, spiste lidt mad, fik en vidunderlig dessert og gik så på dansegulvet. Dj'en var fantastisk, tak Dj Joe! - Blanca R
Vi havde en vidunderlig oplevelse på et krydstogt lørdag aften. Alt ved det var førsteklasses. Underholdningen var meget fin, maden var rigtig god, og aftenen var vidunderlig. Hvis du leder efter en afslappende aften, hvor du vil blive serviceret, er dette svaret. - Marguerite J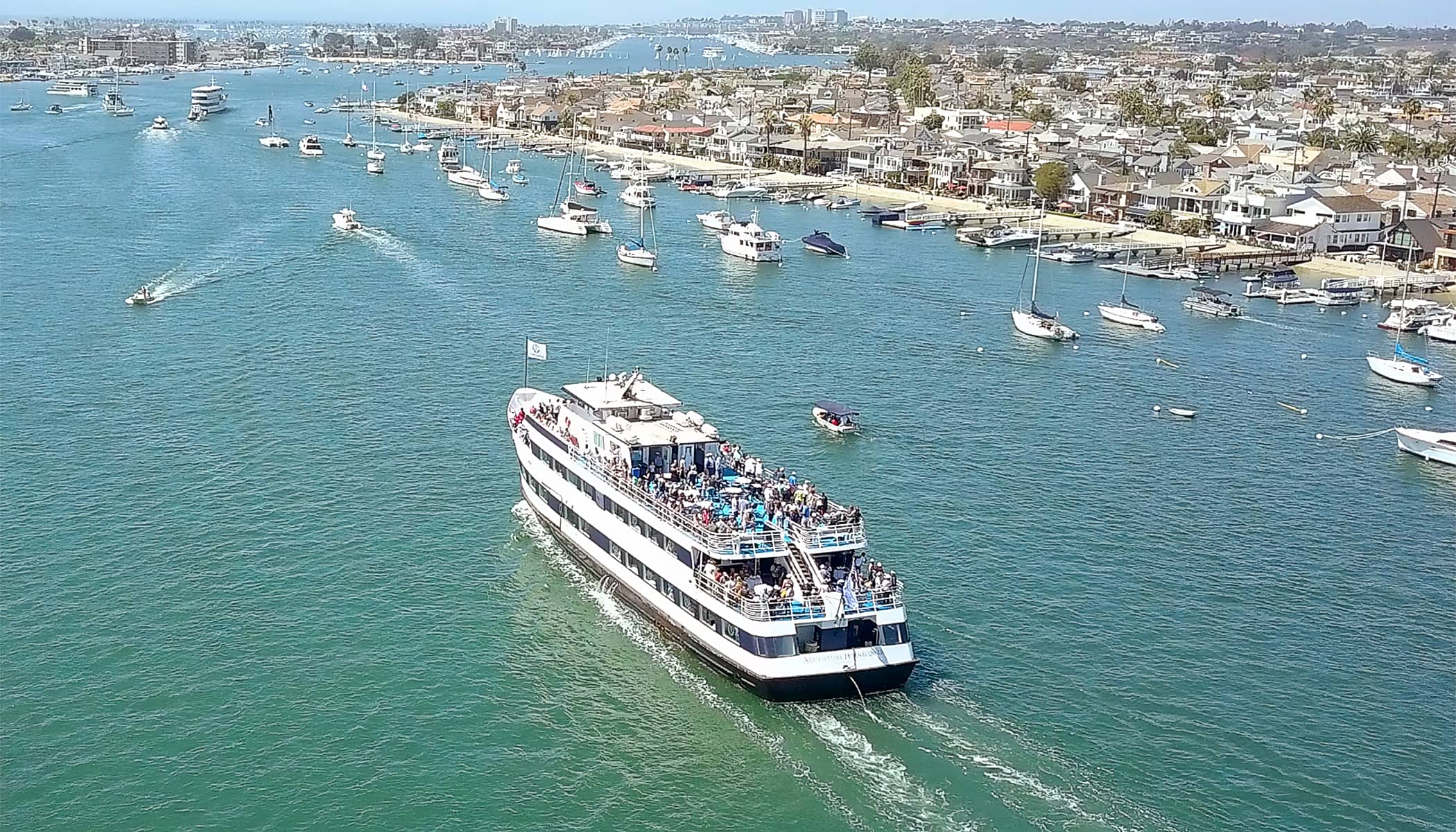 Sail into Luxury: Newport Beach Yacht Charters
September 14, 2023
Celebrated for its sandy beaches, local attractions, and beautiful boat-filled harbor, Newport Beach is a dream destination for lovers of amazing maritime experiences. And, we happen to provide many of
Hvad er de bedste ting at lave i Newport Beach?
De bedste ting at gøre i Newport Beach
Der er masser af sjove ting at lave i Newport Beach! Du kan f.eks. udforske byens museer og nyde den varierede mad- og drikkevarescene. Long Beach er naturligvis også hjemsted for en række aktiviteter, så der er noget for alle at nyde i denne livlige by i Californien. Newport Beach er også et populært sted for fiskeri, svømning og kajaksejlads, så husk at tjekke det ud, hvis du er på udkig efter noget sjov i solen! Du kan også tage på bådkrydstogter på havnen for at se Newport Beachs seværdigheder fra et andet perspektiv. Uanset hvad du leder efter, kan du helt sikkert finde det i Newport Beach!
Hvad er de bedste aktiviteter i nærheden af Newport Beach?
Hvad skal jeg vide, før jeg besøger Newport Beach?
Newport Beach er et smukt rejsemål, der byder på noget for enhver smag. Uanset om du vil slappe af på stranden, nyde nattelivet eller udforske alt det, Newport Beach har at byde på, vil det helt sikkert blive et minde til bøgerne. Afhængigt af hvad du vil lave, skal du sørge for at medbringe lidt solcreme, hvis du planlægger at være udendørs! Havnekrydstogter er f.eks. en fantastisk måde at se hele byen fra et nyt perspektiv på. Du kan også nyde nogle sjove Balboa Island! Når det kommer til sjove ting at lave i Orange County, er Newport Beach altid øverst på listen.