Teatime may get all the fanfare when it comes to British meals, but the weekend brunch tradition is just as British as a classic cream tea with scones, jam, and clotted cream. (And guess what? You'll often find those served at brunch in the UK.)
The concept of brunch actually originated in Britain, when a chap by the name of Guy Beringer came up with the (frankly brilliant) concept after a particularly over-indulgent Saturday night of carousing about town. Beringer was so thoroughly convinced of the value of his hangover-induced idea that he penned an essay in 1895 entitled "Brunch: A Plea," wherein he advocated for the allowance of a late-morning meal following a late night of unhinged cavorting.
The rest is history — it didn't take long for the idea of brunch to catch on among the upper echelons of British society. Beringer would have been pleased as punch to see how his ah-ha moment has become all the rage, especially in London (although the jury's still out on what he might have thought about the now-ubiquitous avocado toast or fried chicken occasionally served).

Where can you find the best brunch in London?
You don't have to be nursing a hangover to wake up late on the weekend and tuck into a spread replete with treats, like brioche French toast, ricotta pancakes, buttermilk pancakes with maple syrup, fresh fruit, and eggs Benedict. As long as you're a fan of the hybrid meal and plan on visiting London on a weekend, you're in luck — London is chock-full of places to enjoy a delicious brunch, whether you go for fried eggs, scrambled eggs, poached eggs, or baked eggs.
Even if you don't roll out of bed on time, you still have options. Just hop on a signature City Cruises Lunch or Afternoon Tea Cruise on the River Thames — you'll have the opportunity to enjoy local cuisine with stunning views of the city's most iconic landmarks, such as Big Ben and the Tower of London.
From chic cafés and bistros to top hotel restaurants, these six iconic spots have the best brunches in London.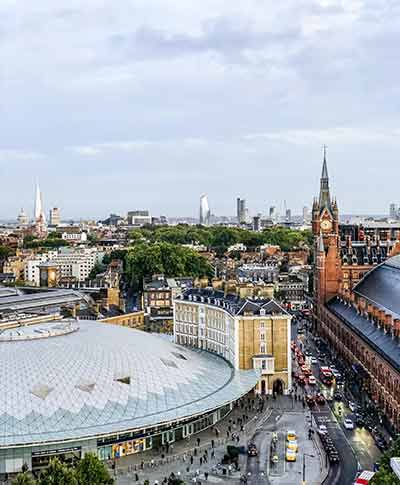 1 Balthazar – Covent Garden.
ה Balthazar in London's chic Covent Garden neighborhood has a smart interior, with the same antique-mirrored walls and red-leather booths found in the New York location. It's the perfect spot to enjoy brunch with a French twist, and there's no need to fret about missing the window — the brunch menu is offered until 4:00pm.
The famous full English breakfast is a real treat, as are the mixed-berry pancakes and the classic steak and eggs with pommes frites. You'll also find French brasserie staples, such as seafood platters, French onion soup, escargots, and moules frites here. Bon appétit!
2 Decimo – Kings Cross
Located on the tenth floor of the chic Standard Hotel in Kings Cross, Decimo offers a Saturday brunch from 12:00pm to 4:30pm, featuring live music and a food menu created by Michelin-starred chef Peter Sanchez-Iglesias.
If you're a lover of Spanish and Mexican cuisine, this is the brunch spot for you. The menu here offers a bevy of small, tapas-style plates to be shared (or not!), such as a variety of tacos, marinated red peppers, and a killer Spanish tortilla, all of which can be washed down with a delicious margarita or two.
3 Sunday in Brooklyn – Notting Hill
If you're craving some American brunch classics, such as steak and eggs, avocado toast, and smoked-salmon brioche, head over to Sunday in Brooklyn, in London's well-heeled Notting Hill neighborhood.
Although it hasn't been around long enough to warrant being called iconic (it opened its doors in August 2021), we can say that it's achieved something like iconic status in record time. The brainchild of the team behind the favorite Williamsburg haunt of the same name, Sunday in Brooklyn is a delight.
Its airy interior is flooded with light shining through the abundant, large windows —something to take into account if you're actually nursing a hangover — and its brunch menu is crammed with delicious dishes, such as the Don Ruben omelet, featuring roasted mushrooms, feta, and mole sauce.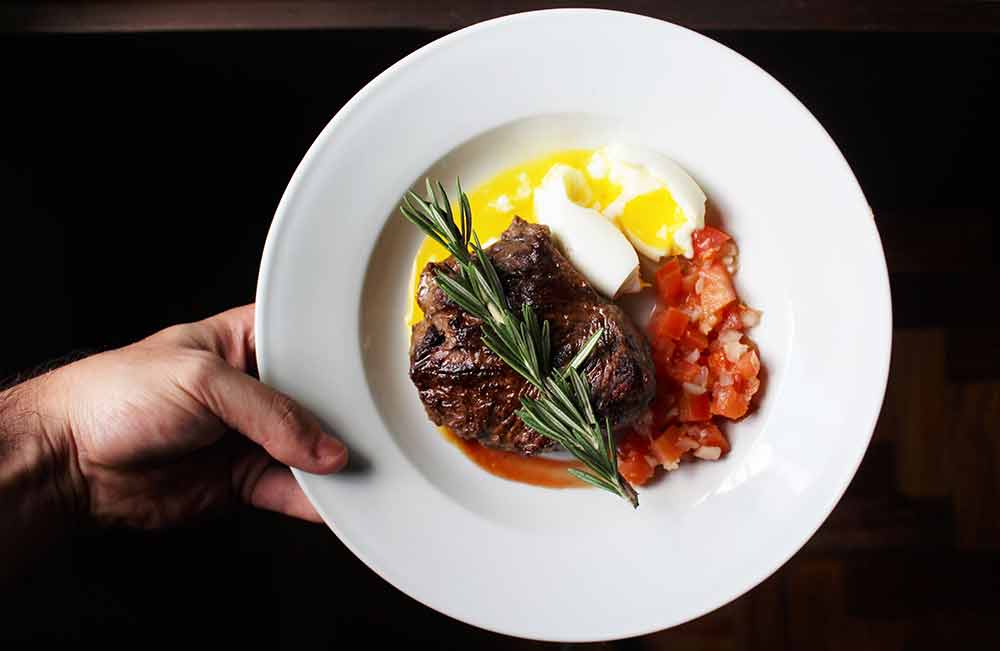 4 Wild by Tart – Belgravia
Pop 'round to Wild by Tart for some seriously good, seriously sustainable farm-to-table brunch fare in a laid back, classy atmosphere with a Scandinavian-design bent.
The brunch menu has vegan and gluten-free diners covered with a number of excellent options, including a delicious plate of tomatoes, melons, and chimichurri, with almond-and-pistachio dukkah (seasonally available, of course). Carnivores will appreciate their delicious, slow-braised meat offerings paired with unexpected sauces, herbs and spices.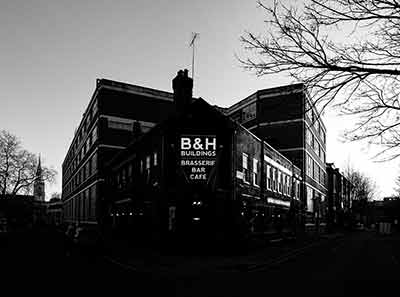 5 Bourne & Hollingsworth Buildings – Clerkenwell
Between the cheery, tropical-garden-party atmosphere, the stellar menu, and the bottomless brunch option, Bourne & Hollingsworth Buildings is an instant mood-lifter. (If you dig spicy Bloody Marys or Bellinis, this place is definitely your speed.)
You won't want to miss the excellent eggs Benedict with ham hock, and you can't go wrong with the classic full English breakfast either.
6 The Wolseley – Green Park
Although this Mayfair restaurant doesn't actually offer a brunch menu per se, we couldn't help but include the Wolseley in our top places to brunch in London…even if you can only do so via a breakfast menu until 11:30am.
The food at this smart restaurant is nothing short of pure heaven — with its elegant atmosphere and suited service, you'd be hard put to find a classier setting for indulging in an elaborate weekend brunch. (Die-hard Instagrammers, beware: The place is absolutely stunning with its black, gold, and cream interior and impeccable table settings, but photographs are strictly forbidden.)
And a word to the wise: If you plan on heading to the Wolseley for brunch (or really any meal, to be frank), be sure and book your table well in advance. This is one of the most popular restaurants in town.