Ho-Ho-Holiday Magic: Jul i Poole - den ultimative festlige oplevelse! Gør dig klar til at pakke et bundt festlig jubel ud i Poole denne jul, og lad City Cruises Poole være din guide til alle de glædelige glæder. Fra blændende lys til julemandens grotte, lyskrydstogter i vinterhavnen til fantastisk shopping og lækre festmåltider - denne kystby har det hele. Så tag fat i dine kære, omfavn årstidens ånd, og sæt sejl på et mindeværdigt juleeventyr i Poole. Glædelig jul!
1 Poole sure knows how to dazzle its visitors with stunning festive illuminations.
Få plads på en af City Cruises Poole-både, og sejl ud på en malerisk tur rundt om havnen. Se de smukt udsmykkede bygninger på kajen, de funklende lys, der reflekteres i vandet, og de fascinerende lysinstallationer, der pryder byen. Du vil føle, at du er kommet ind i et eventyrligt eventyrland!
2 Calling all little ones (and the young at heart)!
City Cruises Poole tilbyder en fortryllende Sail with Santa-oplevelse, der vil fylde dit hjerte med glæde. Træd ud på dækket, og lad magien udfolde sig, mens du rejser gennem julemandens hemmelige gemmested. Mød den glade mand selv, fortæl ham dine juleønsker, og modtag en særlig gave. Det er en uforglemmelig oplevelse, som vil få dit hjerte til at synge "Jingle Bells"! Tilgængelig hver lørdag og søndag i hele december.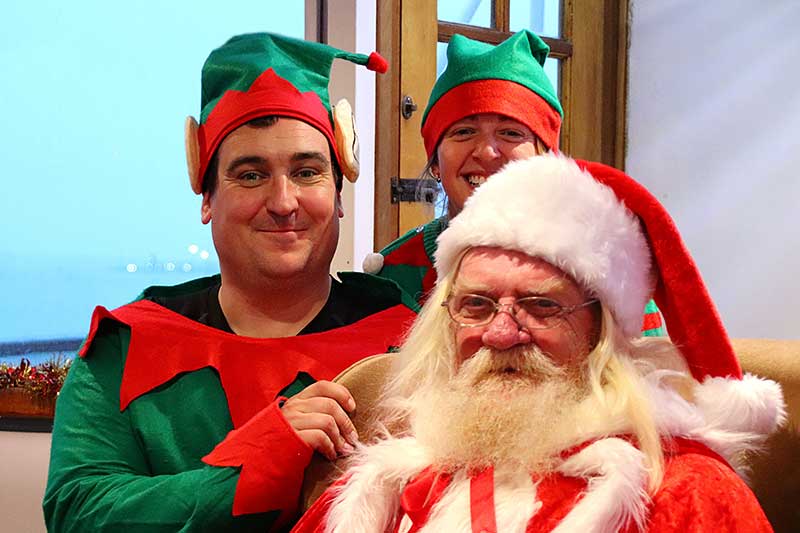 3 Leder du efter den perfekte gave til dine kære?
Poole er hjemsted for en række skønne butikker og markeder, hvor du kan finde unikke skatte og betænksomme gaver. Fra håndlavet kunsthåndværk til lokale delikatesser - der er noget for alle på din juleliste. Gå på opdagelse i de travle gader, der er fyldt med julestemning til din juleshopping, og hop så om bord på Christmas Party Cruise, der er tilgængelig hver fredag og lørdag aften i hele december.
4 Christmas is all about indulgence, and Poole's culinary scene is ready to wow your taste buds.
Med en overflod af hyggelige caféer, traditionelle pubber og fine spisesteder vil du blive forkælet for valg. Smag på de store julefrokoster, nyd den lækre gløgg, og forkæl dig selv med lækre hakkebøffer. Glem ikke at skåle for den glade tid, mens du nyder den fantastiske udsigt over havnefronten fra en af City Cruises' Poole-både.
FAQs – 2023 Christmas in Poole
Why should I consider spending Christmas in Poole, UK?
Poole, a large coastal town in Dorset, is a wonderful place to spend Christmas. The town is beautifully decorated with festive lights and ornaments, giving it a magical atmosphere. The Poole Christmas Market is a must-visit with an array of local produce, crafts, and food. You can enjoy a festive walk along the harbour, or participate in the many Christmas events and activities taking place in the area.
What are some Christmas events in Poole?
During the Christmas season, Poole hosts a variety of festive events. The annual Christmas Parade is a popular attraction, featuring beautifully decorated floats and performances. You can also enjoy the annual carol service in the historic Poole Quay. Many local attractions, like the Poole Museum and Upton House, have special Christmas-themed events and exhibits.
What can families do in Poole at Christmas?
Families can enjoy a range of activities in Poole at Christmas. Visit the Poole Winter Wonderland for festive fun, ice skating, and to meet Santa in his grotto. The Dolphin Shopping Centre hosts various Christmas events, and the local pantomime at the Lighthouse is a fun family tradition.
What dining options are there in Poole at Christmas?
Poole offers a fantastic selection of restaurants where you can enjoy a traditional Christmas meal. Many local restaurants and pubs offer special Christmas menus featuring local Dorset produce. From fine dining to cosy pubs, there are options to suit every taste.
How can City Cruises enhance my Christmas experience in Poole?
City Cruises offer a unique perspective of Poole's scenic harbour and coastline, which is particularly enchanting during the festive season. They run special Christmas cruises where you can enjoy a festive meal or afternoon tea on board. These cruises are a fun way to see the area and enjoy the festive atmosphere from the water.
Why is a Christmas cruise on the River Thames a good idea for the whole family?
A Christmas cruise on the River Thames is a magical experience for the whole family. You can enjoy the beautiful sights of London's iconic landmarks lit up for the festive season from the comfort of a heated cabin. City Cruises offer special themed cruises during the Christmas season, such as carol cruises and Santa cruises, making it a unique and memorable way to celebrate Christmas.
What can I expect from a City Cruises Christmas cruise?
City Cruises' Christmas cruises offer a range of festive experiences. You could enjoy a traditional Christmas meal, afternoon tea, or simply take in the stunning views of the festively lit city skyline. Special cruises for kids include meeting Santa, making them an unforgettable Christmas treat.
Is there entertainment on board a City Cruises Christmas cruise?
Yes, City Cruises offer live entertainment on their Christmas cruises. This can range from live music to carol singing, depending on the specific cruise. These performances add to the festive atmosphere and make the cruise a truly enjoyable experience.
Can I book a private Christmas cruise with City Cruises?
Yes, you can book a private Christmas cruise with City Cruises. This is a fantastic option if you're celebrating with a large family or group. You can enjoy the festive atmosphere and stunning views in a more intimate setting, with catering options to suit your party's needs.