Ho-Ho-Holiday Magic: Krismas di Poole - Pengalaman Perayaan Terunggul! Bersedia untuk membongkar sekumpulan sorakan perayaan di Poole Krismas ini dan biarkan City Cruises Poole menjadi panduan anda untuk semua keseronokan yang meriah. Dari lampu yang mempesonakan ke Srotto Santa, lampu pelabuhan musim sejuk pelayaran ke membeli-belah yang hebat dan perayaan yang lazat, bandar pantai ini mempunyai semuanya. Oleh itu, ambil orang yang anda sayangi, ikuti semangat musim ini, dan belayar pada pengembaraan Krismas yang tidak dapat dilupakan di Poole. Selamat bercuti!
1 Poole sure knows how to dazzle its visitors with stunning festive illuminations.
Dapatkan tempat di atas bot City Cruises Poole dan belayar dalam perjalanan yang indah di sekitar pelabuhan. Kagum di bangunan quayside yang indah dihiasi, lampu berkembar yang mencerminkan air, dan pemasangan cahaya yang memukau yang menimpa bandar. Anda akan berasa seperti anda telah memasuki wonderland dongeng!
2 Calling all little ones (and the young at heart)!
City Cruises Poole menawarkan Sail yang mempesonakan dengan pengalaman Santa yang akan mengisi hati anda dengan kegembiraan. Melangkah ke dek dan biarkan sihir terungkap semasa anda melalui tempat persembunyian rahsia Santa. Temui lelaki jolly itu sendiri, beritahu dia hasrat Krismas anda, dan terima hadiah istimewa. Ini adalah pengalaman yang benar-benar tidak dapat dilupakan yang akan membuat hati anda menyanyi "Jingle Bells"! Boleh didapati setiap hari Sabtu dan Ahad sepanjang bulan Disember.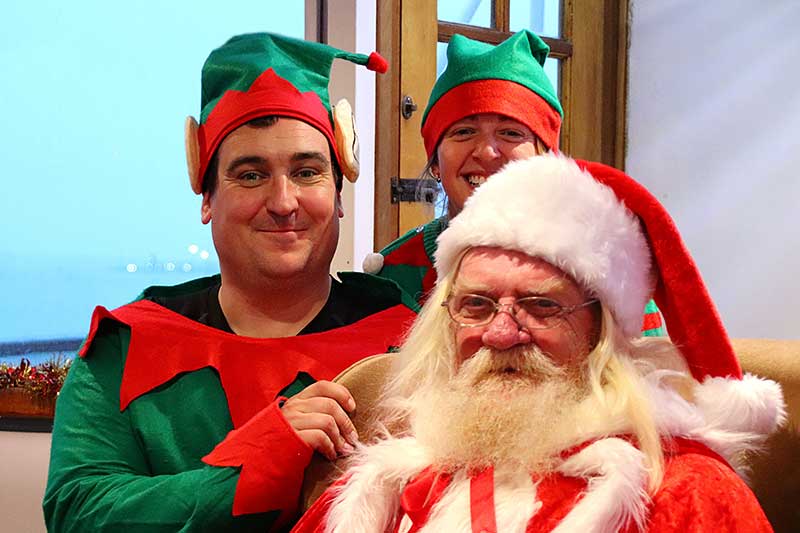 3 Mencari hadiah yang sempurna untuk orang yang anda sayangi?
Poole adalah rumah kepada pelbagai kedai butik dan pasar yang menarik, di mana anda boleh menemui khazanah unik dan hadiah yang bernas. Daripada kraf buatan tangan hingga makanan tempatan, anda akan menemui sesuatu untuk semua orang dalam senarai Krismas anda. Terokai jalan-jalan yang sibuk, penuh dengan semangat perayaan untuk membeli-belah Krismas anda extravaganza, kemudian naik ke atas Cruise Parti Krismas yang tersedia setiap malam Jumaat dan Sabtu sepanjang bulan Disember.
4 Christmas is all about indulgence, and Poole's culinary scene is ready to wow your taste buds.
Dengan banyak kafe yang selesa, pub tradisional, dan tempat makan yang mewah, anda akan dimanjakan untuk pilihan. Contoh perayaan Krismas yang enak, nikmati wain mulled yang lazat, dan merawat diri anda dengan pai pudina yang lazat. Jangan lupa untuk menaikkan roti bakar ke musim yang menggembirakan sambil menikmati pemandangan tepi laut yang menakjubkan dari bot City Cruises Poole.
FAQs – 2023 Christmas in Poole
Why should I consider spending Christmas in Poole, UK?
Poole, a large coastal town in Dorset, is a wonderful place to spend Christmas. The town is beautifully decorated with festive lights and ornaments, giving it a magical atmosphere. The Poole Christmas Market is a must-visit with an array of local produce, crafts, and food. You can enjoy a festive walk along the harbour, or participate in the many Christmas events and activities taking place in the area.
What are some Christmas events in Poole?
During the Christmas season, Poole hosts a variety of festive events. The annual Christmas Parade is a popular attraction, featuring beautifully decorated floats and performances. You can also enjoy the annual carol service in the historic Poole Quay. Many local attractions, like the Poole Museum and Upton House, have special Christmas-themed events and exhibits.
What can families do in Poole at Christmas?
Families can enjoy a range of activities in Poole at Christmas. Visit the Poole Winter Wonderland for festive fun, ice skating, and to meet Santa in his grotto. The Dolphin Shopping Centre hosts various Christmas events, and the local pantomime at the Lighthouse is a fun family tradition.
What dining options are there in Poole at Christmas?
Poole offers a fantastic selection of restaurants where you can enjoy a traditional Christmas meal. Many local restaurants and pubs offer special Christmas menus featuring local Dorset produce. From fine dining to cosy pubs, there are options to suit every taste.
How can City Cruises enhance my Christmas experience in Poole?
City Cruises offer a unique perspective of Poole's scenic harbour and coastline, which is particularly enchanting during the festive season. They run special Christmas cruises where you can enjoy a festive meal or afternoon tea on board. These cruises are a fun way to see the area and enjoy the festive atmosphere from the water.
Why is a Christmas cruise on the River Thames a good idea for the whole family?
A Christmas cruise on the River Thames is a magical experience for the whole family. You can enjoy the beautiful sights of London's iconic landmarks lit up for the festive season from the comfort of a heated cabin. City Cruises offer special themed cruises during the Christmas season, such as carol cruises and Santa cruises, making it a unique and memorable way to celebrate Christmas.
What can I expect from a City Cruises Christmas cruise?
City Cruises' Christmas cruises offer a range of festive experiences. You could enjoy a traditional Christmas meal, afternoon tea, or simply take in the stunning views of the festively lit city skyline. Special cruises for kids include meeting Santa, making them an unforgettable Christmas treat.
Is there entertainment on board a City Cruises Christmas cruise?
Yes, City Cruises offer live entertainment on their Christmas cruises. This can range from live music to carol singing, depending on the specific cruise. These performances add to the festive atmosphere and make the cruise a truly enjoyable experience.
Can I book a private Christmas cruise with City Cruises?
Yes, you can book a private Christmas cruise with City Cruises. This is a fantastic option if you're celebrating with a large family or group. You can enjoy the festive atmosphere and stunning views in a more intimate setting, with catering options to suit your party's needs.