Malam Tahun Baru di Poole adalah pengalaman mempesonakan yang menggabungkan perayaan yang meriah, dan semangat masyarakat yang hangat. Sama ada anda mencari percutian romantis, perayaan keluarga yang tidak dapat dilupakan, atau malam perayaan dengan rakan-rakan, Poole menyediakan suasana yang sempurna untuk mengalu-alukan Tahun Baru. Hayati suasana ajaib, menikmati masakan yang lazat, dan mencipta kenangan berharga semasa anda mengucapkan selamat tinggal kepada tahun tua dan merangkul peluang baru.
City Cruises akan mengendalikan Pelabuhan dan Island Cruises yang menarik sepanjang hari untuk membuat anda bersemangat untuk perayaan malam anda. Lihat pemandangan Pelabuhan Poole yang menakjubkan semasa anda belayar melepasi Kepulauan Brownsea, Semenanjung Sandbanks dan Barisan Jutawan.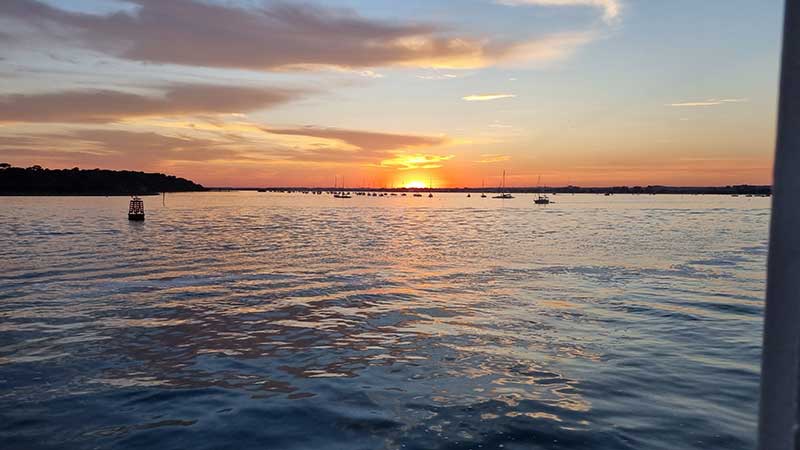 NYE in Poole 2023 – Into 2024!
Poole mempunyai pemandangan masakan yang pelbagai yang memenuhi semua citarasa dan pilihan. Banyak restoran di bandar ini menawarkan menu Malam Tahun Baru yang eksklusif, membolehkan anda menikmati hidangan gourmet sambil mengucapkan selamat tinggal hingga tahun yang berlalu. Dari tempat makan yang lazat hingga bistro yang selesa dan kedai makan tepi laut, anda akan menemui banyak pilihan untuk memenuhi keinginan masakan anda.
Malam Tahun Baru di Poole memenuhi keperluan pengunjung dari semua peringkat umur. Keluarga boleh menikmati pelbagai aktiviti seperti menghadiri pantomime mesra keluarga, Aladdin di The Lighthouse, Poole, atau mengikuti Jejak Lampu Maritim di seluruh Poole High Street dan sehingga Poole Quay. Acara-acara ini memberikan pengalaman yang menggembirakan untuk kanak-kanak dan ibu bapa, mencipta kenangan yang berkekalan untuk seluruh keluarga.
Apabila tahun kalendar semakin hampir, bandar pantai Poole yang mempesonakan muncul sebagai destinasi yang menawan untuk mengucapkan selamat tinggal kepada tahun lama dan mengalu-alukan yang baru.
Kemudian jika anda mempunyai tenaga pada Hari Tahun Baru, datang dan sertai penduduk tempatan di Poole Quay untuk menonton Perlumbaan Tab mandi tahunan dan sering lucu!
FAQs – Poole New Year's Eve Things to Do
What are some traditional ways to celebrate New Year's in Poole?
In Poole, like much of the UK, people often ring in the New Year with parties, dinners, or at local pubs. Fireworks displays are common, and some folks opt for quieter celebrations at home with family and friends.
What public events are typically held for New Year's in Poole?
Depending on the year, Poole might host a variety of public events, ranging from fireworks displays to live music performances and parties at local establishments. Please check local event listings for up-to-date information.
Are there any unique New Year's traditions in Poole?
While Poole doesn't have any unique New Year's traditions, many residents follow UK customs like singing "Auld Lang Syne" after the countdown, watching the London fireworks display on TV, and celebrating with a glass of champagne or sparkling wine.
Where can I see fireworks on New Year's Eve in Poole?
Locations for fireworks displays can vary each year, but Poole Quay has been a popular spot for New Year's Eve festivities. Always check with the local authorities or news outlets for the most recent information.
What are some recommended restaurants or bars for New Year's Eve in Poole?
Poole has many restaurants and bars that host special New Year's Eve events. These can range from casual pubs to upscale dining venues. It's always best to check directly with the establishments for details about any New Year's events.
Are there any special safety regulations or guidelines for New Year's celebrations in Poole?
Safety guidelines can vary each year and may be affected by factors such as weather and public health concerns. Check with local authorities for current regulations and guidelines for public celebrations.
What are some family-friendly activities for New Year's Eve in Poole?
Family-friendly New Year's Eve activities might include early evening fireworks, special events at local attractions, and home celebrations with games and fun traditions. Check with local community centers and family-focused venues for special events.
What is the weather typically like in Poole on New Year's Eve?
Winter weather in Poole can be chilly and wet, with temperatures often around 8°C (46°F). Be sure to check the forecast and dress appropriately if you'll be spending time outside.
Why is Poole a great destination to spend New Year's Eve?
Poole boasts a stunning harbour, historic quayside, and an extensive choice of restaurants. With its mix of natural beauty and fine food, it offers a unique New Year's experience.
Are there any family-friendly activities in Poole during New Year's Day?
Yes, every morning on New Year's Day, Poole holds it's annual Bath Tub Race at Poole Quay. This fun and often hilarious activity is a joy to visit for all the family. Poole also offers a mix of outdoor activities, such as beach walks and harbour cruises, as well as indoor attractions suitable for families to enjoy on New Year's Day.
How does Poole's coastal location enhance the New Year's experience?
Poole's coastal location provides breathtaking sea views, fresh sea breezes, and the opportunity to celebrate New Year's Eve by the water, making it a unique and memorable New Year's destination.
Is Poole's nightlife vibrant during New Year's celebrations?
Definitely! Poole's pubs, bars, and restaurants often host special events or extended hours for New Year's, ensuring a lively atmosphere throughout the town.
Is public transportation available on New Year's Eve in Poole?
Public transportation schedules might be adjusted for New Year's Eve, with some services running later into the night. Check with local bus and train services for any special holiday schedules.
Are there any road closures in Poole on New Year's Eve?
For large public events, there may be road closures or traffic restrictions in certain areas. Always check with local authorities for up-to-date information on road conditions.
Do I need to make reservations for restaurants or events in Poole on New Year's Eve?
Due to the popularity of New Year's Eve celebrations, it's recommended to make reservations for dining and events well in advance, as places tend to book up quickly.
Where can I park in Poole during New Year's Eve events?
Parking is easy at The Quay Visitors Carpark which is a 2 minute walk away from Poole Quay.
Are there any New Year's Day events or traditions in Poole?
Poole has it's annual Bath Tub Race on New Years Day morning, at Poole Quay which is lots of fun to watch. Check the local websites for timings
Do local hotels in Poole offer special New Year's packages?
Many hotels offer special packages or rates for New Year's Eve, which might include accommodations, dining, and access to exclusive events. Check with local hotels for any New Year's promotions or deals.
What different types of New Year's cruises does City Cruises offer in Poole?
City Cruises offers their Harbour & Island Cruises throughout the day on New Year's Eve which makes a fantastic start for any celebration.
Do I need to book tickets for City Cruises in advance for New Year's Eve or New Year's Day?
It is preferable to pre-book a ticket for a City Cruise trip although our blue & white kiosk is open in the day where tickets can also be purchased.
Are meals and drinks included in the ticket price for City Cruises' New Year's cruises?
Through the festive period, City Cruises offer a complimentary glass of mulled wine and a mince pie for adults (soft drink and biscuit for children) on the Harbour & Islands Cruise.