July is National Hot Dog Month and that means New York City has yet another reason to celebrate in the summer.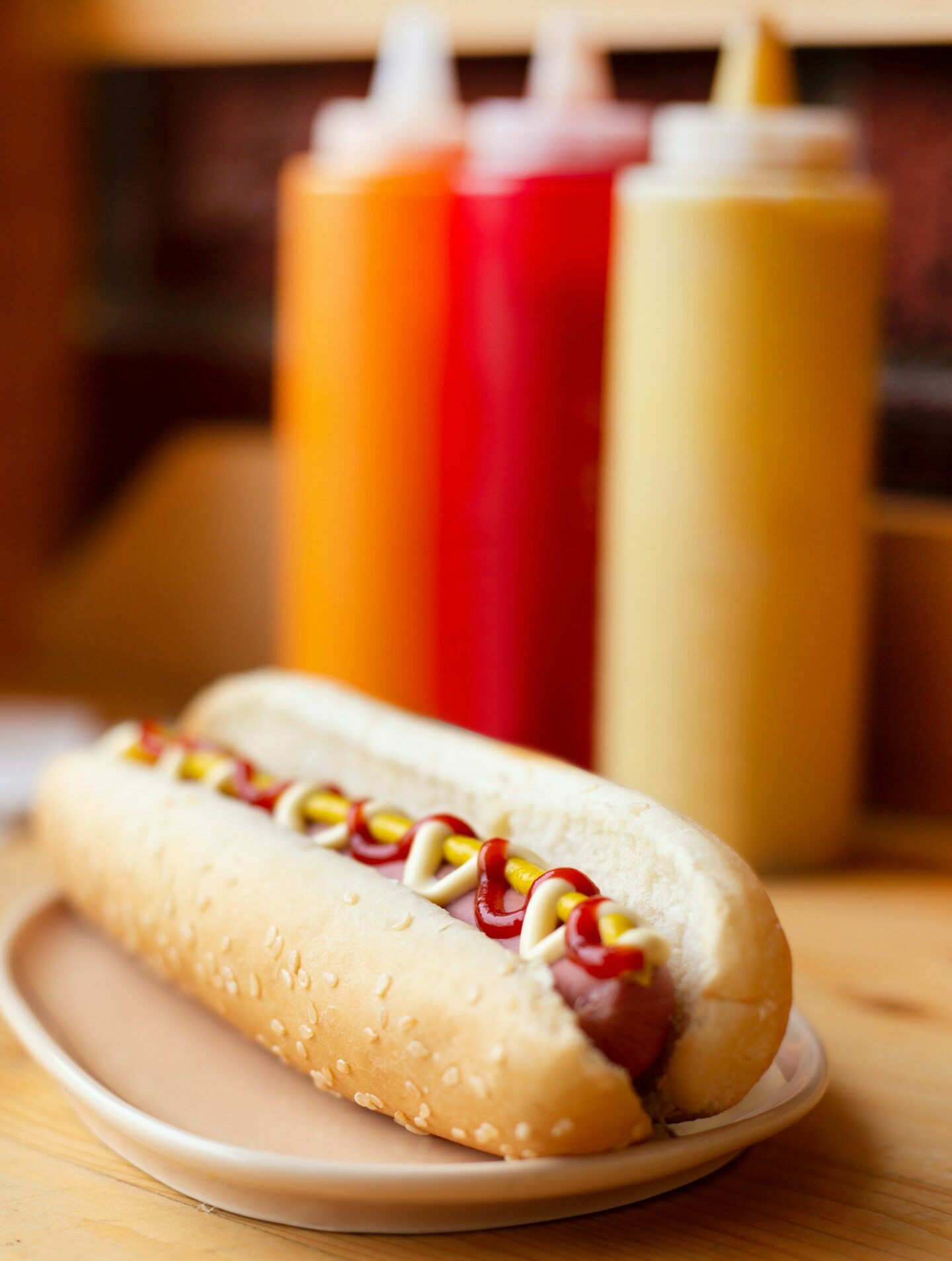 So, what about Hot Dog Month? The hot dog is actually celebrated all over the world, including in the U.S., Canada, Great Britain, and Australia. "The National Hot Dog and Sausage Council in the UnitedStates designated July as National Hot Dog Month and National Hot Dog Day on the third Wednesday of July." 
Believe it or not there are many fun facts and trivia about one of America's all-time favorite ball game food: 
Mustard leads as the favorite hot dog condiment

 

The term "hot dog" in the U.S. "refers to both the frankfurter by itself and the combination of frankfurter on the bun."

 

There are 20 billion hot dogs consumed by Americans every year!

 
And while July is National Hot Dog Month, typically the third Wednesday of July is National Hot Dog Day, making that July 20th this year and even more time to celebrate this famed food. 
History of the Hot Dog
As surprising as it may be, the hot dog's start didn't happen in the U.S. They started in Germany and were known as bratwurst or frankfurters. They were then brought over to the states by German immigrants. "It is believed to have started in New York, which were originally named the dachshund sausage after the popular dachshund dogs that have a similar shape." 
Legend has it that German immigrant Charles Feltman served up the hot dogs that would eventually gain popularity with the public, especially with students. What started out as a day of celebrating hot dogs has extended to an entire month! "Some of its highlights being National Hot Dog Day, festivals, Weiner Dog Races, Nathan's Hot Dog Eating Contest." 
Today, when people think of hot dogs, so many things come to mind. From cookouts to ballparks, this all-American pastime brings back so many fond memories for people. 
The most popular brand of hot dog today is Nathan's, with Hebrew National coming in second, and Oscar Meyer at third place.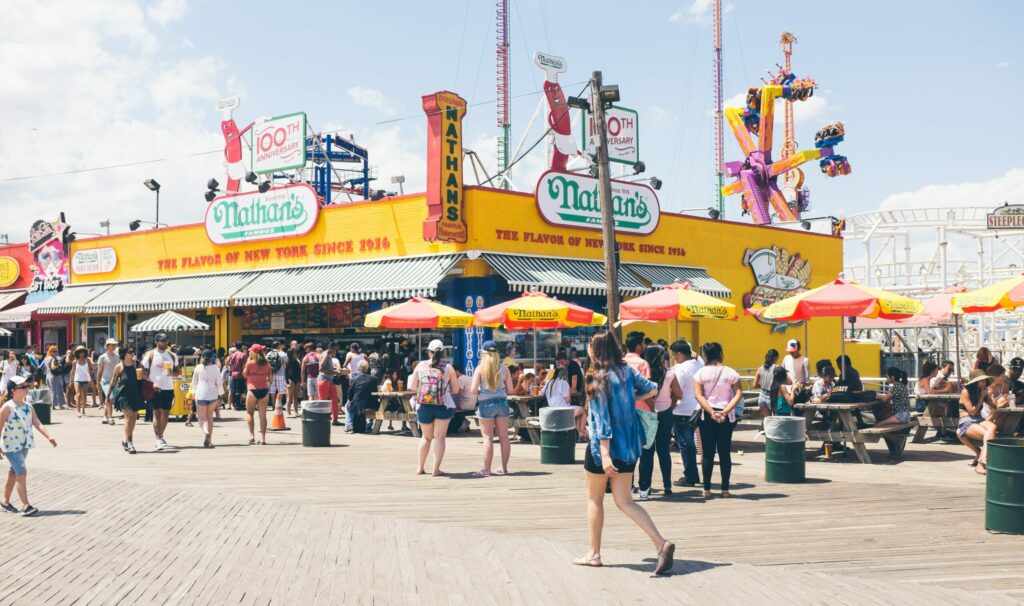 Getting the Best Hot Dogs in Brooklyn
Of course, if you want to start with the best and most iconic hot dogs in New York, start at Nathan's. This spot is a New York City landmark and it's right at Coney Island. Nothing goes better with a hot dog than all that. Nathan's also hosts the world famous Hot Dog Eating Contest that's known all over the world, which is held every year on July 4. This iconic flagship spot opened in 1916 and is located at Surf and Stillwell. 
A bit different from your typical New York-style hot dog is the Chicago-style dog you can find at Dog Day Afternoon. You'll find this hot dog place right where the movie of the same name staring Al Pacino was filmed.  Remember, don't expect the usual, as here you'll get a Vienna beef hot dog served with tomatoes, vinegar peppers, and a kosher pickle on top. 
Get Your Hot Dog On in Manhattan
Head over to Manhattan to famed Katz's Delicatessen, the original spot on Ludlow Street on the Lower East Side. This family-run restaurant has been in business for more than 100 years and was officially formed as Katz's in 1910. Katz's serves up an all-beef hot dog with garlic, salt, and paprika seasoning in its natural casing. 
On the corner of 86th Street and Third Avenue in Manhattan you'll find a neighborhood staple, Papaya King, which was opened by Constantine "Gus" Poulos in the 1930s. He opened it featuring tropical drinks. Later known as Papaya King, he added hot dogs in 1939. "The Papaya King hot dog is an all beef affair in a natural casing, cooked on a flattop and served on a toasted white bun." 
Queen of the Hot Dogs in Queens
Check out something a little different at UGLY Donuts & Corn Dogs on Roosevelt Avenue in Queens. The Korean Street Food brand has handmade donuts and Korean corn dogs fried in a rice batter. 
At Los Chuzos y Algo Mas on Roosevelt Avenue in Queens, you'll enjoy a Columbian hot dog like no other. "Its Colombian hot dog is a triumph, an unremarkable frank memorably smothered in sauces, including mustard, pineapple, and one that tastes like Russian dressing." Order along with their potato straws for the full effect. 

Head Over to the Bronx for A Hot Dog
You'll feel like your back in the 1950s when you head over to Liebman's Kosher Deli in the Bronx. The deli was opened in 1953 by Joe Liebman. With more than 100 other delis in the Bronx, Joe stuck to offering "quality food,." and his deli still stands today! 
You can order a beefy hot dog and top it off with cole slaw or potato salad. Now this Bronx staple is owned by Yuval Dekel, once a drummer in a metal rock band. While not playing drums anymore, Dekel still serves up a great frankfurter. 
Staten Island Hot Dogs for Comfort
For some of the best hot dogs in Staten Island, get on over to Skippy's hot dog truck on Hylan Avenue. Locals rate the franks as the best while the hot chili and cheese on top are a standout.  
How to Get to These Can't-Miss Hot Dog Spots
When traveling to all the great New York City hot dog spots across boroughs, there's no better way to get there than by using the New York City ferry. Your tickets are an easy app download away. Check out the ferry routes and hop on to your next borough destination to make sure you check out all the hot dogs this great city has to offer.