From eating your way through one of the city's most vibrant neighborhoods to massive markets, art installations, and more, Philly is the perfect place to spend the holiday.
While Philadelphia is known the world over as the City of Brotherly Love, on Sunday, May 14, it'll be known as the City of Motherly Love — at least, it better be! If you're still in the planning stages of celebrating Mother's Day in Philadelphia, don't sweat: You've still got plenty of time to chart out a fun and family-friendly day of adventure for the Mom or mother figure in your life. And, lucky for you, if you're spending the holiday in Philadelphia, there's plenty of exciting, unique activities and things to do. From checking out American Revolutionary history and eating your way through one of Philly's most vibrant neighborhoods to massive markets, art installations, and more, you could spend 10 Mother's Days in town and barely scratch the city's surface. Not sure where to start? No worries. We took the liberty of putting together this short list of some of our favorite ways to celebrate Mother's Day in Philadelphia. Check out the picks below — and go birds!
Fishtown – Looking for the "cool" part of Philly? Look no further than Fishtown — in this hub of art, culture, and (of course) excellent restaurants and bars, there's no shortage of things to do and good times to be had. Narrow streets lined with cute row houses are filled with old-school locals and newcomers alike, and there are plenty of music venues and event spaces to take Mom to, so make sure to check out schedules and book reservations ahead of time!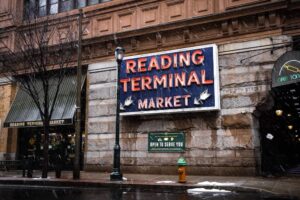 Liberty Bell – If Mom has never been to the city, you've gotta take her to the Liberty Bell. While you'll see this stop on most Philly travel guides, it's there for good reason: This symbol of independence and American history is a must-see destination for everyone in the States. Even if Mom isn't a history buff, she's sure to enjoy it.
Reading Terminal Market – If you're in the, ahem, market for a surefire way to wow your mom, Reading Terminal Market is a safe bet. Open daily from 8:00 AM to 6:00 PM, the market has become the gastronomic bazaar that its original planners had envisioned back in 1893, when it first opened. You'll enjoy more than 80 merchants who offer patrons fresh produce, meats, fish, groceries, flowers, baked goods, crafts, books, clothing, hard-to-find specialty items, and more.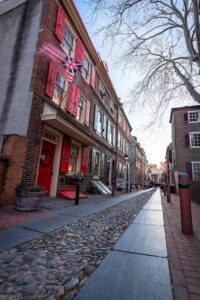 Philadelphia Museum of Art – For nearly 150 years, the Philadelphia Museum of Art has been the cultural beating heart of the city. The museum reflects the passions of Philadelphia's collectors and curators, and sits proudly at the end of the city's famous Benjamin Franklin Parkway. Be sure to check out all the museum has to offer, including paintings by Renoir, van Gogh and Picasso; a collection of suits of armor; an expansive, one-acre outdoor sculpture garden; a complete 14th-century Buddhist temple (yes, really); and much more. Oh, and did we mention that this is where the "Rocky Steps" are?
Philadelphia's Magic Gardens – If you've yet to make it to Barcelona to see the famous mosaics, you can bring Mom to the next best thing: Philadelphia's Magic Gardens! The immersive mixed media art environment is completely covered with mosaics. Isaiah Zagar, the artist, used everything from handmade tiles and bottles to bicycle wheels, mirrors, and more to chronicle his life and influences. The space is made up of two indoor galleries and a bi-level outdoor sculpture garden, so you'll get to enjoy the art no matter the weather.
Elfreth's Alley – This Mother's Day, step back in time by stopping by Elfreth's Alley, an "exceptional example of early American structures built between 1720 and 1830" according to the historic marker designated in 2016. As a thriving residential community home to many artists and artisans, you can learn about history in the museum, or just soak in the beauty of the street and visit the makers' markets in the spring.
And, if you're looking for an easy way to wow Mom this Mother's Day without having to plan much, we've got a solution for that, too: the Mother's Day Signature Afternoon Brunch Cruise. You'll create family memories that are sure to be treasured forever with an amazing voyage along the Delaware River. While you're onboard, you can treat the mom in your life to an extra-special day with the included holiday buffet, slew of classic cocktails, and some of Philadelphia's most incredible, breathtaking views. Of course, you'll also celebrate with plenty of dining and dancing from the climate-controlled interior of the ship, but you can also soak in the picturesque vista from the comfortable outdoor decks.