Visitors come to San Francisco for its Victorian architecture, diverse history, delicious cuisine, and to see the engineering marvel that is the Golden Gate Bridge. But did you know you can also see world-famous sea lions right in the heart of the city?
At Fisherman's Wharf, Pier 39's K-Dock is home to a number of California sea lions, who enjoy lounging and sunning themselves on the floating wooden docks. Now one of the wharf's most popular attractions, these "sea-lebrities" serve as a reminder to protect their ocean home—and offer a delightful chance to see local wildlife in its native environment.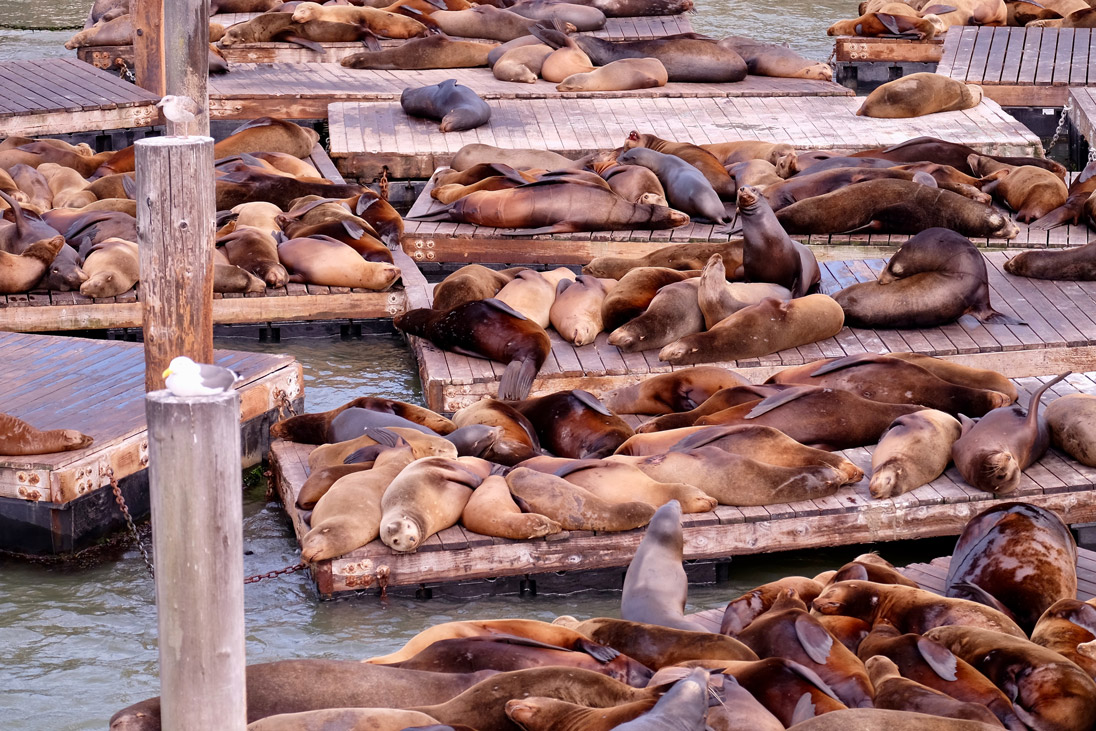 How did the sea lions come to be at Pier 39?
The sea lions first started appearing at Pier 39 in January 1990, shortly after the Loma Prieta earthquake rocked the region the previous fall. But what started out as a small group soon grew to hundreds—and sometimes even a couple thousand—sea lions chilling on the docks.
At first, some local residents and business owners were unhappy with the boisterous pinnipeds on account of their loud calls and distinctive smell. Although some wanted the sea lions moved, the Marine Mammal Center, which rescues and rehabilitates marine mammals, advised the locals to get used to their new neighbors because it was better to leave them be—and they've been an iconic fixture of the San Francisco waterfront ever since.
Why did the sea lions start their colony at Fisherman's Wharf?
To know why the sea lions of Fisherman's Wharf chose Pier 39 as their new spot, it helps to understand a classic pinniped behavior called hauling out, which occurs when the animals leave the water to find a safe place to rest while hunting or swimming.
With calm waters, few predators, and plenty of dock space, the marina's protected environment offered the marine creatures a safe place to rest. And they didn't need to look far for a meal either: The Bay Area has a plentiful herring supply, and it's an abundant source of other sea lion prey too.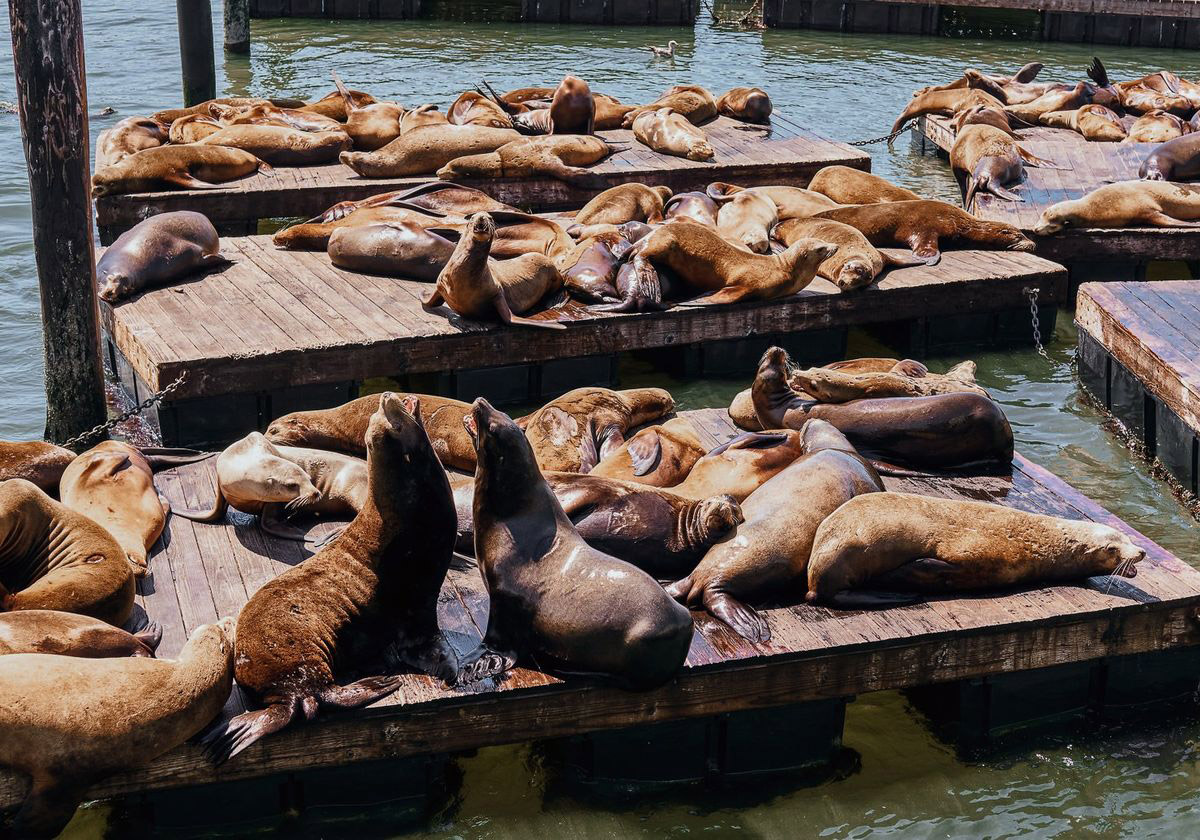 Where is the best place to see the sea lions at Pier 39?
Of course, the best place to see these local celebrities is the sea-lion viewing dock on the western end of Pier 39, and our Half Day by the Bay tour will get you up close and personal. (Within reason—be sure to practice responsible wildlife-viewing protocols by not disturbing the animals and giving them ample space.)
You'll also have chances to see the native sea lions swimming around San Francisco Bay on a scenic sailing cruise, or while traveling to Alcatraz Island with Alcatraz City Cruises—that way you get your sea-lion sighting and Alcatraz adventure  done in one swoop.
What is the best time of year to see the sea lions?
Winter is the best time to see the most sea lions, as they come here in droves to weather the colder months.
During the summer months, when the sea lions migrate south for their breeding season near the Channel Islands, their numbers are reduced. But there is a small group that stays put year-round, so no matter what time of year you plan to visit, you're likely to see at least some sea lions camped out at K-Dock.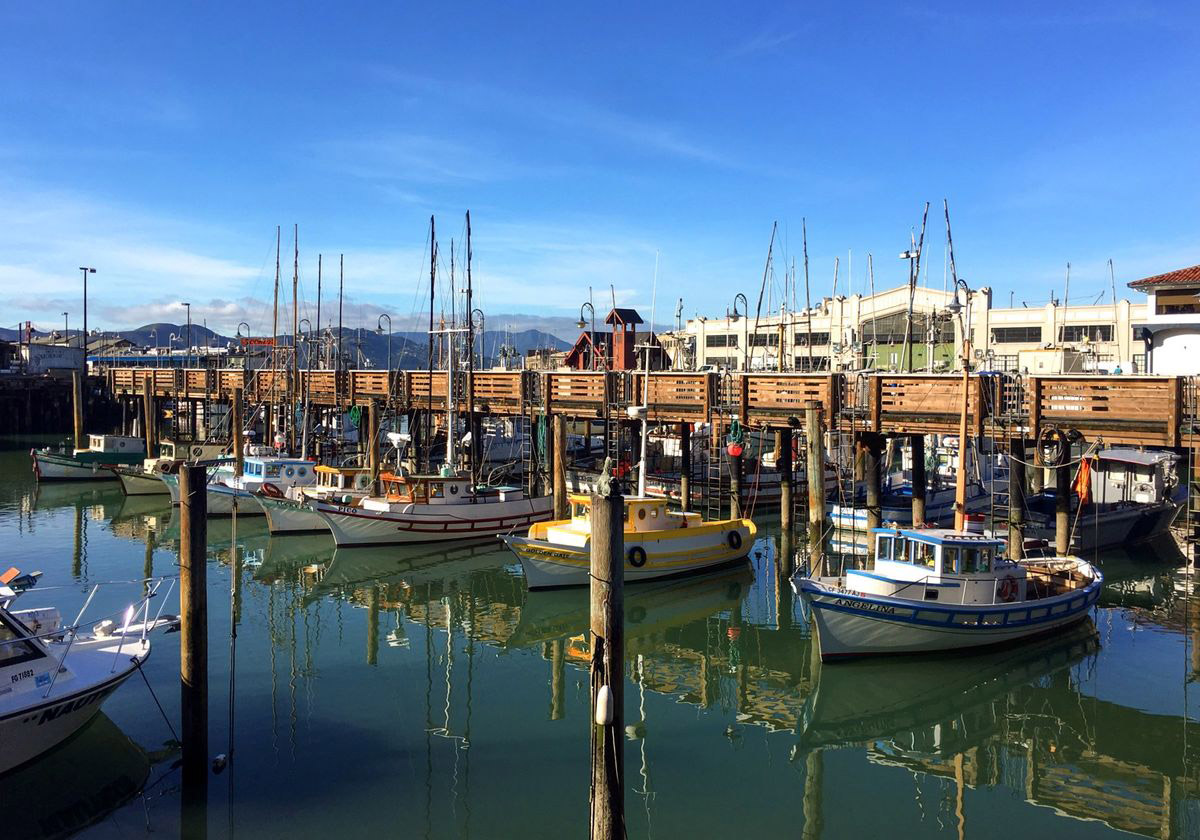 How many sea lions are there at Fisherman's Wharf?
The sea-lion population at Fisherman's Wharf fluctuates throughout the year: In the winter, there can be around 900, and in the summer months, it drops down to the low 90s. The record high came in November 2009, when 1,701 crowded onto the Pier 39 marina.
However, those numbers change as the sea lions follow their prey, either to stay fed or to take part in their traditional migratory patterns.
What can I do to help protect the sea lions at Fisherman's Wharf?
Seeing these incredible creatures up close may make you wonder how you can help the species continue to thrive, and the Marine Mammal Center has plenty of recommendations. Here are a few things you can do to help protect San Francisco's sea lions:
Visit the Sea Lion Center at Pier 39 to learn more about California sea lions and donate to their conservation.
Reduce your use of single-use plastics, as these end up in the ocean.
Don't use harmful chemicals around your home, as they can get into the water supply.
See these San Francisco "sea-lebrities" during your stay
Along with viewing the Golden Gate Bridge,  and delving into the City by the Bay's history and highlights, seeing the sea lions of Fisherman's Wharf is a must for any visit to San Francisco.