Embora as nossas viagens tenham lugar em algumas das cidades mais excitantes do planeta, são a nossa tripulação e os membros da equipa que verdadeiramente tornam estas experiências tão especiais e memoráveis. Com a nossa característica "Crew Spotlight", prestamos homenagem às incríveis pessoas que compõem a família City Experiences.
Laura Howes has one amazing job: her coworkers are whales—and we mean that literally. As the Director of Research and Education and Head Whale Watch Naturalist for our Boston Harbor City Cruises branch,  she spends her days studying, tracking, and spending time with the various cetacean species found off the coast of Boston.
Onboard our Whale Watching Tours, Howes shares her passion with guests, educating them about each species and the importance of whale and marine-wildlife conservation. And while getting to work with whales all day is awesome, she also appreciates her human coworkers. "I am truly fortunate to have a wonderful staff of naturalists that love what they do," she says. "Their energy is contagious. Our guests always comment on their knowledge and excitement for what they do!"
Having a whale of a time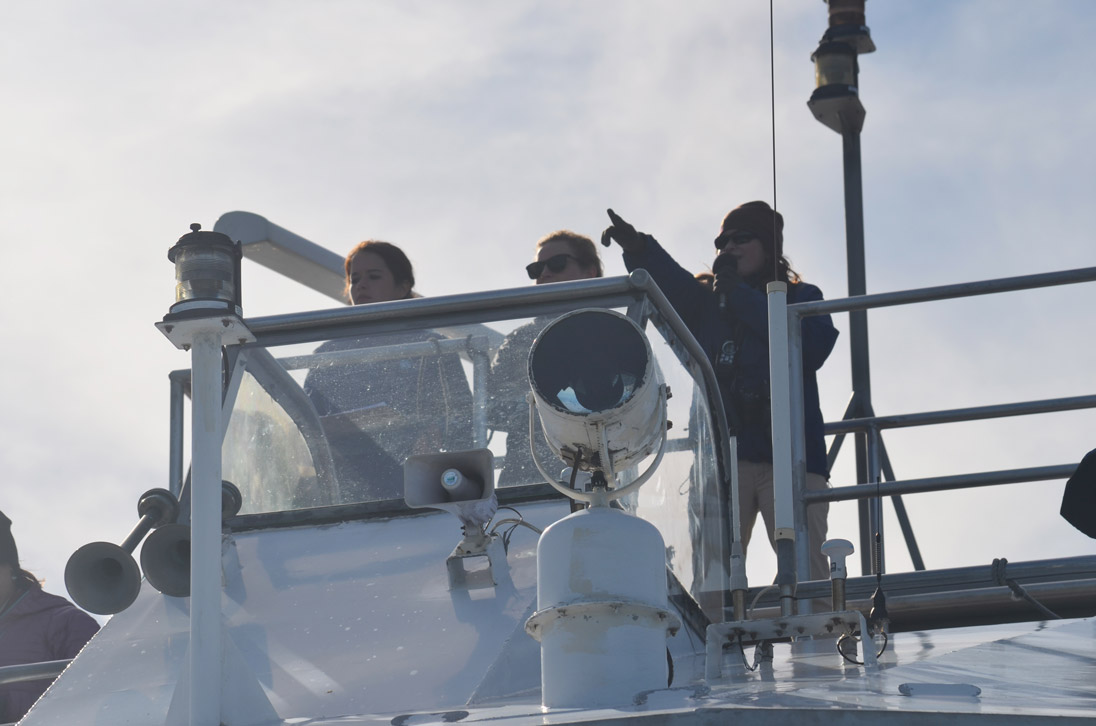 From the time she was young, Howes knew she wanted to study and work with whales, but she grew up in Chicago—and as we all know, there are no whales in the Great Lakes. So after high school, she headed to the East Coast and studied marine-mammal conservation at the College of the Atlantic in Maine, where an internship on a local whale-watching boat showed her a potential career path. "I learned the connection between nonprofit research and whale-watch boats, and have strived to continue those types of partnerships in my career," she says.
Case in point: Howes's 10 years in Boston at City Experiences. As a member of Whale SENSE, all Boston Harbor City Cruises' whale-watching tours follow responsible, ethical protocols, blending fun and education with conservation initiatives—a combination that proved a perfect fit. The historic city's close proximity to Stellwagen Bank National Marine Sanctuary, a 842-square-mile protected area famous for its whale watching, didn't hurt either. "We have some of the most exciting wildlife in the ocean just a boat ride away!" she declares proudly.
While educating guests about the particulars of the different whales they encounter is important—their migration patterns, what they eat, and other fun details—Howes hopes they also walk away from the experience realizing "that people are connected to the ocean no matter where they live in the world, and their actions can directly impact the health of the ocean and its wildlife."
A day in the life of a Boston Harbor City Cruises Whale Watch Naturalist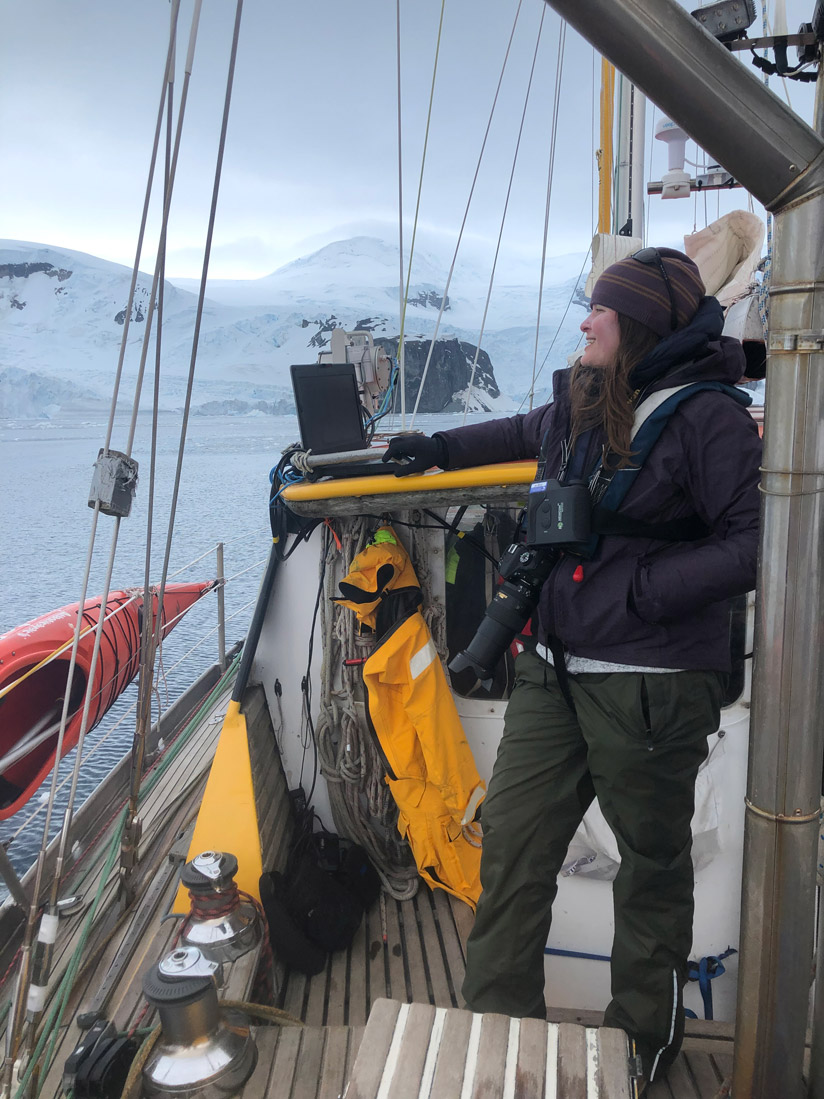 Howes's day starts with taking her pet cat, Hank,  for a walk in his harness. Then it's off to the commuter ferry for a dive into the unpredictable—but always exciting—world of whale-watching tours.
"Every day is truly different!" she says. "You can be surprised by a new whale behavior you haven't seen before, a variety of offshore weather conditions, ranging from snow and squalls to hot, sunny haze, and brand-new guests to educate. I'm also constantly multitasking—working as a naturalist requires a balancing act between customer service, education on the mic, taking whale photos, and managing our interns as they collect data."
Along with facilitating the guest experience, Howes's job entails a lot of scientific work, and that focus carries over to her free time as well. "One of my outside projects I am passionate about is my whale-tagging work with the Stellwagen Bank National Marine Sanctuary, a 15-plus-year project that studies the underwater movements of whales using noninvasive suction-cup tags," she says. "Learning about their underwater movements has aided in conservation, as well as knowledge about their incredible feeding techniques."
She also recently had the incredible opportunity to fulfill a dream: studying humpback whales and other wildlife as a guest researcher on a cruise to Antarctica. "As a guest scientist, I taught Antarctic tourists about humpback-whale photo identification, which connects to what we do here on the whale watch in Boston," she says.
A naturalist's favorite ways to spend her off-duty hours in Boston
She enjoys being out on the water even in her free time, but when she's on dry land, Howes spends time working in her garden and exploring the city on foot.
"I enjoy how walkable Boston is," she says. "It has a similar feel to my hometown of Chicago, but is a lot more accessible for walking the city in a day!"
Along with going whale watching, she also recommends out-of-towners see the world-class art collection at the Isabella Stewart Gardner Museum and check out the baleen-whale skeletons at the Harvard Natural History Museum.
For the chance to meet Howes and ask her questions about whales, book a seat on a Boston Harbor City Cruises Whale Watch Cruise. You can also follow along with our naturalists' adventures via the Whale Watching Notes blogs.
https://primetime.bluejeans.com/a2m/events/playback/22e0c3ad-c5ec-4b2e-8d0f-8a3ad7927fc0