You know the Cubs, you've seen the Bean, and you might have even streamed "The Bear" or "Shameless" — but aside from its great restaurants, deep cultural identity, and diverse neighborhoods, Chicago is also home to some of the world's most famous buildings and richest architectural history in the world. One area of particular importance (and one you won't want to miss while you're in town) is Navy Pier. Originally opened in 1916 as "Municipal Pier" and designed to hold outdoor events and exhibitions, it was renamed Navy Pier to honor the naval veterans who served in World War I. In World War II, it transformed into a naval training facility, before falling in and out of use as a public space until 1995, when it was redesigned as a mixed-use venue with plenty of shopping, dining, entertainment, and cultural spaces. Since then, more than 180 million guests have enjoyed the pier's attractions and experiences. Today, Navy Pier is an easy-to-access, year-round attraction for the Windy City's wide-ranging arts and cultural centerpieces.
Chicago's Centennial Wheel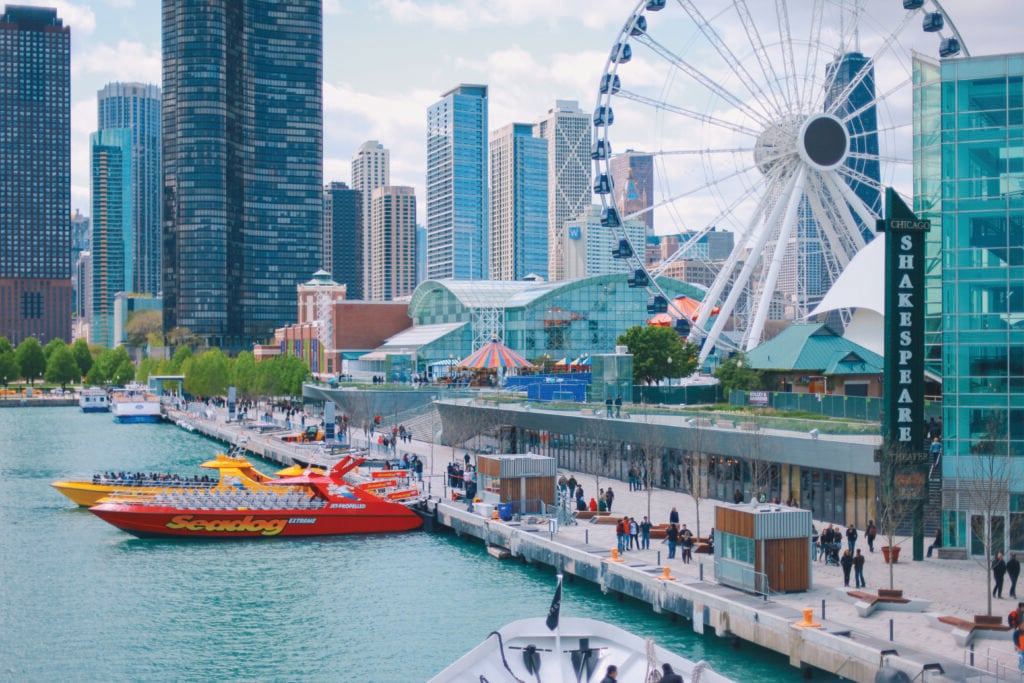 Navy Pier is also famous for its Ferris wheel, which was based on the original Ferris wheel, which opened in Chicago in 1893. In 2016, the Centennial Wheel debuted — in honor of Navy Pier's 100th anniversary — which towers over the Pier at 200 feet with enclosed, climate-controlled gondolas. Today, the Centennial Wheel stands as an iconic symbol of Chicago's skyline and architectural history.
Now, we know it can be a tall order to explore all the architecture and historic buildings that Chicago has to offer, so it helps to have some experts around to help you navigate the city's lore and explain the significance of the monumental sites that visitors and locals alike walk past every day. If you're in the market to learn more about the history of the Centennial Wheel, Navy Pier, and Chicago architecture, we've got you covered. Read on to learn about a few fun and exciting ways to gain interesting information about the birthplace of the American skyscraper.
Chicago Architecture Cruises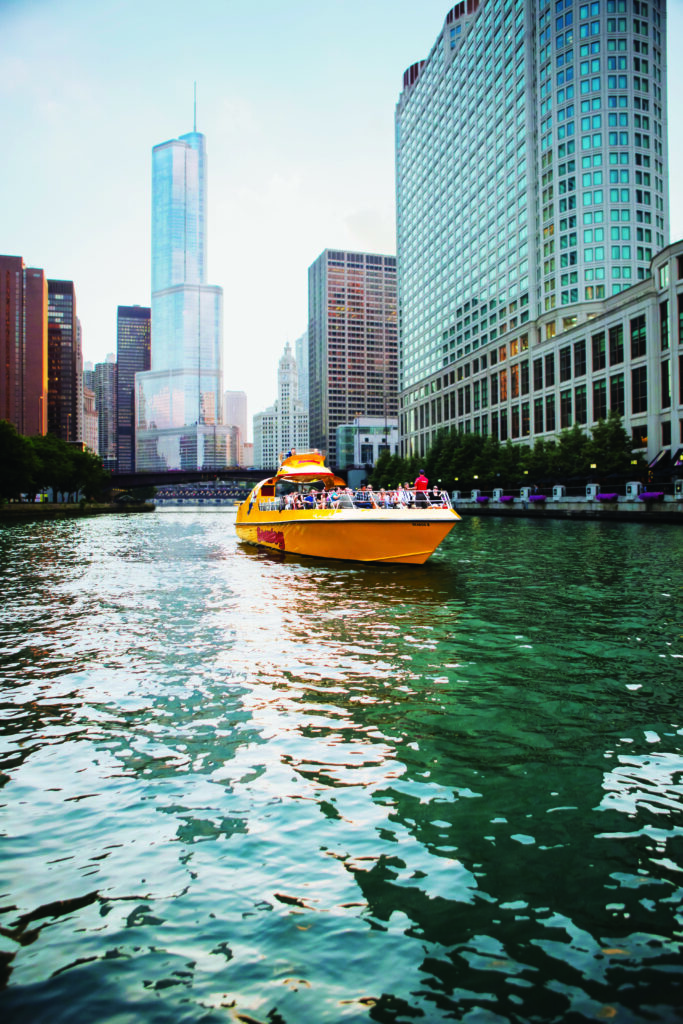 To experience some of the famous buildings and architecture of Chicago from a unique and exciting perspective, you need to hit the water. Not sure where to begin? Don't sweat — you can't go wrong with the Chicago Seadog River & Lake Architectural Tour. Prepare for a high-octane day of fun that you and your guests are bound to enjoy: You'll soak in Chicago's incredible skyline with an exciting architecture cruise on the Chicago River. Leaving straight from the historic Navy Pier, this 75-minute narrated cruise is the absolute best way to get up close and personal with Chicago's one-of-a-kind architecture and internationally renowned landmarks. Seadog — a wicked-fast speed boat — is a blast for the entire family (and your dog, too!) with live narration along the shoreline. Oh, and did we mention that there's a BYOB policy? Yep: So long as it's not made of glass, you can feel free to take your drinks on the boat! Plus, at the end of the tour, you'll get a taste of the wild speed of the Seadog during a quick speedboat ride on the water.
Want to slow things down a bit? Your best bet is the Premier Plus Architectural Brunch Cruise on the Chicago River. Kick off your day with a ridiculously good time as you and your guests experience the best of Chicago on the Chicago River with delicious food, bottomless mimosas, unreal views, and a lively narrative architectural tour of the city. As you're aboard, you'll indulge in chef-prepared, plated menus; creative craft cocktails; excellent service from experienced crew members, and unbelievable vistas of the Windy City skyline from the climate-controlled interior and open-air outdoor deck. No matter if it's for an intimate brunch for two, a celebratory afternoon with friends and family, or any other exciting occasion, you'll have the time of your life learning all about the history of Chicago architecture as you take in breathtaking views of Chicago.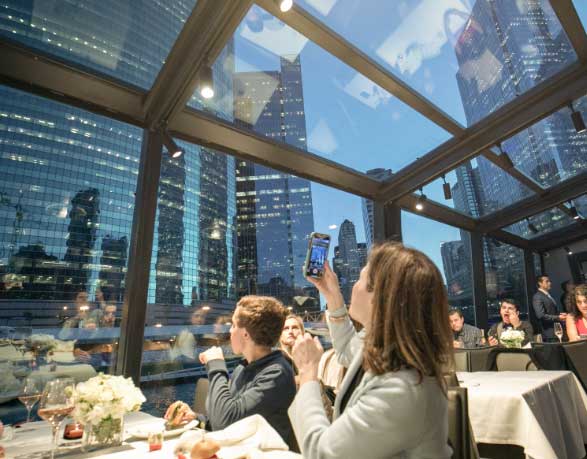 Chicago Dinner Cruise
Having a hard time deciding where to go for dinner? Let us give you a hand on the Premier Dinner Cruise on Lake Michigan. Get ready to make some unforgettable memories while you soak in the amazing skyline lit up in the evening on Lake Michigan. This is a great option if you're in the mood for all the architectural sights and views without narration. You and your guests will experience top-quality service with plated entrees, as well as a selection of wine, beer, and classic cocktails. Listen to great tunes from the climate-controlled interior, or head outside to experience the picturesque backdrop from the open-air, outdoor decks.