Effectieve teambuilding is een geweldige morele oppepper en betekent meer betrokken werknemers, waardoor een bedrijfscultuur ontstaat waarin werknemers zich gewaardeerd en gehoord voelen. Het plannen van een succesvol teambuildingevenement kan lastig zijn, maar dat hoeft niet. De meest succesvolle teambuildingevenementen zijn de evenementen die niet aanvoelen als de zoveelste dag op kantoor.
Teambuilding NYC met City Cruises
Samen tijd doorbrengen en een ervaring delen op een onverwachte locatie kan de band veel effectiever versterken, vooral als het in een ontspannende, mooie en rustgevende omgeving is zoals op het water! Gelukkig ben je, als je een teambuildingevenement plant in New York City, vrijwel omringd door water met uitzicht op de East en Hudson Rivers om te genieten van een van de beroemdste skylines ter wereld aan boord van een unieke drijvende locatie met City Cruises. Ervaar New York City en zijn iconische monumenten zoals het Vrijheidsbeeld, One World Trade, de Brooklyn Bridge, het Empire State Building en nog veel meer terwijl uw team zich op een nieuwe en spannende manier verbindt. Laat City Cruises en haar team van professionals zorgen voor alle details terwijl jij investeert in een evenement dat zorgt voor gelach, opwinding en prestatie, en misschien wel een paar Instagram-waardige momenten.
Teambuildingevenementen op het water in New York City
Als een team zich succesvol voelt, zijn bedrijven meestal ook succesvol. New York City is ideaal voor teambuilding, bedrijfsevenementen, personeelsuitjes of vakantiefeesten. New York City is een bruisende en dynamische stad met meer dan acht miljoen mensen uit alle hoeken van de wereld. Het creëren van momenten waarop je je team kunt samenbrengen en hen kunt laten zien hoe belangrijk ze zijn voor het succes van het bedrijf is een no-brainer en zeker je tijd en moeite waard.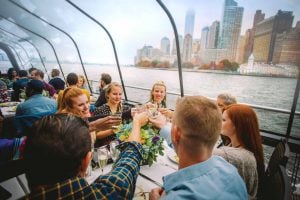 Het kiezen van de juiste locatie is cruciaal voor het succes van een teambuildingevenement. Je team zal de tijd waarderen die je hebt gestoken in het vinden van de perfecte omgeving om relaties op te bouwen met collega's terwijl je een geweldige tijd hebt en geniet van het geweldige uitzicht. City Cruises biedt uitjes met een zeebriesje en iconische bezienswaardigheden. Of het nu gaat om een diner, lunch of cocktails, maak het extra speciaal op een jacht met onze indrukwekkende vloot, waar wij voor alles zorgen. Een glas champagne aan boord? Geregeld. Spelletjes en activiteiten aan boord? Gedaan. Een zitplaats op de eerste rij voor het beste uitzicht op New York City? Gegarandeerd.
Alles is beter op het water. Van kleine teamvergaderingen tot grotere bedrijfsevenementen, City Cruises kan je helpen om je visie werkelijkheid te laten worden. We hebben pakketten die aan uw wensen en budget kunnen worden aangepast, ongeacht de grootte. De unieke locatie zorgt voor een omgeving die bevorderlijk is voor een grotere betrokkenheid en een diepere band met collega's en deelnemers, wat zorgt voor een gedenkwaardige ervaring. Onze ervaren evenementplanners kunnen je helpen alles te bieden wat je nodig hebt, met de expertise om te begrijpen wat een winnend teambuildingevenement zal opleveren.
Wat wij bieden
Host uw volgende bedrijfsfeest of teambuildingevenement op een drijvende locatie en laat uw werknemers een nieuwe kant van de stad zien. Aan boord beleef je een onvergetelijke ervaring met aangepaste menu's, all-inclusive arrangementen en een spectaculair uitzicht vanaf het water. We bieden een fantastisch menu aan opties om je ervaring uniek te maken.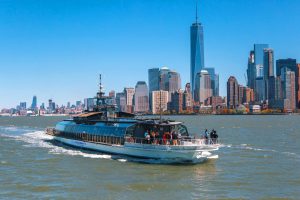 Onze indrukwekkende vloot voor New York
Our beautiful and impressive fleet can make any occasion unforgettable. With climate-controlled decks, dining areas, entertainment, outdoor decks, and unparalleled views, Manhattan Elite is perfect for an elegant and intimate setting with all the modern amenities you would expect from a first-class venue. Spirit of New Jersey and Spirit of New York offers a fun and festive experience with skyline views as well as indoor and outdoor decks. The Bateaux New York is Manhattan's only all-glass, European-inspired vessel offering unmatched views of the city to create lasting memories. An upscale experience will leave your team feeling appreciated and inspired, allowing you to elevate your company's culture. Check out here for more information about our amazing vessels.
Team Building in NYC is Better on the Water
Just as in any sport, teams that practice skills, perform more optimally. Team-building helps workers improve a range of skills such as communication, trust, accountability, and collaboration and is essential to having a long and fruitful relationship with coworkers. Companies that invest in their team and foster an environment where employees feel appreciated and heard, strengthen their greatest asset – their employees! With City Cruises, leave the details of your next event to us with flexible packages, exceptional amenities, and beautiful views to ensure your next corporate team-building event is a huge success that will leave your guests with treasured memories. Fill out this form and an event planner will contact you.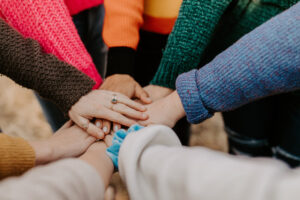 FAQs – Team Building NYC
Why is NYC a great place for team building?
New York City, a global hub of culture and innovation, offers a diverse backdrop for team-building activities. The energy of its landmarks, arts, and streets creates a dynamic environment that fosters connection and growth.
What are the benefits of team building in NYC?
Team building in NYC promotes creativity due to its vibrant atmosphere, provides networking opportunities in a major business hub, and exposes teams to a rich tapestry of global cultures for enhanced awareness and appreciation.
What are some fun team building activity ideas in NYC?
Teams can challenge themselves in NYC's escape rooms, watch a Broadway show, take cooking classes in diverse cuisines, visit renowned museums like the Met, or embark on a City Cruise to experience Manhattan from the water.
Why is City Cruises a great venue for team building?
City Cruises offers a unique setting on the waters of NYC, presenting a fresh perspective away from the typical office environment. With flexible cruise options and integrated onboard activities, teams can bond over exquisite dining and stunning skyline views.
How can team building on City Cruises differ from on-land activities?
On City Cruises, teams experience an ever-changing panorama of NYC landmarks, sparking engagement and fresh conversations. The shared adventure of being on the water adds a distinct excitement, differentiating it from on-land activities.
When is the best time to conduct corporate outings for team building?
The ideal time for corporate outings often depends on the company's calendar. However, many businesses find value in organizing them during transitional periods, such as after quarterly reviews or before launching a new project, to rejuvenate the team and foster collaboration.
What can teams expect to see on a team-building cruise in NYC?
On a team-building cruise around NYC, teams will be treated to iconic sights such as the Statue of Liberty, the Brooklyn Bridge, the Manhattan skyline, Ellis Island, and the One World Trade Center. The constantly evolving scenery creates a dynamic backdrop that can inspire and invigorate participants.
Why are team-building activities essential for corporate growth?
Team-building activities are crucial for corporate growth as they enhance communication, boost morale, and foster unity. These experiences help employees understand one another better, leading to improved collaboration, problem-solving, and overall productivity.
How do team-building activities impact employee morale and productivity?
Engaging in team-building exercises helps employees feel valued and understood. Such experiences break down communication barriers and build trust, leading to an increase in motivation, morale, and, subsequently, productivity.
How frequently should a company engage in team-building exercises?
The frequency can vary based on the company's needs and goals. Some companies hold monthly team-building sessions, while others opt for quarterly or annual events. Regularity helps maintain team cohesion, but the quality and relevance of activities are equally essential.
What should companies consider when choosing a team-building activity?
When selecting a team-building activity, companies should consider the interests and demographics of their team, the desired outcomes of the exercise, the budget, and any logistical constraints. Activities should be inclusive and align with the company's values and objectives.