Effective team building is a great morale booster and means more engaged employees, creating a company culture where employees feel appreciated and heard. Planning a successful team-building event can be tricky but it doesn't have to be. The most successful team-building events are the ones that do not feel like another day stuck in an office.
NYC Team-building with City Cruises
Spending time together and sharing an experience in an unexpected venue can allow bonding to happen far more effectively, especially when it's in a relaxing, beautiful, and calming environment like out on the water! Luckily, if you're planning a team-building event in New York City, you are virtually surrounded by water with views from the East and Hudson Rivers to enjoy one of the world's most famous skylines aboard a unique floating venue with City Cruises. Experience New York City and its iconic landmarks such as the Statue of Liberty, One World Trade, the Brooklyn Bridge, the Empire State Building, and more as your team bonds in a new and exciting way. Let City Cruises and its team of professionals take care of all the details while you invest in an event that brings laughter, excitement, and accomplishment, and maybe a few Instagram-worthy moments.
Team Building Events on the Water in New York City
When a team feels successful, companies tend to be successful. New York City is ideal for team-building, corporate events, employee outings, or holiday parties. New York City is a bustling and dynamic city with over eight million people hailing from every corner of the globe. Creating moments where you can bring your team together and show them how vital they are to the company's success is a no-brainer, and worth your time and effort.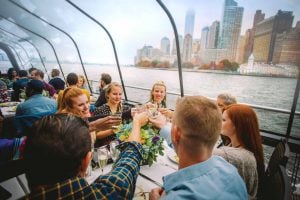 Choosing the right venue is crucial to any team-building event's success. Your team will appreciate the time you have put into finding the perfect environment to build relationships with colleagues while having a great time and enjoying the amazing views. City Cruises offers outings with a sea breeze and iconic sights. Whether it's dinner, lunch, or cocktails, make it extra special on a yacht with our impressive fleet, where we will take care of it all. Board glass of champagne? Done. Onboard games and activities? Done. A front-row seat to the best views of New York City? Guaranteed.
Everything is better on the water. From small team meetings to larger corporate events, City Cruises can help turn your vision into a reality. We have customizable packages to meet your needs and budget, no matter the size. The unique location fosters an environment conducive to heightened engagement and deeper connections with colleagues and attendees, making for a memorable experience. Our experienced event planners can help provide everything you need with the expertise to understand what will create a winning team-building event.
What We Offer
Host your next company celebration or team-building event on a floating venue and show your employees a new side of the city. While onboard, you will enjoy an unforgettable experience with customized menus, all-inclusive packages, and spectacular views from the water. We offer a fantastic menu of options to make your experience one of a kind.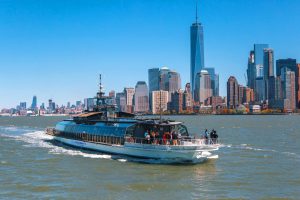 Our Impressive New York City Fleet
Our beautiful and impressive fleet can make any occasion unforgettable. With climate-controlled decks, dining areas, entertainment, outdoor decks, and unparalleled views, Manhattan Elite is perfect for an elegant and intimate setting with all the modern amenities you would expect from a first-class venue. Spirit of New Jersey and Spirit of New York offers a fun and festive experience with skyline views as well as indoor and outdoor decks. The Bateaux New York is Manhattan's only all-glass, European-inspired vessel offering unmatched views of the city to create lasting memories. An upscale experience will leave your team feeling appreciated and inspired, allowing you to elevate your company's culture. Check out here for more information about our amazing vessels.
Team Building in NYC is Better on the Water
Just as in any sport, teams that practice skills, perform more optimally. Team-building helps workers improve a range of skills such as communication, trust, accountability, and collaboration and is essential to having a long and fruitful relationship with coworkers. Companies that invest in their team and foster an environment where employees feel appreciated and heard, strengthen their greatest asset – their employees! With City Cruises, leave the details of your next event to us with flexible packages, exceptional amenities, and beautiful views to ensure your next corporate team-building event is a huge success that will leave your guests with treasured memories. Fill out this form and an event planner will contact you.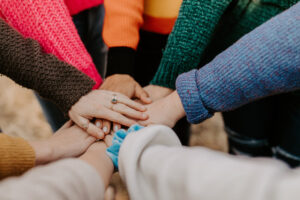 FAQs – Team Building NYC
Why is NYC a great place for team building?
New York City, a global hub of culture and innovation, offers a diverse backdrop for team-building activities. The energy of its landmarks, arts, and streets creates a dynamic environment that fosters connection and growth.
What are the benefits of team building in NYC?
Team building in NYC promotes creativity due to its vibrant atmosphere, provides networking opportunities in a major business hub, and exposes teams to a rich tapestry of global cultures for enhanced awareness and appreciation.
What are some fun team building activity ideas in NYC?
Teams can challenge themselves in NYC's escape rooms, watch a Broadway show, take cooking classes in diverse cuisines, visit renowned museums like the Met, or embark on a City Cruise to experience Manhattan from the water.
Why is City Cruises a great venue for team building?
City Cruises offers a unique setting on the waters of NYC, presenting a fresh perspective away from the typical office environment. With flexible cruise options and integrated onboard activities, teams can bond over exquisite dining and stunning skyline views.
How can team building on City Cruises differ from on-land activities?
On City Cruises, teams experience an ever-changing panorama of NYC landmarks, sparking engagement and fresh conversations. The shared adventure of being on the water adds a distinct excitement, differentiating it from on-land activities.
When is the best time to conduct corporate outings for team building?
The ideal time for corporate outings often depends on the company's calendar. However, many businesses find value in organizing them during transitional periods, such as after quarterly reviews or before launching a new project, to rejuvenate the team and foster collaboration.
What can teams expect to see on a team-building cruise in NYC?
On a team-building cruise around NYC, teams will be treated to iconic sights such as the Statue of Liberty, the Brooklyn Bridge, the Manhattan skyline, Ellis Island, and the One World Trade Center. The constantly evolving scenery creates a dynamic backdrop that can inspire and invigorate participants.
Why are team-building activities essential for corporate growth?
Team-building activities are crucial for corporate growth as they enhance communication, boost morale, and foster unity. These experiences help employees understand one another better, leading to improved collaboration, problem-solving, and overall productivity.
How do team-building activities impact employee morale and productivity?
Engaging in team-building exercises helps employees feel valued and understood. Such experiences break down communication barriers and build trust, leading to an increase in motivation, morale, and, subsequently, productivity.
How frequently should a company engage in team-building exercises?
The frequency can vary based on the company's needs and goals. Some companies hold monthly team-building sessions, while others opt for quarterly or annual events. Regularity helps maintain team cohesion, but the quality and relevance of activities are equally essential.
What should companies consider when choosing a team-building activity?
When selecting a team-building activity, companies should consider the interests and demographics of their team, the desired outcomes of the exercise, the budget, and any logistical constraints. Activities should be inclusive and align with the company's values and objectives.
Erkundigen Sie sich noch heute!
Infos anfordern
Um eine Gruppenveranstaltung zu buchen, kontaktieren Sie uns bitte.
Formular anzeigen